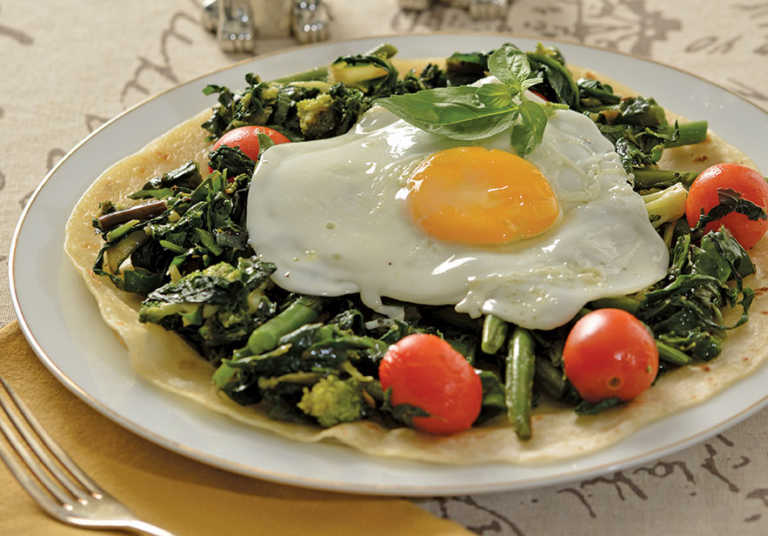 To make this breakfast for four diners determined to start the day with a bang, you will need:
4 or 8 eggs
Butter for the eggs
1kg mixed vegetables (chard, baby spinach, whole rosa tomatoes, broccoli, and green beans)
Fresh parsley and basil
Canola or sunflower oil
For the roti (Indian flatbread)
2 cups white flour
60g butter
30ml canola or sunflower oil
1 cup boiling water
Generous pinch of salt
Breakfast should be a big deal and this collection of fine edibles meets all the requirements. On the other hand, there may be some resistance – especially from those who grab breakfast on the run or eat standing up – regarding time constraints.
No problem here: you can make everything on the list in under 30 minutes, including coffee.
Rinse and dry the fresh vegetables in a salad spinner. Trim the tips off the green beans, break the broccoli up into florets, and tear the bigger leaves into smaller sections. Arrange these in a uniformly thin layer in a roasting pan.
Tear up the basil leaves and coarsely chop the parsley, scattering these lightly over the vegetables.
Drizzle or drench the contents of the pan with oil of your choice, and add a generous sprinkle of freshly ground black pepper.
Place in the preheated oven for 10 to 15 minutes at 230°C. Inspect at halftime; maybe stir the vegetables. Don't use root vegetables, as they require much more time.
Now, make the roti. Turn on the kettle. Sift the flour with the pinch of salt. Chop up the butter and mix this with the flour by hand.
Pour in the cup of boiled water and mix everything with a wooden spoon. Pour in the oil and mix. When the mixture is cool enough to handle, knead it and reserve undercover for a few minutes.
Break off a golfball-sized section, dip it in flour and roll it out to make a circular flatbread. Select a large frying pan, bring it up to medium heat and fry the raw roti, turning it once as it begins to bubble. No additional oil or butter is required.
Reserve undercover.
Wipe the frying pan with a paper towel, then add a little butter. Fry the eggs, taking care to produce firm whites and liquid yolks.
Make the coffee – freshly ground, with a dash of cream, just the way you like it.
Serving time: plate with one roti as the base and a few spoonfuls of roasted vegetables on top. Complete with one or two freshly fried eggs, yolks intact!
Serve to roars of applause and wild cries of gratitude.
David Basckin is a freelance journalist and videographer.