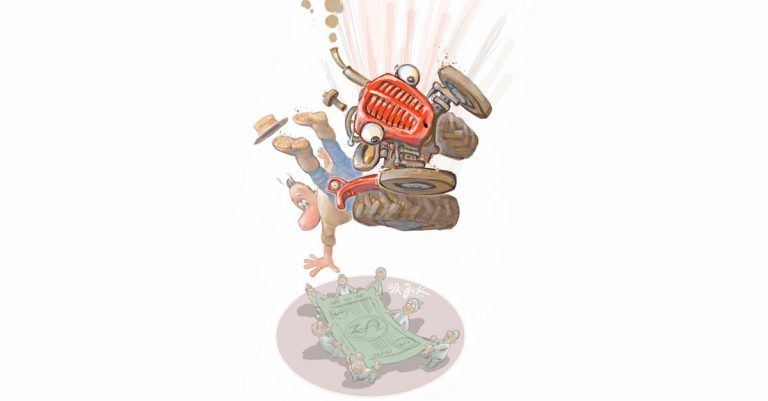 Most government responses to the pandemic in their agriculture sectors were introduced in the first few months of 2020. As the year went by and new waves of the virus spread, governments in many countries shifted their attention to mediumterm issues by bolstering early relief measures and introducing economic recovery packages.
Their actions differed in timing and scope, from the initial imposition of lockdown
measures to policies aimed at tempering the effects of the crisis on specific supply
chains or consumers in the medium term.
Interestingly, several steps to facilitate the functioning of production and supply chains could have been taken before the onset of the pandemic. In its report, the Organisation for
Economic Co-operation and Development (OECD) divides the measures instituted
by governments into three groups:
•  Urgent measures to ensure supply
These steps were taken at the start of the crisis to keep the agriculture industry functioning. Examples included declaring agriculture and food production an essential sector; measures to ensure the functioning of government agencies; the coordination of responses within the private sector; and national and international logistic and transport initiatives to ensure the continuation of trade. These actions are intrinsically linked to the pandemic, and will not be relevant once the crisis has ended.
•  No-regrets measures
These improved market functioning measures contributed to greater resilience, but they
could have been taken beforehand and should be maintained or even scaled up after
the pandemic. Included here are actions supporting digital innovations that facilitate
e-commerce; the exchange of information; agriculture job-matching information centres;
and training or trade facilitation measures.
•  Temporary relief measures
These sought to contain the effects of the crisis on players in the agro-food sector, from
producers to consumers. They consisted largely of temporary trade and market measures to relieve domestic economic pressure; agricultural support measures, including those that
compensated producers and agro-food chain players for damages incurred; consumer and food assistance measures; and measures that lifted or limited regulatory requirements for farmers.
Liquidity, credit and funding
Another way in which governments addressed the economic impact of the COVID-19 pandemic and its associated lockdowns was by offering liquidity, credit and funding for relief measures.
Governments in many countries adopted comprehensive economic recovery packages,
with measures that included new lines of credit, subsidised loans, flexibility of taxes,
and subsidies. At the same time, numerous governments created specific financial
support schemes for the agro-food industry.
Governments dedicated a total of US$157 billion (about R2,3 trillion) in response to the effects of the pandemic on this sector. Of this, US$116 billion (R1,7 trillion) was earmarked for grants, payments or other funding, while US$41 billion (R590 billion) was offered up as subsidised loans, new lines of credit, and other mechanisms.
Sector-specific funding focused primarily on relief measures for players in the agro-food
industry, as well as food assistance measures. Twelve percent of financial support was focused on general services, such as infrastructure and e-commerce development, and the remainder was directed towards addressing labour shortfalls via compensation for migrant or new farmworkers.
In terms of agriculture and food support measures, OECD countries favoured funding
through direct payments, grants, or increased allocation to existing support programmes,
while emerging economies supported the sector via preferential loans and credit systems.
The US accounted for 69% of total agriculture and food support via earmarked funding, while India contributed 90% of the loans and credit granted to the sector in response to COVID-19.
Food assistance measures
A large number of countries deployed public food assistance measures to prevent rising
food insecurity resulting from the pandemic; these complemented other livelihood support
measures. Food assistance programmes targeted low-income households with a particular focus on infants, children, students, the vulnerable and the elderly. The programmes fell into two categories:
• The provision of vouchers that could be used to buy food without restrictions or to buy certain types of food products. Some countries issued benefits electronically to vulnerable people and provided information on food assistance packages.
• The provision of free or subsidised meals at canteens or other public places where
possible, or via home delivery. The latter required logistical adaptation and often
involved partnerships with private caterers. Governments also provided additional support
for food bank operations to respond to the growing demand for emergency food aid.
The SA's government's response
In South Africa, the Department of Agriculture, Land Reform and Rural Development (DALRRD) set aside R1,2 billion to help small-scale farmers of poultry, livestock and vegetables in distress.
In addition, R400 million was redirected from the Proactive Land Acquisition Strategy
Programme to support these farmers. Women, the youth and disabled producers received
priority, and the funds were delivered in the form of vouchers capped at R50 000 per farmer.
DALRRD also monitored the country's food supply via an 'agricultural value chain tracker'
to ensure disruptions were addressed timeously. Other examples of how countries responded to the COVID-19 pandemic include the following:
• Brazil developed a stimulus package, expanded social programmes to ensure access
to food, and monitored food value chains by developing protocols to facilitate their continued smooth functioning. The government also expanded credit and insurance programmes.
• China took diverse measures to assit the agro-food sector, focusing on institutional
initiatives, overall economic strategies, support for farmers, information and coordination
tactics, and trade measures affecting the operation of supply chains. In November 2020, for example, a directive was issued to all local governments restricting further shifts in farmland to non-grain crops. China's COVID-19 food security response also included improving the management of grain reserves and expanding warehouse capacity.
• The EU implemented three main policies in the agriculture sector: higher advances
to farmers from the Common Agricultural Policy, the union's agricultural subsidy system; special market measures; and direct support to farmers and rural areas. Within this framework, member states chose which measures to implement, based on their own circumstances. They also put in place their own regulatory flexibilities, tax concessions
and social contribution measures, investment assistance, and allowances to help farmers and agro-food enterprises cope with the financial effects of the pandemic.
• In Kazakhstan, immediate policy actions included trade restrictions and regulated prices
for essential goods; cash transfers to vulnerable households; and targeted assistance, such as a deferral of loan payments for hard-hit sectors and small- and medium-sized enterprises. To help carry out the Northern Hemisphere's spring sowing in a timely manner, loans were allocated to farmers. Governments also pledged to buy the output of agricultural producers six months in advance. Farmers were also eligible for new tax concessions, including a 15% discount on diesel fuel and exemption from the land tax for agricultural land.
• Mexico's Ministry for Agriculture, Livestock and Rural Development collaborated with
members of productive chains to ensure that food supplies, inventories and distribution were not disrupted. Particular attention was paid to key chains such as grains, poultry, beef and fisheries.
• In the UK, sector-specific payments were announced to alleviate the effects of price drops and income losses in the dairy industries of England, Wales and Northern Ireland, as well as in beef, sheep, ornamental horticulture and potatoes in Northern Ireland
The views expressed in our weekly opinion piece do not necessarily reflect those of Farmer's Weekly.
This article is an edited excerpt from a report titled 'Agricultural Policy Monitoring and Evaluation 2021: Addressing the Challenges Facing Food Systems', published by the Organisation for Economic Co-operation and Development.