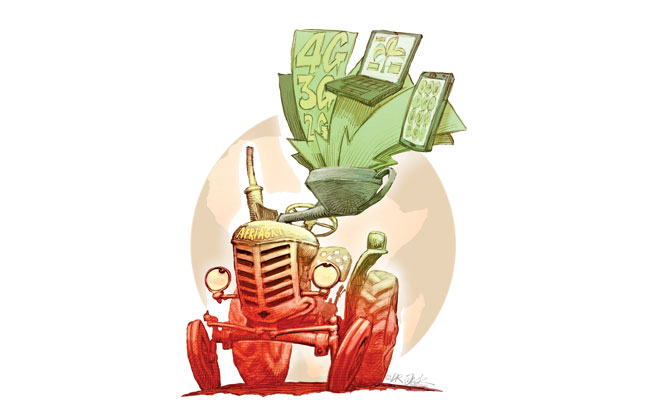 Sub-Saharan Africa's youthful population and extent of mobile penetration has the potential to enable digital agriculture transformation. Countries across the region are in varying stages of this transformation, which creates an opportunity for the exchange of knowledge, expertise and lessons.
While potential may exist, there are still hurdles to overcome, such as limited infrastructure in rural areas and insufficient funding for agriculture, which are essential drivers for digital agriculture transformation. An enabling business environment is fundamental to attract investment in digital agriculture.
This article looks at the many challenges that still exist in this area, and the opportunities that are opening up as a result.
Infrastructure
Most of the countries studied in this report have adequate infrastructure in rural areas to enable digitalisation. That said, the state of digital infrastructure needed varies across countries.
A challenge is that, overall, urban areas are better served with electricity than rural ones, even though a higher percentage of people living in rural areas depend on agriculture for their livelihoods. Network coverage has increased, with 2G and 3G now more widespread across sub-Saharan Africa.
Many countries in the region have also implemented 4G, with a few even testing 5G. In most countries, public and private operators play an active role in the telecommunications sector.
There is an opportunity to use Universal Service Fund resources and the cost-sharing of some services through public-private partnerships so that sub-Saharan Africa can make mobile devices affordable and the Internet accessible in rural areas.
Investments that can augment infrastructure:
– Enhancing digital infrastructure to foster the uptake of digital technologies in agriculture, especially in rural communities.
– Supporting the building of a digital economy across different sectors for digital transformation, with an emphasis on the digital agriculture ecosystem targeting rural areas for increased food productivity and security.
Digital penetration
Mobile broadband is the common mode of accessing the Internet across sub-Saharan Africa, yet its growth remains lower than mobile cellular subscriptions. In most countries, broadband prices and Internet-enabled mobile devices are out of reach of most people; this hinders digital adoption, especially in rural areas with lower incomes.
However, the rise of digital platforms, e-commerce and e-government services holds potential for providing and disseminating agricultural content for the benefit of smallholder farmers and rural communities.
Investment that can augment digitalisation:
– Enabling financial inclusion for farmers through access to digital financial services to improve efficiency in service provision and increase income.
Policy and regulation
Most countries in the region have enabling telecommunication regulatory frameworks, although some national policies are not up to date.
Some countries have agricultural policies that align with the Comprehensive Africa Agriculture Development Programme, but digital agriculture is still not emphasised in these policies. A few countries (such as Benin, Rwanda, Niger and Nigeria) have started drafting digital agriculture strategies, and the African Union has published the Digital Transformation Strategy for Africa (2020–2030).
Investment that can augment regulation:
Creating road maps in the form of national digital agricultural strategies as a conduit towards digital agricultural transformation remains a priority. These strategies can help countries identify challenges and investment priorities towards modernising agri-food systems.
Business environment
Most countries face constraints in creating an environment conducive to business. Obstacles include high taxes, lack of credit facilities, especially for women and the youth, lengthy registration procedures, lack of institutional capacities, and limited entrepreneurial skills among rural and agricultural communities. There is also lack of a mature business landscape in which small business and start-ups can thrive.
Nonetheless, digital financial services have extended to the larger population, leading to financial inclusion in sub-Saharan Africa. The establishment of the African Continental Free Trade Area agreement creates opportunities for digital agricultural entrepreneurs across the region.
Steps that can boost the business environment:
– Increasing incentives to attract investors to the digital economy and deploy digital products and services across agri-food systems.
– Creating national awareness across programmes for various stakeholders to promote digital agriculture transformation and adoption.
– Developing national digital agriculture strategies and policies that are aligned with the regional objectives that spur growth and focus on digital agriculture.
– Establishing policy frameworks that foster digital agriculture transformation with monitoring frameworks to support evaluation and capture lessons learnt for continual improvement.
Human capital
Educational systems have improved across the region, with a notable increase in youth literacy. Overall digital literacy rates remain low, however, as most educational systems are yet to integrate information and communications technology training in their curricula. Most schools in rural areas of sub-Saharan Africa have limited or no access to connectivity and IT infrastructure.
Digital skills training is provided mainly by private educational institutions, mobile network companies and online platforms, or through programmes and projects launched by development organisations, and are concentrated mostly in urban areas. The gender divide is evident, as girls and women lag in digital literacy in these 47 countries.
This situation creates opportunities for entrepreneurs. The rise of private educational institutions that provide digital literacy and skills through mentorship programmes and training could create a balance of inclusivity and promote education frameworks and policies that boost digital agriculture education opportunities.
Agro-innovation
For most countries in the region, the research and development ecosystem hasn't developed fully. Digital innovation in agriculture is available in some countries, but on a limited scale. Start- ups and innovation technology hubs work in silos, often lacking the requisite support, and few are related to agriculture.
In general, national agricultural research institutions have inadequate financial and human resources, limited youth engagement, and, in some cases, high dependence on external funding to support agricultural research and innovation. Collaboration between research institutions and the private sector is low.
Currently, capacity development and financial support is mostly provided by international partners through various incubators, accelerators and laboratories. These initiatives can be further promoted to support digital agriculture and innovation through public-private partnerships. They can also be scaled up as digital public goods across the 47+ countries and the region as a whole.
Investments that can aid agro-innovation:
– Developing digital platforms for agriculture that provide value-added services for farmers (such as market prices and weather-based services), as well as serving as a repository for relevant information in agriculture for farmers.
– Supporting and engaging local agritech start-ups to enhance and scale-up digital innovations in agriculture and rural areas.
– Facilitating public-private partnerships through innovation incubators, accelerators and platforms for agricultural entrepreneurs to exchange experiences and for knowledge-sharing among stakeholders to promote good practices and leverage resources.