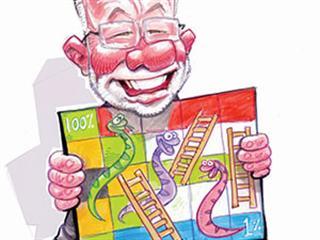 "Many South Africans are fond of bemoaning their country's flaws, such as high crime rates and deteriorating infrastructure. Embellishments, whether deliberate or through ignorance, are commonplace. For example, it's often said that Johannesburg is the crime capital of 'the world'. And many people firmly believe it's a case of if, not when South Africa 'goes the way of Zimbabwe'.
These views substantiate the saying: "You don't describe the future that you see. You see the future that you describe." It's amazing how little so many loyal, but despondent, South Africans truly know about their country. They're unaware that it's constantly changing – in many respects for the better. To get the best perspective of this, we need to compare South Africa's standing on various key aspects with the rest of the world. For example, few people know that SA is ranked 27th out of 230 countries in terms of the size of its economy based on purchasing power parity in US dollars.
There are about 20 000 universities in the world – 10 of South Africa's 23 universities rank in the top 7%. Our 'brain drain' is ranked 48th out of 144 countries. Australia's is ranked 28th and New Zealand's 84th. In 2012, the world-renowned Swiss banks were ranked 28th in the Global Competitiveness Report. South Africa's banks were ranked second.
In 1994, South Africa had 2,5 million individual registered taxpayers. In 2012 this figure stood at 13,7 million. Japan's debt to Gross Domestic Product is 200%, while those of the US and UK are 85% and 90% respectively. In comparison, South Africa's is 40%. The UK has one police officer to 380 people, the US has 1:440, and SA has 1:325.
No failed state
Based on the perceptions of business executives around the world of the competitiveness of each country, the Global Competitiveness Report (GCR) places countries in what are respectively termed the Premier League, the Second League and the Failed State. The latest report puts about 60 countries in the Premier League, about 120 in the Second, and about 50 in the Failed State category.
Most uninformed South Africans would probably feel that SA is in the Second League, or even the Failed State category. But our country is actually considered Premier League, ranking 52nd overall out of the 144 countries in the GCR. Of course, South Africa is by no means perfect and there are categories in the GCR where we perform poorly and that require urgent remedial action. For example, in Co-operation in Labour/Employer Relations, South Africa came 121st out of 133 (2009) and 144th out of 144 (2012).
Improvements
Still, the GCR has revealed that South Africa has made significant improvements between 2009 and 2012. Out of 144 countries, our judicial independence improved from 44th to 27th, the reliability of our police services from 104th to 90th, our inflation from 109th to 76th, and our 'availability of latest technologies' from 51st to 39th.
Where South Africa has slipped the most out of 144 countries during this period includes transparency of government policymaking (27th to 35th), wastefulness of government spending (38th to 62nd), diversion of public funds (56th to 84th) and public trust in politicians (65th to 88th). These statistics show the paradox of this country, where we excel in some areas and do shockingly in others. Having said that, it should be remembered that South Africa has 100 000 NGOs at present, about 10 000 of which are focused solely on education. We have a vibrant relationship between government and the private sector in SA.
Middle class
When my daughter graduated from the University of Cape Town with a Business Science degree, 48% of the graduates in her class were people of colour, and the whole class was split evenly between men and women. Ten years ago, this class would have been exclusively male and almost exclusively white. I asked myself how this change could come about in a country where maths and science education is supposed to be failing.
Well, it's happened thanks to NGOs seeking to improve the quality of education provided by primary and secondary schools. Another dramatic change involves the black middle class, which has grown from 1,7 million 10 years ago to
4,3 million today. I'm convinced this momentum will continue and change the way things happen in South Africa.
For example, buying and food consumption patterns are going to change, which will affect the agriculture sector.
A Credit Suisse study found that, on average, household wealth in South Africa has quadrupled over the past 10 years – we're one of only five countries in the world where this has happened. Another positive change is that South Africa's actual tax collection has shown significant sustained positive growth since 1993/1994, when R100 billion was collected. Now R814 billion is being collected.
Farming communities
I appreciate the fact that South Africa's farming communities may be more stressed about the future of their country than many other communities. Our country's agriculture sector is an extremely tough one to be in, with many industry-specific challenges that need to be dealt with. But this makes it all the more important for farmers to understand that we are living in a country where many positive changes are happening.
Yes, crime is a national problem, and one which the farming sector feels particularly sensitive about. However, if you look at South Africa's crime trends since 2001 you'll see some interesting facts. Per 100 000 people of our population, murder has declined from 47,8 to 31 per year, assault from 590 to 381, attempted murder from 70 to 29, and stock theft from 93 to 61. And, despite what many South Africans believe, Johannesburg is by no means the murder capital of the world.
The current rate is 56 murders per 100 000 people. There are a number of cities around the world where the murder rate is higher. Yes, South Africa is in the top 10 countries in the world for violent crime, but we don't stand out on other crimes, such as housebreaking, in comparison with the rest of the world. Based on these figures, I find it interesting that 85% of victims of violent crime in our country know their attackers by name and 60% of the victims were under the influence of alcohol or drugs. So these crimes are primarily a social and drug- and alcohol-related problem.
Find the truth
We have a strong parliament, a strong political opposition, a profound Bill of Rights, a free, robust press, and we're one of the few countries in the world where parliament answers to the Constitution. So we have much to be proud of in terms of our democratic institutions. Too often we accept bad news as the truth. Before they start bemoaning the future of their country, South Africans need to do some research to find out what's really happening. In many cases, they'll be pleasantly surprised.
Overall, I think there are many positive signs of where we are going. As SA academic Nick Binedell says, our country has seven 'Killer Apps'. These are: a strong private sector; strong institutions; generally good infrastructure; access to a billion Africans, the fastest-growing consumer market in the world; a tough 'frontier mentality'; the ability to commuinicate in English, the global language of business; and excellent geographic location. – Lloyd Phillips
Adapted from Steuart Pennington's speech at the Kamberg Valley Association's recent AGM. Contact him at 033 007 0538, or [email protected]. Websites: www.sagoodnews.co.za; www.africagoodnews.com.
The views expressed in our weekly opinion piece do not necessarily reflect those of Farmer's Weekly