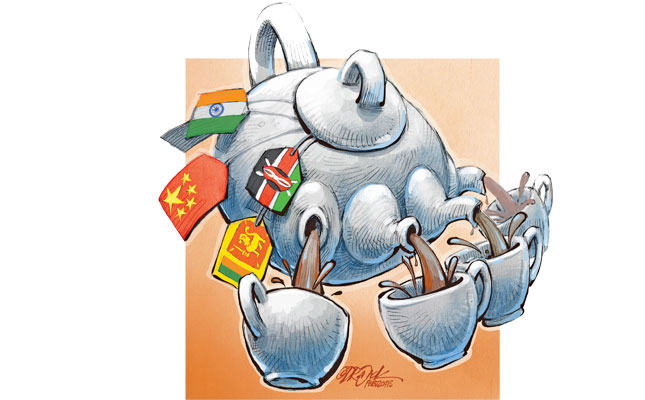 Global tea production amounts to more than US$17 billion annually (about R275 billion), while world tea trade is valued at about US$9,5 billion (R161 billion).
Smallholders are responsible for 60% of world production. Tea provides productive jobs in rural areas, which enables households to meet their food security needs and improve their nutritional status.
Global per capita tea consumption has increased by 2,5% over the past decade, with marked expansion in tea-producing countries. Developing economies in East Asia, Africa, Latin America and the Caribbean have been driving the growth in demand. In the more mature European markets, as well as other advanced countries, demand for tea has dropped.
The need for innovation is evident, as consumers increasingly demand organic ingredients, and diversified blends and flavours. There is also growing interest in higher-quality speciality teas, with green teas and fruit teas gaining popularity, especially in Europe, owing to real or perceived health benefits.
Challenges
Critically, the sector needs to balance the need for expansion and the requirements of sustainability at all stages of the value chain.
Growing consumption of tea in producing countries, driven by population and income growth, has seen a decrease in exportable production over the past two decades. Nevertheless, per capita consumption remains low in these countries compared with import markets. More must therefore be done to increase demand by exploring prevailing market opportunities.
The FAO Tea Composite Price, which includes crush, tear, curl (CTC) and orthodox teas at the four major auctions (Mombasa, Colombo, Kolkata and Kochi), fell by 12% in 2019 to an average of US$2,42/kg (about R35,56/kg).
The Composite Price declined further in quarter 1 (Q1) of 2020 to US$2,28/kg (R40,81/kg), on the back of large volumes and the measures imposed by many countries to contain the spread of COVID-19. Since April 2020 prices have recovered to an average of USD2,60/kg (R46,75/kg). Despite the decline in Q1 2020, prices over the whole of 2020 were on average higher than in 2019, at US$2,52/kg (R38,60/kg), an increase of 4,2%.
In 2021, international tea prices dropped to US$2,44/kg (R33,59/kg), as pandemic-related disruptions to logistics affected trade, and Kenya, given its production surplus, was selling its tea at highly competitive prices.
In Q2 of 2021, prices made a recovery, reaching US$2,85/kg (R41,75/kg) in April, the highest level since May 2018. This was due to major spikes on the Colombo auction in Sri Lanka, on the back of tighter supplies from that country. Prices also increased at the Kolkata auction in India, due to a boost in demand, following supply cutbacks in Sri Lanka and the easing of the COVID-19 trade restrictions.
Tea prices and trade are also expected to be adversely affected by the Russia-Ukraine war, as Russia is the largest importer of Indian tea, the third-largest importer of Sri Lankan tea, and the fifth-largest importer of Kenyan tea.
World tea production in 2021 increased to an estimated 6,5 million tons, from 6,3 million tons in 2020, as production of black tea recovered from the 2020 shortfalls in some of the major producing countries, such as India and Sri Lanka.
China remains the largest producer, accounting for 47% of global output, reaching 3,1 million tons in 2021, compared with 2,9 million tons in 2020.
Output in the second-largest producer, India, recovered in 2021 to 1,33 million tons compared with 1,26 million tons in 2020. Exports recovered slightly from the COVID-19-related downturn in 2020 to an estimated 1,8 million tons in 2021, due to higher export volumes from Kenya and China, and resumed shipments from Sri Lanka.
Global consumption has increased annually by 3,5% over the past decade, and is estimated to have amounted to around 6,4 million tons in 2021, underpinned by robust demand in major producing countries (China and India), as well as emerging economies.
Global per capita tea consumption has increased by 2,5% annually over the past decade. While declines have been registered in the traditional importing markets of Europe, North America and Russia. However, per capita tea consumption has increased in producing countries, although marginally in most cases.
Medium-term projections are based on the results of the FAO' partial equilibrium trade model covering the major tea import and export countries.
Significant increase in consumption
Global black tea production is projected to increase annually by 2,1% until 2030, a slightly slower pace than the previous decade, when growth stood at 2,4%.
The expansion in China is expected to be significant (4,1%), underpinned by strong growth in domestic demand for black tea. Output in the top two exporters of black tea, Kenya and Sri Lanka, is expected to grow by 2,1% and 0,6% a year respectively, while output in India is projected to increase by 2,3%/year. World green tea production is projected to increase at a faster rate of 6,3%/year, and output is anticipated to nearly double in China by 2030.
The expansion is expected to result from increased productivity through replanting of higher-yielding varieties. Vietnam is also expected to substantially increase its production of green tea with an average annual growth rate of 4%.
World black tea consumption has increased by 3,5% over the past decade, reflecting strong growth in producing countries that has more than offset a subdued import demand in traditional tea-importing markets.
Black tea consumption is projected to grow by 2% over the next decade. The largest expansion within the top five producing countries is forecast in China, where consumption is expected to increase by an annual growth rate of 4,9% annually, as black tea, pu'er tea and dark tea are popular due to increasing awareness of the health benefits linked to drinking this beverage.
Strong growth is also expected in many producing countries in Africa and Asia, such as Uganda (8,1%), Rwanda (5,1%), Kenya (4,3%), Malawi (4%), Zimbabwe (3,8%), India (2%), and Sri Lanka (1,4%).
The pandemic's effect on the tea market is estimated to be moderate. The market will continue to see robust demand in developing and emerging countries, creating new rural income opportunities and contributing to food security.
World tea exports have increased annually by 0,5% over the past decade. Black tea exports registered a minor increase of 0,1%, due to increasing shipments from Kenya and India, which more than offset reduced shipments from Sri Lanka, the second-largest exporter of black tea. Green tea exports increased by 2,3%, mainly driven by increased sales by China and Vietnam.
In the medium term, exports of black tea are expected to increase by 1,4% on the back of larger shipments from Kenya. World green tea exports are expected to grow at a faster rate, by about 4%/ year. China is expected to continue to dominate the green tea export market, accounting for more than 70% of global green tea exports and registering an annual increase of 3,6% up to 2030, followed by Vietnam, with a share of more than 20%. In terms of growth, Vietnam and Japan are projected to lead, at 7% and 6,5% respectively
Climate change
Other challenges that must be addressed to ensure the tea sector's long-term sustainability, include global warming, which is severely affecting yields and quality. Adaptation measures recommended by the FAO include planting drought- and stress-tolerant tea cultivars, diversifying production, intercropping, organic cultivation, and investing in water conservation.
Environmental sustainability schemes that deal with soil quality and biodiversity conservation, should be given priority.
The promotion of market transparency and the economic sustainability of the tea value chain requires attention. International prices of tea in real terms, adjusted for inflation, have been declining for the past four decades, reflecting a tendency for technical improvements to increase yields and production faster than demand, resulting from population and income growth.
Economic sustainability for smallholder tea producers can only be guaranteed if the returns from tea-growing activities can cover at least production costs and basic household expenditure.
Innovation and product diversification are key for future market expansion and for boosting tea consumption.
The views expressed in our weekly opinion piece do not necessarily reflect those of Farmer's Weekly.
This is an edited excerpt of a Food and Agriculture Organization of the United Nations report titled 'International tea market: Market situation, prospects and emerging issues'.