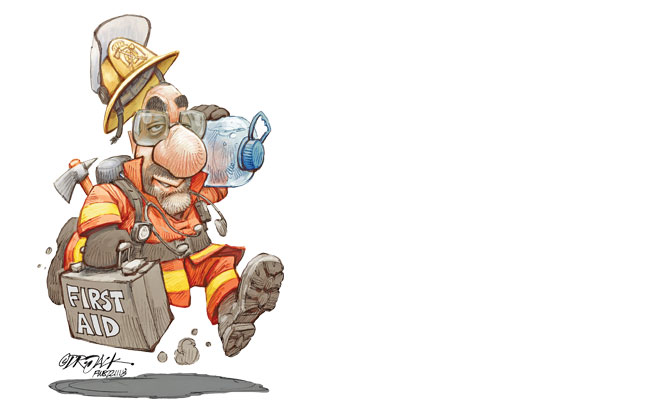 Do you think the country is falling apart? It is not. The reason I say this is due to the spirit of our people.
I've seen my team of South Africans go into a humanitarian crisis situation on many occasions, and observers have been in awe of their skills. Yet South Africans don't believe in themselves!
Obviously, we must be realistic: our country does require serious intervention. However, I certainly don't believe that South Africa is falling to pieces. Every civilization on earth has had its ups and downs. That's just the way things work.
I have hope for the future and know everything will work out well. After all, this is the greatest country on earth.
Why do I say this? Let's place South Africa in context. Right before the 1994 election, people were stockpiling food and keeping their passports close by. Some were getting ready to leave the country, because they were expecting violence and bloodshed.
The international media were waiting with bated breath for something critical to happen.
Instead, the election turned out to be boring! Nothing happened, and we had a peaceful transition.
That single incident shows that South Africans, in general, are patient and humble people who truly believe in the spirit of ubuntu and building together. This is something I've experienced at first-hand for decades, even before starting Gift of the Givers.
Origins
The Gift of the Givers was started 30 years ago after I visited Sufi Sheikh Muhammed Saffer Effendi al Jerrahi in Turkey. He told me that I would form an organisation called Waqful Waqifin ['Gift of the Givers']. He said I would serve all people of all races, of all religions, of all colours, of all classes, of all political affiliations, and at any geographical location. I had to serve them unconditionally.
And I have done so. For 30 years, I've known exactly what to do, how to do it, and when to do it. I don't know how I know it, but I know exactly what to do.
When I left Turkey, I knew I needed to help with the civil war in Bosnia. That same month, I took 32 containers of aid material into a war zone. Three months later, in November 1992, I took eight containers of winter items through Austria. Eastern Europe faced temperatures of below -21°C that winter.
The following year, the team came together with Pretoria engineers and we designed the world's first containerised hospital. It was a product of African technology and African engineering. This world-first was made in Africa and taken to Europe.
The South African containerised mobile hospital is equal to any of the best hospitals in Europe. What am I telling you? South Africans have great skill.
So I put it to you: when South Africans work together, we can do amazing things elsewhere in the world.
Why can't we do the same here? We need to have greater self-belief.
I have seen amazing things over the years and the one thing I know is that when there is a crisis, the world calls on the Dream Team, and that team hails from South Africa.
It consists of people who studied in this country and practise [medicine] here. In a matter of hours, we are ready to respond to a crisis. One group will take tents, blankets, food, medicine, water, sanitary pads, nappies and so on, and another will take primary health care [equipment and materials]. Another team will take care of orthopedic surgery, general surgery, vascular surgery and neurosurgery, and we'll also have a team of trauma consultants.
We will have search-and-rescue teams, and we'll even organise hostage negotiators if required.
We can fly a plane into an airport and put up an intensive care unit (ICU) on the runway. In Somalia it took us three hours to set up an entire hospital. We had an ICU, oxygen theatre, gynaecologists, paediatrics, and casualty ward. Everything within three hours.
That's the [potential] of South Africans. And we need to understand this because that same [energy] is what's required to fix this country.
Yet South Africa has two major problems: a lack of skills and a lack of experience. Our people's skills need to be updated and we must bring the experience back. That's what we need to make a major change in this country.
Local fires and drought
In 2016, we realised that we needed to place greater emphasis on our local operations, because South Africans needed to be inspired and motivated by our work. The first major test of our skills on a local project came during –. That was the first time the country understood what we really did.
I can still remember that when we landed in Knysna, people from the local supermarket told us that we could use their parking area as a base. We were concerned about where customers would park, but the management said it would be fine. It was incredible to see how South Africans could adapt mentally and respond to the challenge. They were able to accommodate us for the sake of the people.
Our country needs each of us to be supportive of the communities of our country. [The Knysna community] enabled us to deliver more than 20 000 food parcels and assist with
our team of firefighters. We were also able to support 1 200 firefighters with meals and water twice a day.
People then mentioned that they were concerned about the pets that were suffering due to the fires. Can you see the compassion of South Africans? This caring nature pointed out a need and we helped by providing 20t of cat food and dog food.
We experienced the same level of care and compassion amongst the farming community when we responded to the Sutherland drought. Farmers brought assistance to the sheep, cattle, pigs, horses and even wild animals that were suffering.
The need for unity
There's only one way to build this country. It's through unity of religion, of colour, and of class. We need to keep in mind that [it's individuals that cause the problems]. We shouldn't judge an entire community or the entire nation because of the actions of a few individuals.
It's critical to keep that in mind when you look at our country. When you actively focus on relating to people as human beings, you won't judge anybody. The only person you will judge is yourself. And you'll be so focused on doing that, you won't have time to judge others.
We need a stronger and a better country. But there is a willingness amongst South Africans
to work together to fix things. That country is yours. Take ownership of it.
The views expressed in our weekly opinion piece do not necessarily reflect those of Farmer's Weekly.
This is an edited version of Dr Imtiaz Sooliman's address at the 2022 Agri SA congress. Sooliman is the founder of the Gift of the Givers Foundation, the largest disaster response non-governmental organisation of African origin on the continent.