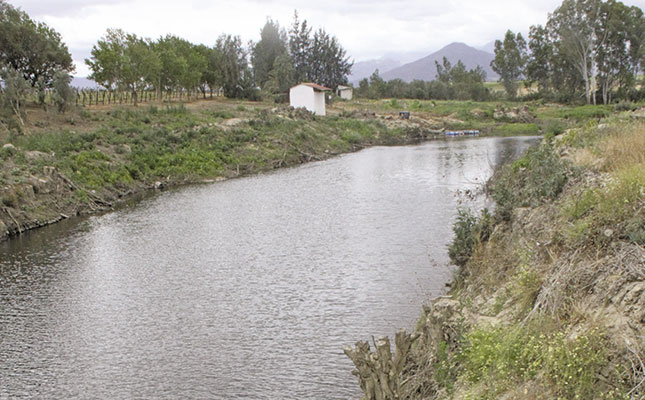 The Western Cape's 260km-long Berg River is steadily being transformed from a wastewater furrow to a clean-running riparian corridor, and significant progress has been made in four years. In particular, infrastructure has been improved to treat wastewater in the catchment area, and 40km of the river have been cleared of alien vegetation, mainly red river bluegum (Eucalyptus camaldulensis), for 30m on each side.
This is according to Francis Steyn, sustainable resource manager of the Western Cape Department of Agriculture's LandCare project. Asked to provide a background to the ambitious project, Steyn says that the average annual rainfall at the river's source on top of the Franschhoek Mountains is more than 2 000mm. However, this figure declines to less than 200mm where the river reaches the Atlantic Ocean near Velddrif.
Today, the 600 farms alongside the Berg River earn about R1,8 billion annually from irrigated crops on 22 500ha, of which about R1,3 billion is from exports. Agriculture and agri-processing generate more than 15 000 permanent and up to 20 000 temporary jobs in the region.
According to Steyn, bluegums cover about 1 500ha of the Berg River's riparian zones. Once these are removed, water will be available to irrigate fruit on land of an equal size. But as bluegums consume much more water than fruit trees, the number of additional hectares that could be irrigated might be even higher. In fact, it could mean enough extra water to establish another 30 farms of 50ha each under irrigation, which would make a meaningful contribution towards combating unemployment.
Alien vegetation removal: multiple benefits
Approximately 180 people are currently involved in clearing alien vegetation in the Berg River's riparian areas, and 114 of these jobs are privately funded. The employees are mainly made up of teams from government's Working for Water project but they also include private contractors.
Removing alien vegetation is challenging enough, but it is equally important to prevent regrowth through ongoing maintenance. It is also necessary to introduce rehabilitation programmes so that as many indigenous plant species as possible can be planted to replace the alien species.
Steyn explains that aliens such as bluegums lead to encroachment and the disappearance of valuable indigenous plants and wetlands. Apart from severely limiting plant and animal biodiversity in the riparian areas, the encroachment narrows the width of the river, resulting in significant flooding after heavy rain.
"Our aim is to create 10 natural wetlands between Paarl and Velddrif through which the Berg River can flow. As we clear the riparian areas, the main river often branches out to create little islands and side streams. It also results in erosion of the river banks and the forming of sediment which has to be managed," says Steyn.
Removing the alien vegetation has a major additional spinoff: the wood itself has value in several forms. Private contractors export the trees as timber and wood chips, and it is also turned into firewood for the local market.
It has even greater economic potential if turned into compost or biochar (which can be used as a fertiliser) or charcoal.
According to Steyn, 1 500ha of bluegums translate into 750 000t of biomass. If chipped and used as mulch in fruit orchards, it can bring about a 15% saving in irrigation water and a 10% increase in soil fertility per year for seven years.
One of the Berg River project's 180 workers, Masixole Mantyampi, shows where a variety of indigenous plant species have been planted along the banks.
Cnvenient Source of biofuel
The large quantities of undesired biomass along the Berg River that must still be cleared creates the potential for a biofuel energy hub next to the existing wind farm near Gouda, about halfway down the river, explains Steyn. The energy from this biofuel is similar to that generated from coal. Although biomass does not generate as many heat units as that of high- grade coal, it can be burnt without producing high levels of air pollution.
Revenue from these projects could partially or even totally fund the rehabilitation of the entire Berg River project, which is currently dependent on government and donor funding. At the moment, most of the funds for clearing projects along the river come from Working for Water, which spent R32 million in cleaning projects in 2014.
Since the early 2000s, when fruit and vegetable farmers locked horns with municipalities about the Berg River's deteriorating water quality, much awareness has been created about the need for a turnaround strategy for the river. This has resulted in the formation of the Berg River Partnership, comprising landowners, manufacturing companies along the river, local authorities, the departments of agriculture, fisheries and forestry, environmental affairs and water affairs, the Western Cape premier's Green Economy Programme,
The LandCare South Africa programme, and the Dutch Embassy in South Africa's Living Lands project."One party or one farmer cannot tackle such a daunting restoration project on their own – it's a collective effort," Steyn says.
He quotes Nelson Mandela: "Action without vision is only passing time. Vision without action is merely daydreaming. But vision with action can change the world."
Upgrading wastewater infrastructure
Since the formation of the Berg River Partnership, the Stellenbosch and Drakenstein municipalities have spent approximately R100 million a year on upgrading and maintaining wastewater treatment works that affect the river's water quality, according to Steyn.
This has included replacing the wastewater treatment infrastructure in Franschhoek, which was unable to cope with the influx of sewage from informal settlements in the Berg River's catchment area. Sewage ended up in the stormwater systems or spilt directly into the river from time to time, creating major environmental problems.
Despite the Berg River Partnership's efforts to turn the situation around since 2011, the risk of untreated wastewater spilling into the river remains high, Steyn says. He points out, however, that the Green Scorpions are beginning to add their sting to the regulations, and water polluters can be forced to rehabilitate the river in their area at very high cost.
Creating opportunities
Within the framework of its Green Economy Programme, the Western Cape government is keen to improve the environment as well as uplift local economies. The Berg River Project offers many opportunities to satisfy both criteria.
By improving water quality and quantity, it aims to improve the lives of the poor, offer short-term and long-term employment, improve food security and reduce the very real risks of flooding and disease along the river.
"It's about implementing government programmes, holding people accountable for their actions and finding innovative solutions to complex challenges. This project requires critical interventions to ensure environmental sustainability and resilience to future shocks," Steyn says.
By restoring the natural riparian system, the partnership's ultimate vision is to transform the Berg River into an economic, ecological, cultural and tourism corridor. Some farmers along the Berg River have already established restaurants, accommodation and conference facilities.
Steyn's vision for the Berg River is to create a 560km waterfront on either side of the river. Moreover, he hopes that this vision can be accomplished before his retirement in nine years.
Phone 021 808 5090 or email [email protected].