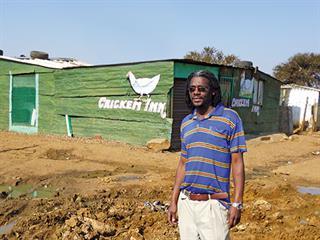 "At least I'm not sitting and doing nothing,'' says Prince Magagula (44), as we drive down a narrow street in his home, Phomolong squatter camp, on the outskirts of Mamelodi near Pretoria. The dusty street is oozing sewage and abuzz with children, the elderly and the idle unemployed. On entering Prince's home, a visitor cannot help hearing the sound: hundreds of broiler chickens clucking in the room adjacent to the sitting room. Prince purposely keeps his broilers in his home, and not in the yard outside, as a precaution against theft.
READ MORE: Broilers: SA vs Argentina
''Everything I'm doing is from my heart,'' says Prince. "If I wake up in the morning and I see one chicken dead, I feel there is a pain in my heart.'' He calls his home/broiler production facility the Chicken Inn.
From baking to broilers
Prince is quick to admit that a broiler chicken initiative is one of the last business ventures he ever thought he would get involved in, because of his background as a baker and confectioner. In fact, his departure from Nelspruit in Mpumalanga to Tembisa in Gauteng in 1994 (he moved to Phomolong in 2002) was fuelled by a desire to pursue a career in baking.
At the beginning of 2012, after having worked as a baker in various establishments, Prince was determined to start his own baking business. However, he soon realised that he would be unable to afford the necessary baking equipment. In May that same year, still determined to go into business, he opened a tavern attached to his home and purchased music equipment and a television with a R12 000 loan. Unfortunately, local thieves noted his apparent new-found wealth and struck when Prince went out one day.
''They stole my equipment,'' he recalls. "It was down the drain – it was gone.''
It was after this setback that Prince's wife Lisa suggested that they establish a small-scale broiler chicken production facility. To test the market, the couple began marketing full-grown broilers sourced from as far as Brits in the North West, before attempting to take control of the broiler value chain by rearing their own day-old broiler chicks. Lisa had seen her family in Nelspruit produce broilers and felt confident to mentor her husband.
"I had no idea how to produce broilers," Prince confesses.

Townships like Mamelodi are a vibrant market for broilers. Here, chickens await their fate at a taxi rank close to Prince's home.
Production at the Chicken Inn
Prince attempts to produce 600 broilers a cycle in summer (losing as few as 10 to 15 a cycle) and 400 a cycle in winter (losing approximately 40 a cycle), and insists that he could comfortably sell double the number of broilers he currently markets if he only had more space available. A fibreglass bakkie canopy is used to house day-old chicks on their arrival, and keeps them warm with the help of a paraffin primus stove on their arrival. It is part of the wire chicken run where the broilers are grown out. Prince says that the first 21 days are the most critical period in the cycle, and emphasises the importance of using vitamin/mineral stress packs and administering standard inoculation regimes during this period.
He regards his Nissan bakkie as a critical component in his broiler initiative, used to source the day-old chicks from National Chicks in northern Pretoria (at R310 per 100 chicks); feed from Dalien Voere in East Lynne, Pretoria, and vaccines from Immuno-Vet Services in Johannesburg. All water used during the 21-day period is sourced from a borehole in Pretoria North and transported to Phomolong.
To ensure effective ventilation, Prince has built a netting wire window into the side of the Chicken Inn to improve airflow during very hot summer months. To combat cold snaps, the broiler holding facility is warmed with a primus stove and covered in plastic bags to improve insulation. For bedding, he currently uses shredded newspaper, but is investigating where and how to source wood shavings.
Prince sells his broilers at seven weeks old at R50 each across Mamelodi. "When you sell them to the community you don't want to sell them too small,'' he says. "They're really selling well.''
Township challenges
Access to production information and expertise were at first a major stumbling block, and Prince recalls how he lost chicks because he did not clean and disinfect his production facilities thoroughly after a cycle. ''At the start, I was losing birds because I didn't know that one must always clean the chicken house," he explains.
READ MORE: Answers to your broiler production questions
Another unexpected problem arose when rats invaded his production facility, first in search of the chicken feed and thereafter the chicks themselves. ''The rats were a problem. I had to cover up everything to make sure they couldn't get in,'' he says.
Although Prince has access to municipal water, supply is often disrupted because of the extension of municipal services to a rapidly expanding township.
''Sometimes municipality water is closed because of development,'' he explains. "So sometimes I must travel to get water.''
It is a lack of space that remains Prince's greatest obstacle to boosting production. ''I can't get bigger because I am crowded,''
he says. ''If I could get a bigger place I could order more day-old chicks.''
Phone Prince Magagula on 060 605 0974.