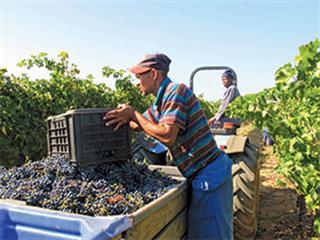 Cloof wines are world renowned and have won many awards. However, Peter Duckitt who farms the adjoining farms of Cloof and Burgherspost between Malmesbury and Darling in the Western Cape, stresses that farmers now need to think out of the box for farming to remain viable. He has diversified into livestock, grain crops, conservation and tourism, with further ventures up his sleeve.
"Wine grapes are still our main product," says Peter. "We farm on a total of 2 500ha, of which 375ha is under vineyards. We produce around 2 400t of wine grapes annually and supply our own Cloof brand as well as Spier, KWV, Cederberg Wine Cellar, and Saronsberg in Tulbagh. Our wines are exported to Asia, Europe, the US and Russia." The brand was established in 2003 and directors Peter Duckitt and Belgian winemaker Christopher van Dieren have been on the farm ever since. Cloof now also produces a Duckitt label.
Biodiversity and Wine Initiative (BWI)
"We are BWI Champions and Cloof and Burgherspost were two of the first five to receive this status," says Peter. "This means we implement safe working practices in a safe working environment, use safe chemicals and minimal or no insecticides. We don't spray insecticide to control insects, we control undesirable insects with insect predators and only use insecticide in emergencies. We have also allocated nearly half of our land – 1 150ha – to nature conservation. This dedicated land will not be disturbed."

Peter Duckitt
Thinking out of the box
Alongside the wine grapes, 200ha is under wheat and produces around 2,8t/ha. Peter also grows oats as feed for 400 Bonsmaras. On the conservation area, previously unemployed local people clear alien vegetation and earn an additional income from the sale of the firewood. Cloof also operates two self-catering luxury cottages for guests and hosts the popular annual Rocking the Daisies music and arts festival each spring.
"This diversity generates income throughout the year," explains Peter. "Grapes give an income in May, June and July; beef in October and November, and wheat in December and January." A strong source of groundwater has been found on the farm and Peter is awaiting the results of the water quality test. "Depending on the analysis, we will start another project, either lucerne under irrigation to supply dairy farmers, or vegetables for income during other months of the year.
"The vegetables will be carefully chosen for planting and harvesting times not to coincide with those of other branches, particularly wine grapes." Peter started diversifying in the last five years and, while motivated to generate a constant income, it also keeps the labour force employed. "The vineyards require seasonal workers but I feel a personal responsibility towards them too, and try to keep them working all year-round."
Juggling diverse farming operations can sometimes be tricky, he admits. "Summer rain is unseasonal in our area. We had 50mm in February, which delayed the grapes ripening, hence our harvest. So, I have to think long-term but plan short-term to keep everything operating efficiently."

Harvested wood provides an additional income for workers who sell it as firewood.
Links
Wine cellars usually have to find ways to dispose of the skins and stalks. On Cloof, they are fed to the beef cattle. "What we don't feed to the cattle goes onto the compost heap, which will then feed back into the vineyards." Tourism also links into some farming activities. Guests in cottages can enjoy wine-tasting, go on a guided game drive into the conservation area and do a cellar tour on request, all included in the overnight accommodation price.
Conservation
The large conservation area was set aside in 2008. Cloof conservation officer, Jacques Smit, explains that it is classified as a 'voluntary conservation site' that falls within the Cape Lowlands Sand Fynbos and Renosterveld eco-region. Large game species include zebra, eland, gemsbok, red hartebeest, bontebok, springbok and ostrich. "The conservation area is a mixed-use area and may be grazed by cattle if necessary," he adds.
"The conservation aspect can't negatively impact the farm's main business. Two teams of 12 people, including two women, are clearing Port Jackson willow (Acacia saligna) from the area. The Cape West Coast Biosphere Reserve subsidises their income and the wood is sold as firewood. "Surplus brushwood is piled into rows to provide shelter and seed food for rodents, which in turn are preyed on by raptors. But it will require decades of clean-up work after these aliens have initially been cleared.
"We do not spray herbicides to kill the Port Jackson because we don't want to damage the indigenous fynbos we are restoring," says Jacques. "So we use vineyard loppers to cut down trees and seedlings, then paint the stumps with Confront marked with a blue dye to kill them and mark the site. Port Jackson is a very vigorous grower and if we just cut it down, it will regrow.
"Follow-up clearing is necessary every year after rain and may continue for decades." But conservation is not just about alien plant clearing, says Jacques. "We also bring in natural vegetation to rehabilitate the area because natural regeneration is very slow, and we also supply basic equipment and herbicide to the workers. It's a huge undertaking, with only around a third of the area cleared up to now."

A groundwater source has been discovered on Cloof, and a quality test will determine whether Peter will plant lucerne or vegetables in his diversified operation.
Labour practice
Peter explains that using local labour is an important consideration. "With the recent labour unrest in the Western Cape, I escaped unscathed. Only two of my labour force of 160 people were earning less than the current minimum wage, so I made those adjustments. As they were piece workers, the harder they work, the more they are paid. It's easy to have a handful of people earning under the minimum and many others earning four times the minimum wage doing the same work, a reflection of their ability to do the job."
Cloof uses an electronic system where workers scan their personal discs for each basket of grapes picked, for harvesting record keeping. At the end of each day, each worker receives an electronic print showing how many baskets he or she has picked. "The worker can see what the earnings are. To a large extent, they write their own pay cheques," says Peter.
Mechanisation
"The entire wheat farming operation is largely mechanised," he says. "The cattle require minimal labour, just three or four men. The vineyards require a lot of labour, but I will be very sad the day we go into total mechanisation because of my personal obligation to local job creation. They are my neighbours from the nearby towns of Pella and Dassenberg. We need to look after each other."
Challenges
The weak rand is currently Peter's greatest challenge "because we are putting a lot less in our pockets". The price of fuel, fertiliser and chemicals has also reduced profit. "Regarding exports, the markets and volumes have remained constant and the local market is growing, but we are earning less because of increasing costs on many fronts," he says.
On farming operations, Peter considers vineyards the most challenging. "We are constantly striving for the ideal balance between quality and quantity. If the crop is too small, the vines grow too fast and with too much vigour. If the crop is large, the vines won't grow to the correct shoot length to ripen the fruit and we won't have good quality grapes," explains Peter. "Each vineyard block – we have 64 – is different and has to be managed individually. We have to be hands-on to keep it co-ordinated. We have excellent managers who know their field well. They are my eyes, hands and feedback."
The future
"Tough times lie ahead with rising input costs and climate change. Summers are getting longer, unseasonal rain moves the goalposts, and we have to adapt to the changes. We have to farm with nature. Fortunately for us, labour is not a concern – it will be part of our rising production costs, but nothing more," says Peter.
Contact Peter Duckitt on 022 492 2839 or at [email protected] or visit www.cloof.co.za.