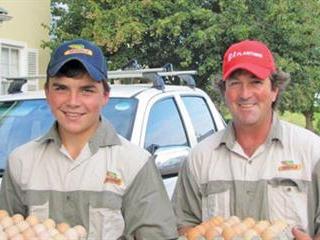 At just 16 years of age, Michael Mandy is well on his way to becoming a fully-fledged commercial farmer. He has been producing his own eggs and broilers on their 3 000ha beef, maize and soya bean family farm in Harrismith since he was eight. "I wanted to make a bit of money and decided to try chickens," Michael recalls.
"I started with 10 broilers, which we sold to the locals. Then I bought a few layers. My first delivery was a dozen eggs to Café Bloom in Nottingham Road." Michael decided on free-range eggs, and he does not use antibiotics or inoculations. He sourced his broilers and layers from Dave Grant-Smith in Van Reenen and also sources layers from Mike Bosch of Boschveld Chickens in Bela Bela.
The indigenous Boschveld chicken is a hardy, no fuss breed with the good production and survival traits of three breeds: the Venda, Matabele and Ovambo. Michael learned about egg and broiler production through books and advice from Mike Bosch, who welcomed Michael onto his farm. "Our farm workers also taught me a lot," he says.
Expanding the business
Michael now produces eight batches of 100 broilers a year and sells them from the farm. He has expanded from 10 layers producing eight eggs a day to 400 layers producing about 280 eggs a day. Café Bloom now takes 15 trays of 30 eggs once a week. Other customers include Clifton Preparatory School in Nottingham Road and Oaklands Hotel, an upper-class country hotel at the Drakensberg foothills above Van Reenen's Pass.
"It is quite easy to do free-range because we have plenty of space and grass on the farm. We feed the chickens 100g of Optilay free-range feed a day plus lucerne and fresh cut green grass." During the day, the chickens are let out into pens 30m x 15m and at night they are herded into 8m x 4m wooden houses, which Michael built himself.
"I have six cages for layers and two for broilers. The layers' cages are built simply with wood and shade netting around the outside to keep them warm," he says. "Once I ordered too many chickens, which lead to overcrowding, and I learned not to leave the chickens in the coop too long before cleaning it out. What works best for us is to leave them in a coop for three months. Then we go in with spades and clean out the litter, which is used for compost on the farm, and disinfect the houses before putting in new shavings."
Putting sawdust into the egg boxes has also made a significant improvement to the egg business. "When eggs are laid into sawdust, they don't get dirty. This works better than washing the eggs with water, as that shortens the shelf life. Collecting eggs five times a day also helps, otherwise the chickens break the eggs and eat them."
The business is profitable and Michael is reinvesting his earnings on the farm. Last year, he bought eight beef weaners and grew them out on the farm. "I fob those off when they are about a year old. I hope to buy another 16 soon. I want to keep expanding."
Being a boarder at Michaelhouse means Michael can only work with his chickens on weekends and during school holidays. He plans to expand the egg business.
The Easter holidays should see him building two more houses so he can increase chicken numbers to 1 500 by the end of the year. The two businesses dovetail well, with the eggs providing monthly cash flow and the weaners providing a larger annual cash injection.
Free-range egg production is, however, more expensive but realise higher prices than battery egg production. Large eggs sell at R1,15 each and extra large eggs at R1,20. "Battery eggs sell for about 80c each," he says. It's a price his customers are willing to pay.
Happy customers
"My customers are happy with the eggs. They support me because they know where the eggs come from and trust that the chickens are free-range." "The quality of the eggs is fantastic," says Cathy Romer-Lee, Oaklands Hotel's head chef. "The yolks are a beautiful yellow and the flavour is deliciously rich. They make the most perfect poached eggs, which is the test for a fresh egg because the egg must hold its structure in the water.
"We also know that the chickens are treated well. The Mandys are an old Harrismith family and supporting local produce, and a relationship with our growers, is very important to us." Another happy customer is Jen Pretorius, catering manager at Clifton Preparatory School in Nottingham Road, where Michael was formerly a student. She buys 100 eggs a week for meals and baking.
"The eggs are gorgeous and fresh. And Michael is such a star. The initiative that he has shown at such a young age is commendable," says Jen. Since Michaelhouse is 2,5 hours away from Harrismith, Michael relies on his father to run the business during the week, doing deliveries and collecting inputs and packaging material. "I wouldn't have managed without my dad," says Michael.
"I have helped along the way but this is Michael's business," says Francis. "Whatever money he has borrowed, he has paid back and he now uses his own money to increase the business. We are proud of him. He has done it on his own even if he has given me a bit of extra graft."
Contact Michael Mandy at [email protected]