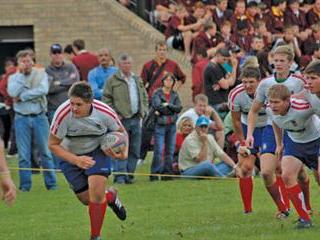 Established in 1928, Oakdale Agricultural High School is well known countrywide for its high standard of agricultural training. Classes are small to ensure that every learner receives individual attention. A mere 80 boys are enrolled annually and applications always exceed this figure.
High marks in Natural Science and Maths, as well as an interest in fauna and flora, are requirements for acceptance, and learners come from all over the Cape, as well as the Free State and Gauteng. All teaching venues have computers and data projectors and there are also two fully equipped computer education help centres with 80 computers. In addition, the school has effective maths and reading help centres.
Curriculum
Compulsory subjects are: Afrikaans (home language); English (first additional language); Life Orientation; and Mathematics or Mathematical Literacy. In addition, learners can choose between the following:
Group 1: Physical Science or Economics.
Group 2: Agricultural Science or Agricultural Technology.
Group 3: Accounting or Life Science or Agricultural Management Practice.
Additional or extra subjects: Life Sciences, Engineering Graphics and Design, Computer Application Technology or Tourism. In the afternoons, learners attend practical agricultural courses. The following courses are offered:
Sheep and Wool
Dairy and AI
Beef cattle
Ostriches
Labour relations
Nature and wildlife management
Irrigation
Tractors
Hunting
Extra curricular
Sports include:
Rugby: The 17 rugby teams compete against the biggest schools in the country. Oakdale held the 12th position in the FNB Top 20 for high schools in 2011.
Cricket: There are five teams, the first team toured India in 2010.
Tennis.
Squash: The school has 15 provincial players.
Athletics/swimming.
Tug of War: The school has participated in the SA Championships and the World Championships in Italy and England.
Other activities include the Youth Show (with 21 learners with Western Province colours competing at the SA Championships), chess (with players in provincial tournaments), debating and public speaking.

The article is based on information supplied by Oakdale Agricultural High School.