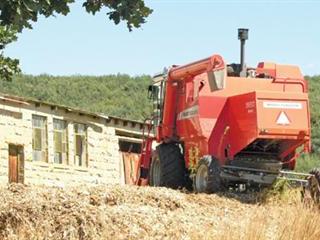 During the summers of 2008/09 and 2009/10, lush maize lands covered the Ongeluksnek Valley near Matatiele in the Eastern Cape. With 3 000 fertile hectares under maize, independent and communal black farmers had the opportunity, through co-operative land use, to become commercial grain producers.
Through the efforts of Matatiele resident and development specialist, Vivian Haviside, and what was then perceived to be medium-term financial support from the Eastern Cape government, the future of Ongeluksnek Valley's black farmers looked good.
A successful venture generates profits which can pull subsistence farmers out of the poverty trap. Such profits could be used to support families and strengthen businesses. It could ultimately help the Ongeluksnek farmers to become self-sufficient, commercial farmers in their own right. This was the path they were on when the rug was pulled from under their feet.
Land claim
But in 2003 the iNkosi of the Lebenya Tribal Authority, who live on one side of the Ongeluksnek Valley, put in a 12 000ha land claim that pretty much covered the whole valley. The claim includes the leased land of more than 18 black, independent, subsistence farmers. These farms had originally been leased from the apartheid government, after the valley's long-time white farmers were evicted in the 1970s to make way for the establishment of the Transkei.
According to Malefane Ramotsamai, an Ongeluksnek Valley leaseholder on 480ha since 1979, he and his fellow leaseholder farmers in the valley paid their rents to government until 1999. After that they did not know who to pay because of what he describes as "so many changes in the government".
No government officials ever came to explain the situation. So, Malefane and his fellow leaseholders continued subsistence farming on tracts of land that were once viable commercial operations. They did not have the financial resources to do otherwise.
Option to buy
In the early 2000s, then Minister of Agriculture and Land Affairs, Thoko Didiza, advertised in an Eastern Cape newspaper that the leased farms in the Ongeluksnek Valley were up for sale, and existing leaseholders were given first option to purchase.
Needing guidance on how to go about securing loans to buy the farms, Malefane and his colleagues called on Vivian Haviside, a local project manager, for guidance. Before the setting up of the Transkei, Vivian's family had farmed in the valley for generations. He was keen to help leaseholders buy their farms and rehabilitate them into productive commercial operations.
"Under my guidance, the leaseholders formed the Ongeluksnek Commercial Farmers' Association (OCFA) to give themselves credibility and a stronger voice," says Vivian. "I helped them work out business plans to accompany loan applications for submission to Land Bank. The plan was right on track when, out of nowhere, we were told about this land claim by the iNkosi of the Lebenyas. The loan application was immediately halted."
According to Vivian, while the Ongeluksnek Valley has a long and complicated socio-political history, his research has found no real basis for a successful claim. This belief was strengthened after he and OCFA representatives appeared before the then Parliamentary Portfolio Committee on Agriculture and Land Affairs in Cape Town. He describes how on 15 February 2005 the portfolio committee instructed the then Eastern Cape Land Claims Commission to revisit the processes associated with this particular claim and to carry out legally required consultations with all the parties concerned.
The committee reprimanded the then EC Land Claims Commissioner, Linda Faleni, for not following due process. According to Vivian, to date there has been no meaningful response to either his or the OCFA's enquiries at provincial and national levels of government, or to the instructions of the committee, in spite of numerous correspondence and attempted meetings. A frustrated Malefane says, "We opposed the land claim but there has been no progress. Our hands are now tied. We can't go to the bank for money, and we can't get any other help. I don't believe the claim is valid."
Farming on
Vivian and the members of the OCFA did not want the stalemate over the land claim to halt their farming development plans. Knowing, from numerous stalled land claims around South Africa, that the situation had the potential to remain unresolved for years to come, Vivian and the leaseholders decided to look at ways of farming commercially in the interim.
With the submission of a documented business plan, Vivian was able to get buy-in from the Eastern Cape branch of government's much vaunted Accelerated and Shared Growth Initiative for SA (EC-Asgisa). The initiative agreed to fund agricultural development in Ongeluksnek Valley for an initial five-year period, open to extension as circumstances dictated.
Vivian, who would be the development consultant on the project, convinced EC-Asgisa to fund the input and land preparation costs for 3 000ha of commercial maize. Through extensive consultations with the valley's leaseholder farmers and a number of neighbouring communal farmers, Vivian organised pockets of land into the 3 000ha area. Once the maize was sold, EC-Asgisa would be able to recoup its costs by taking back 90% of the gross income.
The remaining 10% would be distributed to the leaseholder and communal farmers on a profit-sharing basis relative to the area of land they contributed towards the 3 000 ha. It was hoped that these farmers would save a percentage of their profits so that they could farm commercially without outside financial assistance.
"For the 2008/09 season I arranged local and Free State contractors to prepare the soils for planting. Because the lands hadn't been farmed for so long, contractors had to solve problems such as soil compaction and soil acidity before planting could start," says Vivian. "But everything worked very well. In both the 2008/09 and 2009/10 seasons we had huge fields of dryland maize growing very well here.
Yields in some lands were about 7t/ha with an average of 4t/ha over the 3 000ha, which was good considering the various factors and challenges. I arranged buyers for all the maize. The only problem was that we needed on-site grain storage silos for more flexibility with harvesting and delivery.
"Although I made a strong recommendation to EC-Asgisa about this, my recommendation was ignored. So it was a big problem to harvest and load the maize straight onto trucks that then had to drive hundreds of kilometres into KwaZulu-Natal to deliver the maize to a safer market. It created a logistical nightmare," he explains
Malefane says that when EC-Asgisa offered to support the project he and his fellow farmers were very excited. Despite the land claim hanging over the leaseholders' heads, they still wanted to use the opportunity to develop their skills and resources to become commercial farmers.
"The profit-sharing plan for the project was acceptable to us. When you are hungry it's better than getting nothing," he adds.
Everything was mostly going well for Vivian's ideas and the farmers' interests. Vivian was still hoping to convince EC-Asgisa to build the silos, and he promoted the idea of developing a maize milling facility in nearby Matatiele that would add value to the participating farmers' crops and create more jobs for the area's mostly poverty-stricken residents. There were long-term plans to start a commercial piggery and a beef feedlot in the valley with feed ingredients sourced from local aspirant commercial grain farmers.
Punishing success
Then, a few months before the project's 2010/11 season was due to start, Vivian's consultancy contract with EC-Asgisa was inexplicably terminated and replaced with the services of another development consultancy firm whose name Vivian doesn't want to reveal. He says that this was the start of the rapid downward spiral of the project. Inputs for planting and managing the maize crops arrived late in the season, so the maize was planted late and therefore didn't yield to anywhere near its full potential by harvesting time in 2011.
The profits that the project's farmers earned that season were dismal compared to what they received for the previous two seasons. "EC-Asgisa and the new consultants told us late in the third season that there would be no fourth season because there was no more money," Malefane laughs wryly. "When they were harvesting the third season's maize they didn't even call the farmers to let us know when they would be harvesting our particular lands and they also didn't tell us what our individual yields were. They just came in, harvested and left.
"Now the lands look like they do, covered with weeds. I cannot continue farming commercially with the little money I have. I really want to farm commercially, but now I have to sell animals to try and buy a good tractor and disc. I'm going to start again, but this time on 5ha of my own land." Vivian was met with silence when he tried to find out why EC-Asgisa pulled out of its contracts in what was clearly an agricultural development project holding hugely positive potential outcomes for stakeholders.
An eerie silence
Internet searches reveal that EC-Asgisa, for some unknown reason, died a quick and quiet death. The website that it used was up for sale by the internet service provider. After investigating, Farmer's Weekly discovered that EC-Asgisa had been incorporated into the Eastern Cape Rural Finance Corporation (ECRFC). Questions from Farmer's Weekly to the ECRFC to find out what had happened to funding for the Ongeluksnek Valley agricultural development project were never answered.
Farmer's Weekly's recent visit to Ongeluksnek Valley with Vivian, his colleague Big Boy and Malefane as guides, revealed large areas of previously cultivated land now under weeds. It's clear that Vivian is pained by the monumental waste that seems to have come about for no reason other than poor top-down management, interfering bureaucracy and politics.
He says, "One of the primary factors negatively influencing and hampering progress in this region is government interference in on-the-ground running of projects such as this one. Government should stay out of farming – completely; even in terms of its funding process. Funding does not give it the knowledge to farm. Politicians with vested interests can't advise people how to farm.
"On the other hand, certain private companies involved with the so-called funding of agricultural development in the rural areas are taking advantage of desperate black farmers." Inputs funding should be channelled through a legally designated trust fund managed by the project management team and an accredited auditing firm says Vivian. Land prep and inputs would then be sourced in time and budgets managed by the appointed management team, free of political interference.
"In my opinion, the entire government funding process is fraught with errors and needs a total rethink.
"Government should be funding infrastructural development such as new fencing, access roads, contours, drainage and silos. Input funding should be provided through private institutions or banks." A bank prerequisite for loan security is title to the land, without which loans cannot be granted.
The lack of infrastructure severely curtails agricultural success and is a massive obstacle for funders, farmers and communities alike. "Until these critical requirements are attended to, there can be no hope of sustainable success in terms of rural development," says Vivian.
Contact Vivian Haviside on 083 557 2214 or 039 737 4620 or email [email protected]
Contact Malefane Ramotsamai on 084 632 0354.