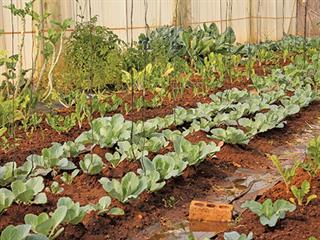 No fewer than 45% of South Africans live below the poverty line, and chronic malnutrition affects one in five young children, according to Statistics SA. Projected figures hold equally little comfort.
"South Africa will have to feed at least 15 million more people by 2025, which means a production increase of 1,5 million tons of maize a year. This can only be achieved through improved use of technology, genetic development and economies of scale," said BP Greyling, Agricultural Writers SA Farmer of the Year 2011, at the recent Nampo 'Nation in Conversation'.
He iterated the view of many that the next global war "will probably be caused by a lack of food". Prof Willie Esterhuizen of Stellenbosch University, and a member of the Thabo Mbeki Foundation, concurred, saying that the threat of food insecurity should not be taken lightly, and could indeed mean the difference between war and peace.
"Why do you think China is clamouring to find a foothold in Africa? And the Brazilians? It's because they fully realise the far-reaching effects of food security and the possible lack thereof," he said.
Feeding the community
It is against this backdrop that four resource centres have been set up in Johannesburg to address food insecurity and hunger. The project, launched in June last year, is driven by the city's Food Resilience Unit, under the Social Development Department.
According to a document issued by the City of Johannesburg, summarising its Integrated Development Plan 2013/3016 for Agriculture and Food Security, the project's focus is on a multi-pronged approach that will include actively supporting and providing incentives for small-scale growers to provide a steady supply of fresh produce from the urban food system. The project also seeks to improve access to markets and to ensure the City has various strategies and policies in place to realise the right to food.
Tebogo Mashele, agriculture manager at the Agri-Resource Centre in Orange Farm, 45km south of Johannesburg, explains that the project aims to equip needy families with farming training skills and knowledge; as well as to provide them with seedlings, compost and equipment. The centre has six staff members who teach the community basic bed preparation, weeding, cultivation and marketing their produce, amongst other skills.
The community appreciates the project, he stresses. "We have people coming here who have never grown anything. The free agriculture training courses are tailor-made for individual needs." Tebogo, who has a degree in business community management, explains that the centre outsources agriculture experts because the staff do not have any formal qualification. They do, however, have considerable experience of working on farms.
"At least 800 residents have set up their own backyard gardens and community gardens after undergoing agriculture training. "And more than 200 needy community members receive free fresh produce every week for food," he says. Community members either consume the food themselves, or sell it. The project targets small and emerging farmers, enabling them to bring their produce to a central point for bulk distribution to the market.
"Farming has always been a rural pursuit, but with the growth of the population in the inner cities there's now a need
for city farming and initiatives to ensure our population is fed," says staff member Bongani Qika. In addition to the four centres already in operation, seven more are planned – with every area having a primary and satellite centre.
During Farmer's Weekly's visit to the centre at Orange Farm, schoolchildren were weeding, watering and harvesting vegetables. There are eight tunnels at Orange Farm, one of which is reserved for teaching schoolchildren – in particular, children with disabilities – to grow food from scratch and watch the process unfold.
According to Tebogo, the tunnel was designed to "reach out to schoolchildren so that they can experience the excitement of making things grow". "It's not an issue of how much money we're making, but how many families the centre is feeding," he explains, adding that it was too soon to tell from sales data how many people were benefiting from the project or to measure accurately its impact on hunger in the community.

Results to be proud of
Ntsoaki Gigaba (55) speaks with pride about being a small city farmer. "All of us are really interested in farming,"
she says, looking proudly at her lettuce, cabbage, spinach, green beans and carrots. "This is one way we think we can improve the food system." Since setting up her backyard garden, Ntsoaki, who lives with her 13-year-old daughter and three grandchildren, says she saves up to R400 a month on groceries.
For Ntsoaki and her fellow backyard farmers, the gardens provide not only a substantial quantity of vegetables for consumption, but also a surplus amount which is sold to restaurants and Joburg Fresh Produce Market.
Phone Tegobo Mashele on 071 041 8776.