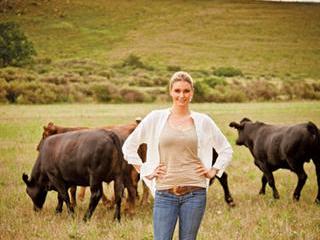 Sitting on the verandah at Highland Home, her family's Brangus farm in the Winterberg mountains of Eastern Cape, long-legged blonde Meggan King, 24, has a freshness and enthusiasm that can only be farm-grown. "There are definitely two sides to me," she says. "My girly side enjoys make-up and fashion design, while my action side thrives on hunting and camping in the wild."
She opens her laptop and clicks on the photographs she and her mother, Mary-Anne, sent in to the Farmer's Weekly cover girl competition. They were taken at Ezulu Game Reserve between Bedford and Grahamstown in Eastern Cape, where Meggan has run the reserve's three lodges for the past four years.
"It's been an incredible experience," she says, "but this year I want to focus on my game lodge management and economics correspondence diploma as well as see what I can achieve with modelling. I'm well aware that modelling is not a lifetime career but I'd like to do it for a while."
Unexpected
Meggan adds that being selected as the Farmer's Weekly cover girl has given her a great confidence boost. She certainly didn't expect to win the competition as she was chosen as the wild card. "I want to thank everyone who voted for me," she says. "I couldn't believe it when the editor phoned and said 'We'd like to tell you the good news'. I tried to keep calm on the phone and thanked her very much and then immediately phoned my mum and went crazy. Then I got on the phone to all my friends."
Farm girl
Some young women who have grown up on farms want to escape the rural life, but not Meggan. "I love the farm and country life. I'm also a big supporter of the Brangus breed and the annual bull sale is a big thing for our family. We love supporting Dad," she says. They're a close family. Meggan's oldest brother, Lewellyn, 31, farms with Barry and lives in the second house on the property with his wife Etrecia and their baby son.
Younger brother Roland, 29, is a professional hunter who manages the farm next door to the Kings and is regularly assigned to hunt on Ezulu. Meggan, the laatlammetjie, is five years younger than Roland. Like so many farm children, Meggan was a boarder and ended up at the same school as her mother: Girls' High in Queenstown. At school she took part in triathlon and played hockey for Border.
Meggan and her brothers are the fifth generation to live at Highland Home, and the family's Eastern Cape connections seem to go on forever. "Barry was my brother's best friend and the only man I ever wanted to marry" smiles Mary-Anne. She recalls that their first date was in Queenstown at an establishment now known as the Buck and Bullet.
This brings us back to hunting and Ezulu, which operates as a professional hunting reserve mainly for American clients. "There are about 40 species, including buffalo, rhino and sable," says Meggan, who, apart from running the lodges and supervising the chefs, looked after the clients' wives and children.
"Some of the ladies enjoyed hunting, but mostly I'd take them on outings to Addo Elephant Park and Shamwari, which have the Big Five. "Between guests I'd go hunting whenever I could. I've got a good eye and I enjoy the challenge." Meggan met her boyfriend, professional hunter Rudolph Stephan at Ezulu. "He's in the US at the moment, marketing the business in which he's now a partner. I help him host clients whenever I can," says Meggan.
Home is best
In 2011 Meggan went to the US to market Ezulu in several cities. "It was incredible to see the scale of these shows and I enjoyed the time there, but at the same time it made me appreciate South Africa even more," she says. "I really love it here. I love the warmth of South Africans and getting together at each other's homes. The Americans are friendly, but I found the depth of relationships here at home so much greater.
"And of course, there's nothing like the bush. Last year, Rudolph and I journeyed to amazing places in Zimbabwe, Botswana and Zambia. We camped at Mana Pools and saw two lion kills and huge herds of elephant and buffalo – it was incredible. Even though she has spent so much time on a game ranch, Meggan's first choice of holiday is a game reserve somewhere in Africa. "Or spending time on the farm," she adds, on the way out to the driveway lined with oak trees planted in 1873.
"I'm so pleased that Lewellyn came home from overseas to farm with my dad," she says. "It's encouraging to see that several farmers' sons in this area are coming home. The number of young people and young farming couples with children is increasing and it really adds to the community life we have in the Tarkastad district." Farmer's Weekly warmly congratulates Meggan on winning our competition, and wishes her every success and happiness in her future.