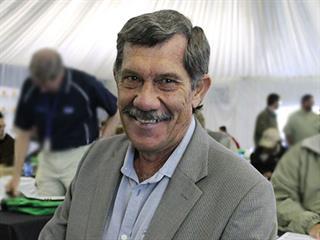 Namibia first came under German authority in 1884 when Germany entered the colonial scramble for Africa. German authority was exercised until 1915, a year after the start of the First World War, when German defeat signalled the beginning of South African control. This lasted until Namibia became independent in 1990.
These are the facts. The rather more complex story of Namibia's history lies somewhere inside that framework, darkened by a number of chilling colonial incidents and the Namibian War of Independence. This sombre history is lightened by the country itself: its spectacular scenery, its unique sense of space and tranquillity, and its remarkable, resilient people of all cultures.
The most arid country in the sub-Saharan region, Namibia has a surface area of 825 400km2 but is home to just 2,2 million people, 60% of whom are Ovambo, 30% San and Khoi, and 10% of European origin.
A tough country
The unforgiving environment allows only the fittest and most adaptable to survive. Endowed with social and behavioural 'fitness', Namibia's commercial farmers have shown insight, resourcefulness and common sense while traversing the difficult and sometimes harsh land reform terrain.
Namibian farmers – black and white – attend many South African conferences and workshops, as contributors and to learn. These farmers do not speak ill of their government and do not whine about the droughts which regularly plague them. There are no complaints about the poor quality of labour and the hardships of the beleaguered farmer, and they never talk about emigrating.
Land reform
Herero historian Festus Muundjua once said: "We can only … reconcile if we sit down and talk to each other." And this seems to underpin Namibia's commercial farmers' approach to land reform. "We'd long accepted that it had to happen," says Ryno van der Merwe, land reform representative for the Namibian Agricultural Union (NAU). We wanted to play an active role and be part of the process – not part of the problem."
Namibian farmers realised that a good working relationship between landowners and the state was the key to successful transition, and organised agriculture was given a mandate to build a relationship of trust with the government. "We knew they [the government] had to get land and we told them so. Then we, as members of organised agriculture, committed to land reform. In 1991, all the stakeholders met at the National Land Reform Conference in Windhoek. Those were early days just after independence.
It was decided, through consensus, that there would be no ancestral claims on land," says Ryno.
At the same meeting, all the parties agreed that the principle of willing-buyer, willing-seller would apply to land acquired for the purposes of land reform. Although expropriation was provided for in an Act promulgated in 2003, Ryno says the willing-buyer, willing-seller principle prevails to this day.
Farmer's Weekly asked Ryno how, given his experience, he would address the problems faced by South African farmers today. "It's very difficult. Twenty years have passed since democratic elections in South Africa. Political sensitivity is higher in South Africa than in Namibia and it would be impossible to stop the ancestral land claims now. But I think what has happened with re-opening land claims is unfair."
Keeping accurate records
It could be said that Namibian land reform has a twofold purpose: the resettlement of previously disadvantaged families onto farmland bought by the state, and private acquisition of commercially viable land by black Namibian farmers with access to low-interest loans from Agribank. At a workshop in Limpopo in July, farmer and land reform expert, Theo de Jager, spoke about the potential that could be unlocked if the Land Bank did the same thing.
According to Ryno, land reform in Namibia began in earnest not at independence, but in 2004. The NAU applies an absolute rule to every transaction: the sale and purchase, buyer and seller, land size and farming activity are recorded.
"Every land transfer is captured and stored on the NAU's database, which has dedicated support software specifically written for this purpose. It's critical that land reform is monitored and you can't do this without recording the information," says Ryno.
NAU is currently in discussion with the government to transfer the NAU's data onto a national database. It would seem that reasoned and thoughtful negotiation unfolds in a forum where government and organised agriculture operate in an atmosphere of trust and mutual support.
"How else can we progress? It's not just talk. Once we've agreed, stakeholders take action," says Ryno.
Change takes place more naturally when the intent of all the players is genuine, the will is demonstrable and there is enough energy to implement action, he adds.
Land transfers
At independence, 50% of Namibia's 35 million hectares of agricultural land was owned by 3 500 white commercial farmers. The government's stated aim was to transfer 15 million hectares (43% of total agricultural land) to black Namibians by 2020. Of this, five million hectares was to be allocated to communal resettlement and 10 million hectares to black commercial farmers. Game farms and hunting ranches are included in the agricultural sector and are therefore not exempt from making a positive contribution to transformation and land reform.
Sakkie Coetzee of NAU says that by 2007, 16% of the targeted transfer involving 1 000 farms had taken place, and this year, more than 60% of the target figure had been reached, with 9,4 million hectares or 27% of the total agricultural land transferred. This means that another 5,6 million hectares needs to be moved into the hands of previously disadvantaged Namibians by 2020. Ryno agrees with this figure, adding that this amounts to 93 000ha per year for the next six years. But he believes that this is an achievable goal.
Land use under dry conditions
Namibia is severely limited by the scarcity of water resources. In the southern and western regions, where the average annual rainfall is between 50mm and 200mm, mainly smallstock farming is undertaken. An average sheep ranch of 11 600ha can carry 2 300 small stock units. In the northern bushveld, with annual rainfall of up to 600mm, cattle ranches of 6 000ha can handle a stocking rate of 450 large stock units.
Although finance and media company, Bloomberg, rated Namibia as "the top emerging market economy in Africa" in 2013, the country's economy is based on mining, particularly diamond and uranium. The sector provides 25% of state revenue, but employs only 3% of the population. Agriculture, which contributes 6% (direct and indirect) to the GDP, provides employment or an income to half of the population.
These figures show that agriculture plays a major role in socio-political stability and food security, be that in high-end export quality red meat or in the many small herds that enable subsistence cattle farmers to feed their families. With reasonable weather, hard work and some talent, these subsistence farmers can produce sufficient for other essentials such as education.
Mike Mlengana, cattle farmer and chairperson of the African Farmers' Association of South Africa (Afasa), firmly believes in the value of this kind of organic growth in communal farming areas, and he speaks with the authority of one raised in such a system.
Reliance on mineral resources makes economies vulnerable. The Namibian government seems to have recognised this, and has taken a proactive approach to examining and implementing alternative land uses based on sustainable ecological models.
Namibia has a number of world-famous national parks and game reserves and landowners can farm game alongside cattle, as well as add value to their businesses through tourism.
Namibians living on communal land have also attracted tourists by offering cultural experiences, affordable campsites and luxury lodges which they fund by partnering with private investors. In a move designed to make it easier for foreign investors to do business in Namibia, bureaucratic procedures have been streamlined and onerous regulations cut.
Conservation
Part of the Namibian success story is contained in the country's progressive conservation and resource management programme. In a great mosaic of protected areas, resources are sustainably managed, benefiting communities, agricultural businesses and the tourism trade alike.
John Kasona, Namibian conservationist and director of Integrated Rural Development and Nature Conservation (IRDNC), says that 79 conservancies comprising about 16 million hectares are dedicated to conservation. According to the World Wildlife Fund, 44% of Namibia's land is protected.
Problems and solutions
Resettlement schemes have been largely unsuccessful, something that the government is aware of and acknowledges, says Ryno. These schemes generally involve dividing land into units that are too small to be productive. In this way, once-viable commercial farms become poverty traps.
In this no-win situation, farm workers and their families become displaced and destitute, and resettled beneficiaries, with no work and no means, drift to squatter camps on the outskirts of towns. As Ryno explains, "It's not perfect. It was part of a reasonable attempt to address injustices. Providing solutions is also part of a process."
The Namibian government is implementing a plan to give farmers in communal areas ownership, and Ryno says this will help with upliftment and productivity of subsistence farmers. Funds for land reform come from the treasury and from a land tax paid annually by commercial farmers.
"Up till now, the tax has been affordable. New land values were issued two years ago with heavy tax increases of up to 600%,
but they've been put on hold. And we're in discussion with the government about land tax."
Namibian farmers have taken a realistically enlightened approach to land reform. The Namibian government for its part has adopted a pragmatic and inclusive attitude towards all farmers, commercial and subsistence. What crucial lessons could South Africa learn from its neighbour?
Email Ryno van der Merwe at [email protected].