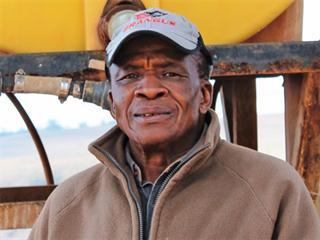 It's a long, dusty and bumpy drive to the 1 187ha Horncroft Farm in the eastern part of the Eastern Cape. But the rigours of the trip are quickly forgotten once one experiences the bright smile and firm handshake of 72-year-old Maurice Boki, Grain SA's most recent Developing Grain Producer of the Year.
Maurice has been farming for 18 years and Horncroft Farm really is in the back of beyond, linked to the nearest towns, Cedarville and Matatiele, by a network of gravel roads. He bought the farm in 1995, using a Land Bank loan. Today, the operation comprises 135ha rainfed commercial yellow maize, a commercial beef herd of 200 breeding Bonsmara/ Brahman-type cows and 40 heifers, and a flock of about 70 commercial Dohne Merinos. The livestock is run on 818ha semi-sweetveld.
"My main enterprises are maize and beef," says Maurice. He sells about 120 weaners at Cedarville every year and 20% of his yellow maize grain crop to PSP Traders in Kokstad. "Another 20% is sold directly to retailers in Matatiele, about 10% goes to our family trading store in Matatiele, and the rest is sold to Rikus Botha, a local dairy farmer. Because I don't have a big truck, maize buyers collect the maize from my farm," says Maurice.
"I don't want to grow my sheep flock, because there is just too much stock theft by local people," he adds. "I shear my sheep for wool to supply BKB, slaughter some for home consumption and sell live to anybody who wants to buy."
Limited knowledge
Back in 1995, Maurice had very little farming knowledge and limited his maize crop to about 40ha for the first few years. His maize yield at the time was around 2,5t/ha simply because he did not know how to increase it. It also did not help that financing was very tight, so he could not always apply all of the inputs required to get the most from the maize.
"As the years went by," he recalls, "I attended crop and beef production courses, as well as courses on farm record-keeping and business management at Cedara. These were a great help to me. Neighbouring farmers and my fertiliser rep have also been advising me.
"My yellow maize now yields an average of about 5t/ ha, although it depends a lot on the rainfall. The 2011/2012 season was good – I got about 6t/ha." Annual rainfall averages about 700mm, but Maurice is concerned about the increasingly erratic rainfall pattern that makes it harder for him to plan planting dates, the area to plant and potential income.
"I hope to have enough money one day to install centre-pivot irrigation so that I can improve the yield," he says. Maurice is not ready to grow white maize because millers are strict on quality and quick to penalise on price if there are any quality problems. In addition, demand for yellow maize is very high. Locals buy whole yellow maize grain to feed their chickens, pigs and dairy cattle.
Horncroft Farm's soils are mostly dark red Hutton with a moderate clay content and good moisture retention down to 2m. Maurice often sees earthworms – a sign of good soil health. While he mostly follows conventional soil tillage practices, he leaves the harvested stalks on the lands as winter livestock feed. The animals graze the stover until the end of September; any remaining residue is then disced into the soil along with the dung to improve the organic matter content.
Maurice's preparations start in July or August, when Rollo Woodhead from Omnia takes soil samples from Horncroft's eight lands, which vary from 5ha to 28ha. The samples are analysed at the Cedara Agricultural Research Centre. Rollo and Maurice then use the results to calculate each land's fertiliser requirements.
Preparing the land
"As soon as the livestock is off the lands in late September, I use a tractor-drawn lime spreader to surface-apply lime as needed," says Maurice. This year, three lands received 2t/ ha dolomitic lime. "I then disc the lime and the remaining crop residue into the soil. We aim to keep the soil's acid saturation below 20%." He then waits for at least 30mm of rain within a three-day period before planting. This is usually at the end of October or in early November.
Planting is done with a John Deere 6215 4×4 tractor pulling a four-row John Deere conservation tillage planter. To select the best yellow maize cultivar for his production conditions, Maurice scours seed company catalogues and talks with local maize farmers. Currently, his choices are PAN 6616 (medium-growth class; good standability), PAN 6Q-708BR (medium-growth class; stalk borer-protected and glyphosate-tolerant) PAN 6Q-308B (medium-growth class; stalk borer-protected, good standability) and BG 3492B (ultra-early growth class; good tolerance to rust and Diplodia ear rot).
Maurice also plants Monsanto's DKC73-74BR (medium-growth class; stalk borer-protected and glyphosate-tolerant) as he has found it the highest-yielding cultivar for the area. "PAN 6616 isn't a genetically-modified hybrid, but it performs well in drier seasons, and its grain size and colour are popular with customers in Matatiele's shops," he explains.
Planting density ranges from 40 000 plants/ha to 55 000 plants/ha. Maurice applies the season's first fertiliser through the planter. The rate depends on soil analysis results, but is generally 250kg/ ha Omnia 5:3:4 (33) 0,5% zinc granular fertiliser. The second application, about 60 days after planting, is usually 150kg/ha urea.
A 500l chemical tank is mounted on the planter with spray nozzles at the rear. This enables Maurice to apply a combination of Tolla 840 S and Atrazine herbicide at 1,5l/ha each, and Lambda-CY pesticide at 0,1l/ha to tackle stalk borer and cutworm. When the maize is at the six-leaf stage, about 45 days after planting, he applies 500ml/ ha Atrazine and 120ml/ ha Lambda-CY to the non-Roundup Ready hybrids, and a combination of 120ml/ ha Lambda-CY and Roundup to the Roundup Ready hybrids.
"Yellow nutsedge is the main weed I have to control," notes Maurice. "These are the only chemicals I've needed so far. I prefer to spend more on good quality pest- and disease-tolerant seed, and save on chemicals. "This coming season I want to test Pannar's Yieldgard spray programme to hopefully improve the maize yield further."
Harvest
The harvest usually starts around mid-July when the moisture level of the grain on the land drops below 13,2%. Local contractor PJ Schoeman harvests for Maurice, normally within two weeks. "During harvest-time, PJ keeps us very busy," chuckles Maurice. "I have seven permanent workers and have to employ more than 20 casual gleaners to pick up missed cobs in the lands, and to weigh and bag the grain for retail clients." The livestock then go into the stover on the lands until just before the next maize planting season.
Focusing on the future
One of Maurice's goals is to convert to no-till practices. This will reduce his diesel costs and improve soil health and moisture conservation, he says. But this can only happen when he can afford the specialised implements and other costs associated with no-till.
"I also would like to install centre-pivot irrigation and start rotating maize with soya beans," adds Maurice "I also want to start growing cover crops in winter." But Maurice is a realist and, given his age, is concerned about who will run Horncroft Farm once he is too old to continue doing so. His four children have good jobs elsewhere, and are unlikely to take up the reins. But he is determined to find a workable solution, and has ongoing discussions with his family on the issue.
Phone Maurice Boki on 083 596 4458.