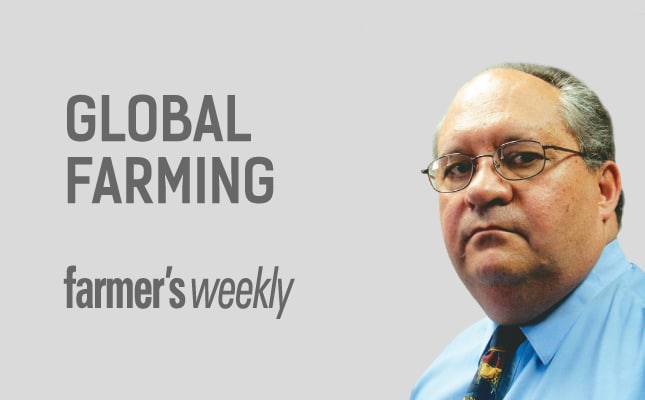 When buying food, South African consumers basically have four retail chains to choose from. The market power of those individual stores enables them to increase retail prices without increasing prices to their suppliers. This results in lower prices to processors and farmers.
READ:How sustainable is sustainability?
In a well-functioning free market, lower farm prices result in lower production and increased demand. In turn, this leads to higher prices and higher production.  In the real world, this process takes place amid friction and over-reaction, and is known as a boom-bust cycle. As specific market players gain more market power, they are able to manipulate prices and isolate other market players from price trends.
A good example of this is the relationship between the Safex price of white maize and the price of white maize meal in the retail trade. Any increase in farm-gate prices is followed at retail level, but lower farm prices are not followed to the same extent. This trend can be seen in the general movement of food prices at farm, processor and retail level. From October 2013 to October 2014, food prices at farm level increased by 2,5%, at manufactured level by 8,5% and at retail level by 8,0%.
Clearly, food inflation is not as a result of higher producer prices, but the ability of the other role players to increase prices.
Power in hands of few
South Africa's retail sector is highly concentrated. For example, in the case of dairy products, an estimated 75% of trade takes place through the major retail chains. This concentration is ongoing, and a National Agricultural Marketing Council report warns that "the buying power of retailers may have adverse effects on the viability and efficiency of suppliers, which ultimately could be to the detriment of the agriculture and food industry at large".
Retail chain stores selling food products under their own house brands is a worrying trend. These products are packed by different processors, and if the retailer is not satisfied with the price, it can easily switch to another producer. House brands erode the perceived value of specific brands.
Pressure on suppliers
In addition, South Africa's retail chains limit overheads by making the suppliers responsible for packing shelves, advertising and managing product returns. Their 'don't care' attitude to product returns causes losses for suppliers. What is more, retail buyers are experts in playing off different suppliers against each other to ensure they buy products at the lowest possible prices. They also force various rebates onto suppliers. The threat of delisting ensures that suppliers toe the line.
The social impact of the growth of retail chains is high. They obtain anchor renter status at lucrative rents, and enforce exclusive rental agreements that prevent other retailers from renting shops in shopping centres. Competition among chains is fierce and there is no evidence of collusion, but the chains do use their dominant position to limit prices paid to suppliers, including farmers, who of course are the ultimate price takers.
Internationally, various actions are taken to limit retail chains' misuse of their market power. In the UK, for instance, the Office of Fair Trade recently merged with the Competition Commission to form a single agency to supervise both competition and other factors that affect consumers.

Intervention needed
Government intervention is needed to ensure fair play for processors and farmers. South Africa's Competition Commission seems to be the only authority that can determine whether there is indeed misuse of the retail chains' dominant position in the market.
The preferred outcome of such an investigation is not a heavy fine on retail chains, which they can shift down to farmers, but rather legislation ensuring fair treatment of both small and large processors by the retail chains. At the same time, farmers can combine and sell their produce to the retail sector through a single entity. Examples of successful joint organisations include the Hoëveld Egg Co-operative and, more recently, Coega Dairy in the Eastern Cape.
There are also producers who have managed to bypass the major chain stores and sell directly to the consumer. For most farmers, though, this is not a viable option as the products they produce are not actually the products consumers buy.
Dr Koos Coetzee is an agricultural economist at the MPO. All opinions expressed are his own and do not reflect MPO policy.