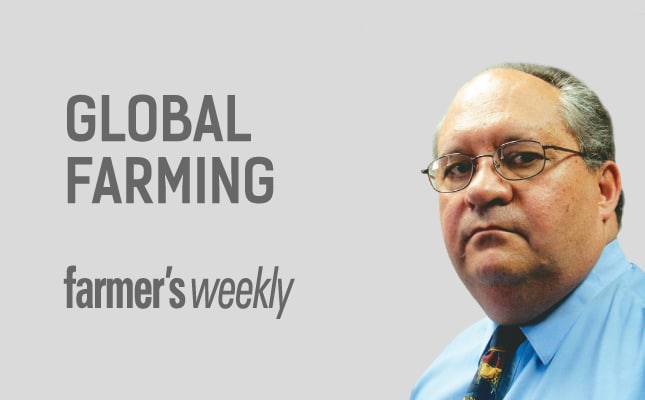 In its most practical sense, sustainability means profitability. In South Africa both producer prices and production costs are capricious and result in huge variability in farm profitability. The total gross production value for most livestock products is steadily increasing. Wool is a possible exception, as prices are based on international prices and exchange rates.
READ:Rain brings partial relief to Namibia and Botswana
The same trend is not true for field crops. Total maize gross value, for example, decreased from R22 billion in 2007/2008 to R16,4 billion in the next season and to R13,5 billion in 2009/2010. Since then, the gross value has shown a positive trend. But these aggregated figures hide the variability faced by individual farmers.
The past few years have been above average for most farmers. Winter grain producers, especially those in the Southern Cape, had three record crops in a row. Maize production increased to 14 million tons in 2013/2014, citrus and fruit producers enjoyed a record year, and beef prices recovered quickly.
The current summer-grain season is a difficult one. While some summer grain farmers in the eastern parts of the country and isolated areas of the western region will still obtain reasonable yields, the general outlook for summer grain production is less favourable.
Farmers will have to change their strategies from managing good years to managing bad years. This necessitates finding new ways and resuscitating some tried-and-tested older strategies. Those who are still enjoying the good years will do well to learn the same lessons as those who struggle to survive.
Managing good years
Farming differs from other businesses in many ways. Most notably, farm profitability is not only the result of the farm manager's decisions and execution but is largely influenced by factors outside his control. Another difference is that farmers are able to calculate profits accurately only at the end of a production season. This means that farmers have to be very careful not to overspend, especially on medium-term assets.
While it makes sense to invest in new equipment and technology in good years, it is easy to overspend on these needlessly, especially if the transactions are financed with loans. The income tax structure enables farmers to get SARS to help pay for capital equipment with the depreciation allowance in the first three years.
Unfortunately, farmers sometimes regard the second Pajero as a necessity. Spending profits on increasing the farm's production capacity and efficiency makes sense; it does not make sense to overspend on non-essentials. Furthermore, if one compares the profitability of crop and livestock farming in a year with bumper crops, it can become tempting to stop livestock farming and concentrate on crop production.
Inevitably, however, the good years are followed by the bad, and those farmers with livestock enterprises are able to survive these. Crop production costs are so high that few farmers can survive a failed crop if there are no other enterprises to help carry the fixed and living cost.
Managing tough years
The process of managing difficult years should start in the good years. Farmers with the necessary reserves can survive periods of low income. These reserves can be in the form of cash, livestock or even an unused credit limit. Farmers with up-to-date cash flow budgets and cash flow statements are able to identify periods of cash shortages well in advance; this enables them to plan for these periods with their credit providers. For this reason, it's important to keep one's credit provider up to date with the current situation.
Cutting costs
When cash flow pinches, it makes sense to cut costs – but the correct costs must be cut! Cutting costs by reducing fertiliser, feed and chemical use can result in lower production and lower income. The goal is not merely to reduce costs but to reduce fixed costs.
Sustainability
Sustainable farming implies that the farmer is able to service outstanding debt, pay for farming requisites and have a surplus to cover living costs. Long-term sustainability implies that farm profits must be re-invested to grow the farm business as per-unit margins remain under pressure.
Most western countries have schemes to help farmers to manage adverse conditions. We do not have this type of scheme in South Africa. But our farmers have managed to survive and prosper under difficult conditions and will continue to do so.