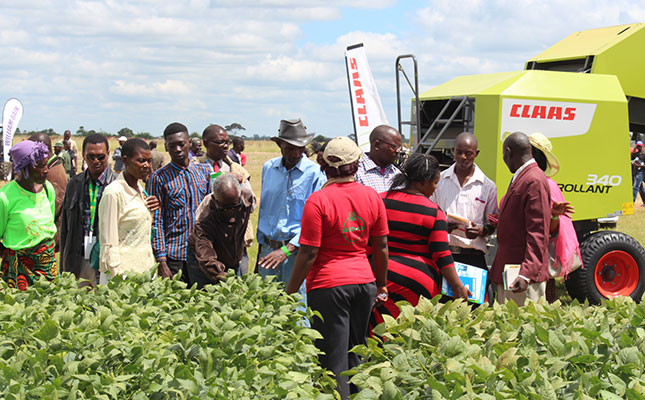 "As Zambian agriculture continues moving with changing times and environment, so does our Agritech Expo. Farmers should brace themselves for yet another awe-inspiring agribusiness and agricultural technology and B2B platform" says Coillard Hamusimbi, head of services and agribusiness for the Zambia National Farmers Union, the owners of the upcoming Agritech Expo Zambia.
The award-winning event returns to Chisamba for the fourth time this year from 27-29 April.
"Agritech Expo has blossomed into an umbilical cord bonding together national, regional and global farmers, agribusinesses, policy makers and development agents as they search for solutions to ever increasing pestilences, adverse weather effects, wasting soil health/fertility, dwindling productivity, inadequate irrigation and mechanization, and increasing stock diseases," says Hamusimbi.
"Without a doubt Agritech Expo 2017 has been designed to specifically give farmers the innovations and business connections they need to move their farming and agribusiness to the next level."
More international pavilions
Last year the event drew a record-breaking 17 605 visitors. This year even more small-scale, emerging and commercial farmers are expected to descend on the GART research farm in the heart of Zambia's agri-hub.
The three-day expo will also feature an even greater international presence with international pavilions from Germany, Zimbabwe, Czech Republic, the Netherlands, the UK and France already confirmed.
Agritech Expo will also offer free workshops again, live machinery and product demonstrations and crop trials. New for this year will be specialised agri-sector industry zones and mowing and baling demonstrations.
Multi-award winning Agritech Expo
Agritech Expo Zambia recently won two coveted awards at the ROAR Organiser and Exhibitor Awards in Johannesburg which honour excellence in the exhibition and events industry on the continent.
"The Agritech Expo Zambia team is honoured and thankful for the recognition of what they have achieved over the last three years with our partners, the Zambia National Farmers Union" says Emmanuelle Nicholls, natural resources group director, Spintelligent, organisers of the event, "building the event from scratch in a field in the middle of Zambia. Their commitment, blood, sweat and tears bear testimony to the uniqueness of this event."
The expo also has an outreach programme at the local Golden Valley Basic School, where, with the assistance of numerous event sponsors, it's assisting the school with much needed infrastructure upgrades, equipment supplies and management of the school's farm.
As in previous years, Agritech Expo enjoys extensive support from the agri industry with well-known suppliers AFGRI and John Deere returning as platinum sponsors again. Confirmed gold sponsors are Action Auto, Agricon, BHBW, Case Construction, Case Agriculture, Gourock and SARO.
Agritech Expo Zambia 2017:
Dates: 27-29 April 2017
Location: Gart Research Centre, Chisamba, Zambia
Website: http://www.agritech-expo.com
Twitter:  https://twitter.com/Agritech_Expo
Facebook:  https://www.facebook.com/agritechexpozambia/
LinkedIN: https://www.linkedin.com/groups/7477169