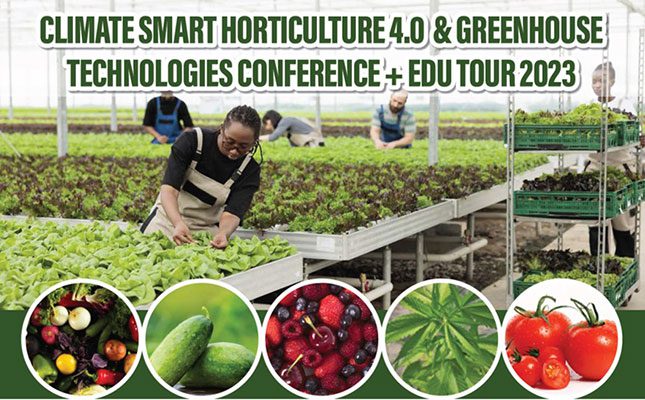 The Climate Smart Horticulture 4.0 & Greenhouse Technologies Conference and Edu Tour is aimed at bringing together the latest technology and advances in research on current climate-change challenges and other issues surrounding temperate horticulture.
The industry experts and leaders joining us will provide an opportunity for the exchange of information and ideas, and will stimulate joint research and collaboration for improved horticultural farming practices.
Climate change is the humankind's greatest concern in the 21st century. Sudden fluctuations in temperature, water scarcity, floods and other natural disasters are further worsening conditions for the horticultural industry and agriculture as a whole.
Therefore, there is a need to protect our valuable crops to ensure sustainability and resilience to climate change. The most effective means of doing so is to adopt conservation agricultural practices by using renewable energy, conserving forests and water resources, employing reforestation methods, and so on.
To sustain productivity, the modification of present horticultural practices and greater use of greenhouse technology are some of the solutions to help minimise the effects of climate change.
The development of new short-duration cultivars that are tolerant of high temperatures, resistant to pests and diseases, and produce good yields under stress, as well as the adoption of high-tech horticulture and the proper management of natural resources will be the main strategies for meeting this challenge.
Technical site visits
These include the following:
Research and development into smart horticulture adapted to climate change;
Discovery – protected horticulture showcasing cutting-edge Dutch horticultural technology;
Experience – greenhouse technology and high-quality inputs in the South African market; and
Explore – the process of tissue culture and how genetic multiplication can provide healthier crops of improved quality.
Who should attend?
Departments of agriculture
Technical and vocational education and training colleges and universities
Horticulturists
Plant scientists
Plant health and diagnostics laboratory personnel
Ecologists
Crop specialists
Agronomists
Farmers
Educators
DATE: 3, 4, 5 May 2023
VENUE: Allée Bleue Wine Estate
For more details about the event, download the Climate Smart Horticulture Brochure or email Ryan Jagesar: [email protected].