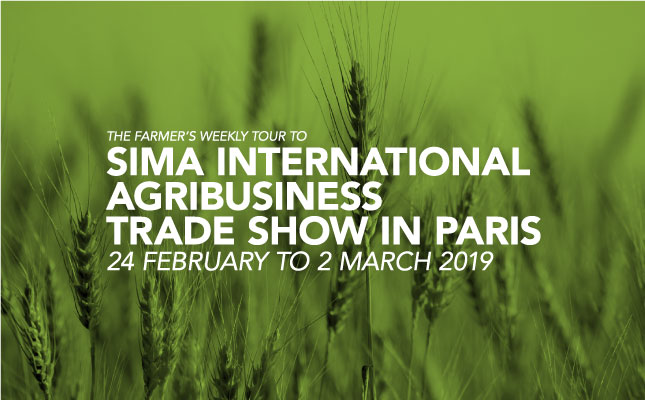 The SIMA International Agribusiness Trade Show is taking place from 24 to 28 February 2019 at Nord Villepinte in Paris, France. The theme for the show is 'Together we grow the world'.
Join Farmer's Weekly on this tour to SIMA, the international trade show for farming innovation.
A new addition to SIMA 2019 is the AGRO SUPPLIES VILLAGE in which seed, fertilisers, and other crop protection technologies will be exhibited for the first time. The show also gives breeders and genomic professionals an opportunity to meet and do business.
Tour options:
Single option: R33 200
Sharing option: R27 250
*These prices have been calculated based on the assumption that 12 or more people will be participating. Terms and conditions apply.
Online Registration Form CLICK HERE
Bookings close 30 November 2018.
Programme:
Group departs from OR Tambo International Airport, Johannesburg, on 24 February 2019, and returns on 2 March.
Group attends AFRICAN SUMMIT at SIMA on 26 February. The theme for the summit is 'European agribusiness in Africa: Positioning agriculture as a business sector'. The main topics to be discussed include funding and partnership models to unlock agriculture`s potential in Africa, scaling up agricultural production through technology and mechanisation, and establishing a thriving agro-processing sector in Africa.
Group visits AGCO factory, as well as farms in the region.
Group visits another agricultural show in Porte de Versailles as part of the Agricultural Week celebration in Paris.
READ Valtra A-series: SIMA Machine of the Year 2017
Terms and conditions:
Registration deadline is 30 November 2018.
Final payment must be made by 14 December 2018. Any registrations or payments made after 15 December 2018 will result in a 3% increase in the quoted package price.
There is no guarantee of flight or accommodation availability after 15 December.
Enquiries & bookings:
Marianna du Plessis
063 076 9135 | [email protected].
Flights:
Yolanda Nortjé
021 872 1581 | [email protected]