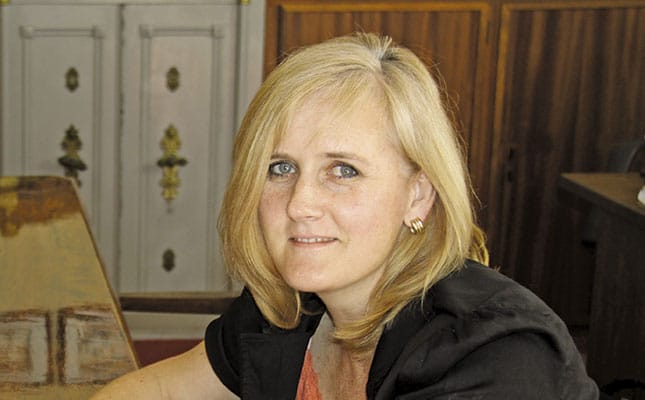 Elsa Carstens' grandfather owned a farm in the Swartland and although she grew up in a Cape Town suburb, she told her high school career advisors that she was "going to become" a farmer. After matric, she chose to study viticulture and viniculture because it opened a wide range of career options.
Today, Elsa is the general manager of the Montagu Wine and Spirits Company (MWS). She landed this position after she had shown her mettle as a viticulturist, farm manager, wine maker and marketer on Audacia wine farm between Stellenbosch and Somerset West.
Elsa needed sterling qualities when she was appointed as general manager of Montagu's MWS Uitvlucht and MWS Rietrivier wineries in August 2009. At that stage the amalgamation of the two wineries had been approved, due to financial pressure, but the arrangement was only formalised on 1 January 2010.
Although relatively small, MWS is a member of Wine Cellars South Africa (WCSA)*, a producer organisation that handles approximately 80% of all wine and grape juice made in South Africa. The wide selection of products from the two MWS cellars includes full-bodied red wines; crispy, light whites; port-style wines; muscadels; and sparkling grape juices.
Turnaround startegy
Because the wine industry was going through a tough time in the aftermath of the 2008 financial crisis, Elsa implemented an equally tough turnaround strategy. Hard-hitting measures included:
Optimising the production capacity of the two wine cellars.
Controlling expenses, which included increasing the responsibilities of the small staff.
Encouraging the company's producer shareholders to reinvest in their farms with the aim of optimising their viticulture practices and wine grape production.
Upgrading the marketing profile and establishing new markets.
"I wanted to stabilise the company before moving it forward," says Elsa. "I'm fairly conservative when it comes to spending so I chose to optimise what we had at our disposal, before I bought new equipment. MWS needed new red wine fermentation tanks, but we renovated and converted old cement tanks from the Uitvlucht cellar which increased our wine making capacity to 360 000l."
Instead of investing
R5 for every litre of increased capacity, the company cut the expense to a mere R1/l. Elsa bought second-hand pneumatic or bag presses that were still in a good condition instead of buying new ones. At that stage, both MWS Uitvlucht (primarily a red wine cellar) and MWS Rietrivier (mainly a white wine cellar) needed new presses. "We got two 25t presses, with double the size capacity of new presses, at 20% of the price. This created a base for us to produce better wines and to use the higher returns to upgrade in a gradual way to more modern technology," explains Elsa.
The improvement of each link in the production and value chain – viticulture, viniculture and marketing – required certain demands of the next link. This produced a "snowball effect", according to Elsa.
Enhancing viticulture
Being located on the edge of the Klein Karoo and bordering the Boland, the Montagu region is an irrigation area where producers can chase high yields. However, they need to find a balance between tonnages and grape quality. Because soil moisture is low, MWS encourages producers to irrigate just enough to allow the vines to produce the best possible grapes. The average yield across all varieties is 19,6t/ha.
The Montagu region has generally been thought of as having a hot climate, but Elsa points out that the region experiences cool nights. This is suitable for red wine cultivars that develop ripe tannins, which are preferable to tannins that are too green. Montagu's red wines show good colour, another indicator that the area is not too hot. MWS produces mainly Shiraz and Pinotage in the red cultivar range, but Merlot also does well in this area. Colombar and Chenin blanc are the major white wine cultivars and there are pockets of land suitable for Sauvignon blanc vines. The ratio of white to red wine production is 85:15.
MWS regards viticulture as a priority and uses a Vinpro consultant to advise its producers. Attention is paid to rootstock, cloning, irrigation interval, fertilising and pruning. "We gather our own research results to provide the producers with extension information," says Elsa. "Normally, we organise three information days every year. We've also identified the better vineyard blocks and have created a winemaker's class among the grape producers. We want to achieve the best that the Montagu region can provide."
Thanks to improved viticulture practices and marketing, MWS has been able to make infrastructure adjustments. The company's 76 producers, with a dedicated area of 489ha, are now paid higher prices for their wine grapes. According to industry figures, producers should earn a minimum of R2 500/t for white wine grapes and R3 500/t for red grapes to break even. Elsa says that producers need an annual income of R50 000/ha to R60 000/ha.
Marketing
Only 1% of MWS production is bottled at this stage, while the remainder is sold as bulk product. "Bottling the best of our own wines allows us to showcase the quality we are able to produce," says Elsa. In the last few years, MWS has won awards at the Klein Karoo Young Wine Show and at the National Young Wine Show, the Veritas Competition and the Old Mutual Trophy Wine Show. Since Elsa took over the reins, MWS has been named best cellar in the Klein Karoo for three consecutive years from 2010 to 2012.
Apart from using glass bottles for its top wines, such as the renowned Montagu Muscadel, MWS uses eco-friendly, lightweight PET bottles for entry-level wines, including white and red blends, and for white and red Jerepigo. These bottles are recyclable, have a low carbon footprint and make transportation cheaper. Transportation costs are a major consideration as Montagu is 170km from Cape Town.
"Currently, MWS exports bulk wines only through agents, which is a pity, because one's own brand disappears in the process," says Elsa. "Per bottled product, we produce small quantities of 1 000l which must be sold out in 8 to 12 months to be repeated. If something doesn't work for us or doesn't show a profit, we discontinue it." The bottled wines are marketed through three main channels:
Cellar-door sales;
Five-star hotels;
Supermarkets throughout South Africa.
"When we bottle, we strive to bottle a product that can be considered unique, including our sparkling grape juice products from Hanepoot grapes," says Elsa. "These wines are sold at prices that are too high for alcohol abuse."
MWS markets sweet and entry-level wines in a light-hearted way, with cocktail recipes for Muscadel published on the MWS website. The entry-level white blend can be used to make punch.
Ensuring best practices
Reportedly, MWS is now on par with industry norms for the first time. With standards of excellence a priority, Elsa wants to have the wine industry's best practices in place by the end of 2014. This includes the Hazard Analysis and Critical Control Points (HACCP) system; ISO 22000; regulations from the Integrated Production of Wine (IPW) system; and regulations from the Agricultural Ethical Trade Initiative of South Africa (WIETA). Elsa serves on a number of wine tasting panels and is a member of several industry bodies. In 2013 she enrolled fora course in company management at Stellenbosch University's Business School.
For more information, phone Elsa Carstens on 072 333 7692 or 023 614 1340, or email [email protected].
WCSA is a division of Vinpro, the industry body representing all South African wineries.
This article was originally published in the 6 December 2013 issue of Farmer's Weekly.