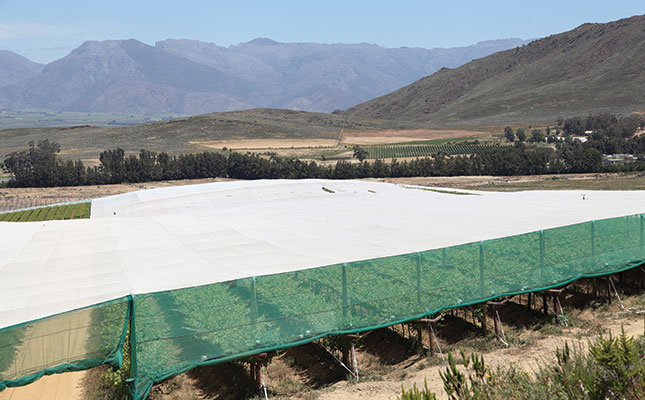 "We know how to farm table grapes in the Hex River Valley. Our family has been doing it since 1913!" says Jacques Beukes, as he sits in the boardroom of the packhouse on Modderdrift farm in Brandwacht, on the outskirts of Worcester.
Modderdrift is a relatively new acquisition: Beukes and his brother Eugene bought it in 2016 simply to increase the size of their operation. Very soon, however, they faced a series of unexpected problems, each of which had to be faced and solved.
"We bought the farm and embarked on developing it in a similar way that works for us in the Hex River Valley. But although they're less than an hour's drive apart, the two locations are very different, and we had to adapt," admits Beukes.
As they had the opportunity to establish new vineyards here, they wanted a new cultivar that would give them a competitive edge. After a study trip to the US, where they looked at all the latest cultivars, they decided on Sweet Sapphire.
"We were excited about the unique presentation, fertility and excellent taste it offered," recalls Beukes.
The brothers duly carried out pilot plantings of Sweet Sapphire in the Hex River Valley and the results proved promising. So, in 2017 they planted 20ha to the cultivar as part of the 60ha under table grapes on Modderdrift. Unfortunately, problems emerged almost from the start.
"We faced two challenges in Brandwacht: wind, and [the limitations of] the Sweet Sapphire."
Wind and nets
"In the Hex River Valley, we have wind in August, and that's about it. We know how to farm with that. But we soon discovered that our new farm in Brandwacht experiences strong, gusting winds throughout the year. This was a particular challenge during the long, wet winters of the past few years. Abnormally strong and gusting north-westerly winds come with strong cold fronts, which have hammered us for the past few years," says Beukes.
The wind damaged the young shoots, and growth was severely restricted. The brothers also realised that the fruit would end up bruised and its quality would suffer.
"One solution was to place the vines under netting. At that stage, we had no experience
with nets; we'd only regarded them as a possibility for future developments in the Hex River Valley. But we soon realised that without nets, we wouldn't survive in Brandwacht.
"Since our initial farm planning hadn't included nets, we had to make compromises and work fast to cover the vines in 2017. The blocks were too large as they hadn't been designed for nets, so the overhead cables ended up too long. This in turn meant that tension on the cables was too high, which resulted in damage during strong winds."
The speed with which they had to carry out the first installations led to inadequate construction work in some instances. For example, anchor poles weren't planted securely enough, leading to entire sections collapsing from time to time.
"Until 2020, we were playing catch-up on maintenance and repairs. We've learnt our lessons, though, and are more confident now with nets. We've found the right contractor, the blocks have been split into smaller units, and we've increased the number of anchor poles so we have sturdier structures."
Apart from providing protection from wind, the netting has also helped the brothers reduce workload (and hence labour costs), and resulted in fewer inputs.
"We're using less fertiliser, and water usage has dropped from 6 500m³/ ha to between 5 500m³/ ha and 6 000m³/ha. At the same time, we're achieving packouts of 6 000 to 7 000 cartons/ha."
Indeed, they have already decided that their future plantings in the Hex River Valley will also include nets.
Beukes admits, nonetheless, that rain can be a challenge with nets, as they have to monitor the humidity levels in the vineyards very carefully and be ready to intervene quickly to prevent the onset of diseases.
Changing cultivars
They also soon discovered that Sweet Sapphire would not work for them. "In our new setting in Brandwacht, the cultivar was simply not producing the desired results," explains Beukes.
"It's extremely sensitive to rain, with subsequent botrytis, which develops in the dimple that's part of the cultivar's unique shape.
"We also struggled with uneven ripening in the bunches. We'd find a 2 to 3 Brix difference between the top and bottom of a bunch, making it very difficult to harvest and export to markets in the East with their extended travel times.
"In the end we established, and then removed, 20ha of Sweet Sapphire within four years. This has been our most expensive mistake to date, but we accepted it as part and parcel of the risks associated with trying new things."
They have settled on an even distribution of Sweet Globe, Crimson, Sable Seedless, Allison, Sweet Joy, Joybells and Sweet Celebration.
Packhouse
The brothers recently completed construction of a modern packhouse on Modderdrift. Beukes explains that this facility has its roots in their Hex River Valley packhouse, which they lost to arson during the 2012 riots in the area.
"We used that disaster as an opportunity to revisit what a modern table grape packhouse could look like, and we incorporated these features in the rebuild. We improved the flow of grapes and staff, and implemented the best technology available at that time.
"This led to other producers pushing the envelope of what is possible with packhouses, and several new projects have improved on what we did. So when we started planning the Modderdrift packhouse, we could investigate the latest technology other producers had been testing out since 2012."
Beukes says the greatest opportunity for improving fruit quality lies firstly in the way the grapes are handled immediately after being cut and, secondly, in the cold chain.
"For the 2021/22 season, we'll experiment with covering the grapes with a tarpaulin immediately after being cut and transported to the packhouse. In terms of the cold chain, we believe that the temperature has to be brought down as quickly as possible, and [maintained at this level]," he says.
The humidity level also needs to be optimal to prevent the stems from drying out. The Modderdrift packhouse has therefore been designed to cool the grapes to the correct temperature rapidly while keeping the humidity as high as possible without creating unwanted condensation. The humidity within the packhouse is kept at a constant 75% and the cold chain is maintained.
The facility has 102 work stations with a productivity benchmark of 0,8 pallets, which amounts to 120, 5kg-equivalent units per station per day.
"We've installed large screens so that workers can track their real-time performance, making management and supervision much easier," says Beukes.
He adds that the way the packaging material is fed onto the lines from the storage area directly above enables workers to pack grapes into different packaging on the same line simultaneously, which reduces stoppages and saves time.
They have also invested in two check-weighers to weigh each packed unit before it is palletised. These machines create a weight report for each unit packed, and have industry-accepted calibration certificates to validate their accuracy.
"They're expensive, but the penalties and reputational damage caused by weight disputes once your product is overseas make them an essential item for us," explains Beukes.
He adds that the combination of all these efforts will lead to improved fruit quality and a
longer shelf life once the produce has reached its intended market.
Venturing into marketing
Beukes says that when he won the Agri SA Toyota Young Farmer of the Year award in 2016, Modderdrift received much media attention, and they started getting enquiries from large retailers. Through this, they saw an opportunity to venture into marketing their own produce.
From 2018, the brothers started focusing on different areas within the business, with Beukes putting his efforts into establishing a marketing arm for Modderdrift, and his brother taking responsibility for their production activities.
"My first marketing trip to the UK was a nerve-wracking experience, and after a tough meeting with a buyer through whom we'd hoped to gain access to one of their programmes, I was convinced we'd made a mistake thinking we could break into the export market. I returned home despondently, and was therefore very surprised to receive a call two days later telling us we'd been chosen as their South African export partner," says Beukes.
Since then, they haven't looked back, and have established themselves as a niche exporter.
"Because we also farm, we know what it's like to deal with exporters, and we've used our farming experience to develop a few basic principles to differentiate our offering."
Marketing value proposition
As Modderdrift also exports the grapes of other farmers, Beukes says they maintain a transparent and individual account for each grower.
"We don't pool costs or forex transactions. We can show each grower exactly what costs were accrued, and the quality of the grower's fruit when it was received. We also confirm the exact exchange rates with them before we perform currency exchange transactions," he explains.
Beukes says he will only enter into a contract with a new grower if he can add value for the farmer that he or she is not currently getting elsewhere.
"We've also decided to keep our focus on the UK market, where we benefit from stable relationships with buyers and well-organised logistics. It's also a much shorter route to market, reducing the risks associated with long travel times."
Beukes says that he and his brother have agreed to stick to table grapes. "It's what we know, and we'll put all our energy into consolidating our position with this crop. We don't see ourselves paying school fees for an unfamiliar crop in this current market," he concludes.
Email Jacques Beukes at [email protected].