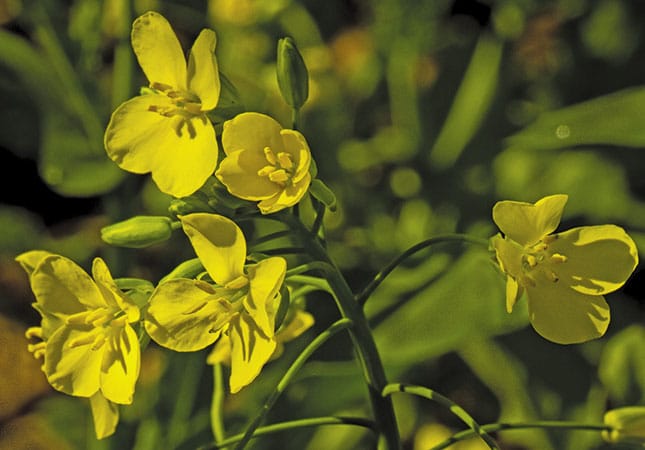 Canola production in South Africa had a tentative start, with a mere 50ha planted to the crop in 1992. Today, the area cultivated is 64 000ha, producing 108 000t annually at an average of 1,71t/ha. And it is estimated that by 2020, canola could be grown on between 125 000ha and 200 000ha in the Western Cape alone. The food market currently uses the entire crop for oil and full fat in animal feed. This will change when biofuel regulations are implemented in 2015.
READ: Farmers must do their homework before expanding into Africa
According to Franco le Roux, agriculturalist for SOILL (Southern Oil), the crop's rapid growth in the Western Cape can be attributed to a favourable price as well as the higher yields obtained in the last two seasons. Ernst Janovsky, head of Absa AgriBusiness, anticipates that the price will remain stable over the next three years, at around R5 000/t.
He expects the area under canola to increase dramatically once farmers increase the yield to 3t/ ha. However, to meet an expected canola demand of about 1,1 million tons as feedstock for biofuel by 2018, considerable buy-in is needed from the agricultural sector and government.
The PhytoEnergy Group, a specialist in renewable energy projects, has been appointed as a member of the South African Biofuel Implementation Committee steered by the Department of Energy to finalise the mandatory biofuel blending regulations.
Petrus Fouché, CEO of PhytoFarming, the agricultural arm of PhytoEnergy, says that canola has been vastly underestimated. But as more farmers plant it, news of its benefits is spreading. Among these is the fact that it can be grown anywhere in South Africa.
Adaptabale to local conditions
"In summer rainfall areas, as a rainfed crop, it is ideally planted towards the end of March or early April with long growing season or winter varieties," explains Fouché. "Since the moisture level in the top soil is often low at that time, it's advisable to plant earlier (between the first summer rains to mid-March). A farmer will then have more time to use it as a dual-purpose crop for cash (seed) and grazing. Its tap root enables it to withstand drought and it's frost-resistant down to -9°C."
He notes that canola is one of the best rotation crops and is well adapted to local conditions. "Maize farmers with root-knot nematode and fusarium problems, and wheat farmers with take-all, should see their yields increase by about 25% after including canola in a crop rotation."
The potential to biofuel
South Africa consumed 11,7 billion litres of petrol and nearly 11,3 billion litres of diesel in 2012. These figures will rise to about 15 billion litres each in 2016. This excludes jet fuel, paraffin, LPG, furnace oil and aviation gasoline, which added up to nearly 4,2 billion litres in 2012. Should 5% of diesel be replaced with biodiesel, 563 million litres of biodiesel (an estimated 750 million litres in 2016) will be needed from oil crops such as canola and soya beans. Bio-ethanol inclusion of 2% amounts to a further 234 billion litres from grain such as sorghum, wheat and triticale.
Once PhytoEnergy's 400 000t biodiesel plant is in full production by 2018/2019, it will consume 1,1 million tons of canola a year. This means that in 2013, 2014 and 2015, there is a need to cultivate 12 500ha, 40 000ha and 216 000ha of canola respectively above the Western Cape's current production. According to Fouché, extending the crop to the northern provinces could add another 1,1 million hectares of canola.
PhytoEnergy intends starting with its first segment of 225 million litres of biodiesel, run by subsidiary PhytoAmandla at Coega near Port Elizabeth, towards the end of 2016. The second segment will follow in 2017, with further expansion possible in due course. Fouché warns that if local farmers cannot meet this demand, feedstock will be imported and they will lose out on the opportunity.
He notes that it should be possible to produce all of the feedstock in the Eastern Cape in rotation with maize and other cash crops, as more than one million hectares of good agricultural land is currently unworked. "However, we expect 60% of the required canola feedstock to come from commercial farmers in the summer rainfall areas and only 40% from rural Eastern Cape due to infrastructure limitations in this province," he says.
"If we assume the mean rainfed yield of soya beans (in summer) and canola (in winter) in summer rainfall areas to be similar at around 2,0t/ ha, South Africa would need an additional 1,41 million tons canola (704 000ha) or 2,8 million tons of soya beans (1 408 000ha) annually to fulfil a 5% inclusion rate of the 2012 biodiesel demand."
Challenges
Despite canola's potential, it poses difficulties. Fouché points to an unwillingness by farmers to change from current crops, and the negative, mostly untrue stories about canola as a crop. The failure of government institutions to support developing farmers is also a challenge. "If government were to support projects that will see 300 000ha of canola, maize and soya beans being planted in the Eastern Cape, it would create jobs and the balance of payment would become positive through fewer imports (of soya oil cake and chicken, for example) and more maize exports," he says.
Research lags behind demand, however. "Good work has been done on rotation, but not enough cultivars are being tested," explains Fouché. "No research is done on canola for summer rainfall areas, where winter varieties are grown under rainfed conditions. As all canola seed is currently imported from Australia, getting enough good quality seed for planting on time is a challenge."
Food or fuel
Fouché says it is a common misconception that a crop has to be planted either for food or biofuel. "In general, this is true when maize is rotationssoya beans for biodiesel, because they can be grown at the same time as conventional food crops."
He says that organised agriculture thinks that enough can be produced for both food and fuel.
"When canola is produced for biodiesel, as PhytoEnergy intends to do, it boosts food and biodiesel production. Canola can be grown in winter, followed by maize and wheat, with higher yields in both and thus an increase in total food production. In addition, 60% of the processed canola will yield oil cake that can reduce protein meal imports," he says.
Fouché adds that canola should be used as a double-purpose crop, giving farmers the option of grazing their livestock on the young canola and then letting it grow out to harvest the seed. This will contribute to food production.
Phone Petrus Fouché on 082 779 1609 and SOILL on 028 514 3441.
This article was originally published in the 15 November 2013 issue of Farmer's Weekly.