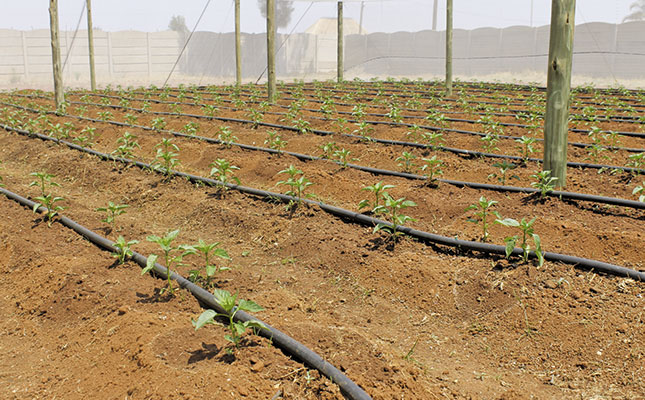 The barren backyard on Chris Venter's 2,2ha plot in Bredell, Gauteng, had long called for innovation. Doing nothing with it seemed a waste, yet it was too small to farm on. Then, in 2009, an advertisement for hydroponic farming caught Chris's eye; this was where the solution for his plot lay. He visited several hydroponic growers in Europe, and soon established two tunnels of his own in Bredell.
READ:Fruit SA joins The Great Fruit Adventure campaign
Today, Chris produces peppers in four tunnels and two areas under shade netting, a total of 5 200m2. Not one to shy away from a challenge, Chris chose peppers as his crop – precisely because he was told that they were the most difficult crop to grow in tunnels. "I knew that if I could get peppers right, I could easily move onto anything else," he explains.
However, before he had a chance to do so, Chris's business, CLV Veggies, suddenly changed direction. Curious neighbours enquired about the white structures going up in his backyard, the news spread, and soon other farmers in the area were keen to go into business with him. So began Pepper Valley.
Collective farming
Expansion was rapid: two Gauteng-based farmers teamed up with Chris intially, and four more have joined the group since last year. Today, the group comprises CLV Veggies in Bredell, C2S Agri in Honeydew, Ubali Harvest in Cullinan, Rudie de Villiers in Rosslyn, and Agape Boerdery, CMT Olivier Boerdery and Jan Marx in Bredell. All seven producers grow peppers, but CLV Veggies packages and markets for the entire group, and Chris heads up the business.
Quality control
An engineer by trade, Chris is only farming part-time at this stage and usually spends five days a week on the farm. His wife, Martie, looks after the business when he is not there. He also relies on his foreman and eight well-trained staff, who live on the farm. Each worker is assigned a tunnel. If any plant needs to be checked, the worker places a peg at the plant. "I can then walk into any of the houses and quickly identify what needs my attention," explains Chris.
He initially struggled to get the operation going and says that he started earning an income from the venture only after three years. "I battled to get the right tunnels in place as I had no support," he explains. "I bought the system as a package and had to figure things out as I went along. I eventually got an expert in to advise me, which has made all the difference."
Each farmer gets a 'recipe' of how to grow peppers and the sizes that must be adhered to. Chris has found it far easier to deal with problems arising on a farm if he knows how the operations are carried out. "When I take on a new farmer, he has to conform to my system. This includes pest control and fertiliser programmes. I know how it works and that it does work."
He now has a consultant who takes care of the pest control programme for all the farms that supply Pepper Valley. The consultant is available seven days a week, so any problems encountered on the farms can be sorted out immediately. "This is one of the reasons for the farms' success," he notes. Last season, Pepper Valley produced 59,7t peppers from 14 600 plants. With the four additional farmers, Chris expects the group to produce 180t from 44 800 plants in the coming season. The business has a total of 25 tunnels and production takes place from mid-November to June.
Read: How to grow green peppers
At present, nine cultivars are planted on the farms. Chris is still in the process of testing which grow best in the various areas supplying Pepper Valley. The peppers are brought to CLV Veggies, where they are washed, sorted and packed. They are collected three times a week by a company supplying the supermarket chain. In all, the peppers take four days, from harvest day, to reach the supermarket shelves.
The tunnels are not in production during winter; heating costs are simply too high and the yield is lower, according to Chris. Instead, the downtime is used to perform maintenance on the infrastructure.
Trust is crucial
The farmers hold monthly meetings, and Chris visits individual farms once or twice a month. He stresses the importance of trust in his relationship with the other farmers. For example, he has to be sure that they will adhere to chemical withdrawal periods. "Trust is the biggest factor in this kind of business model, where you don't have full control over what happens on the farms, but still have to take responsibility if something is not up to standard," he explains.
If any produce is rejected by the buyer, it is returned to Chris, who then sends it back to the farm from where it came. "Obviously, no one is happy when produce is sent back, but it's important to maintain a good reputation by supplying consistent quality," he says.
Management
According to Chris, the most important aspect of tunnel farming is managing the system. "I spent a lot on the tunnels when I started. It's not an easy business and it's labour-intensive. People think you make a lot of money, but things can easily go wrong because you're dealing with an intensive system, in which you're creating an ideal climate. So pests can destroy an entire crop in hours."
However, because the farming operation started small and grew gradually, he had time to iron out any problems before large-scale damage could occur. For the next phase of growth, Chris intends adding cucumbers and tomatoes to his crop. He is also particularly keen to include black farmers in the business.
"Everywhere you go, you see dilapidated tunnel projects that have failed because the farmers received no support," he says. "This business model can keep on growing and if we keep including farmers who know how to grow quality produce, we can make a name for ourselves."
Careful selection
Many farmers have approached Chris to join the business, but he is careful about whom he selects. "The easiest way to determine whether a farmer is committed to the business is if he's willing to attend a meeting on a Saturday afternoon when the rugby is on!" he says, smiling. In particular, he likes to work with farmers who take pride in their produce. Chris believes his business model has advantages for everyone involved.
Read: Preparing a vegetable plot
"Farmers can focus solely on growing the produce and they get a manual on how to grow peppers, based on my tried-and-tested methods. They then just have to deliver the peppers to CLV Veggies, and I do the packaging and marketing. "The advantage for me is that I don't need to have a huge farm to produce enough peppers, to enable me to secure a contract with a supermarket chain.
"The business is growing rapidly and will take more time to manage as we expand, but I have a good system in place to make everything flow smoothly."
Phone Pepper Valley on 011 396 2730 or email [email protected].
This article was originally published in the 22 November 2013 issue of Farmer's Weekly.