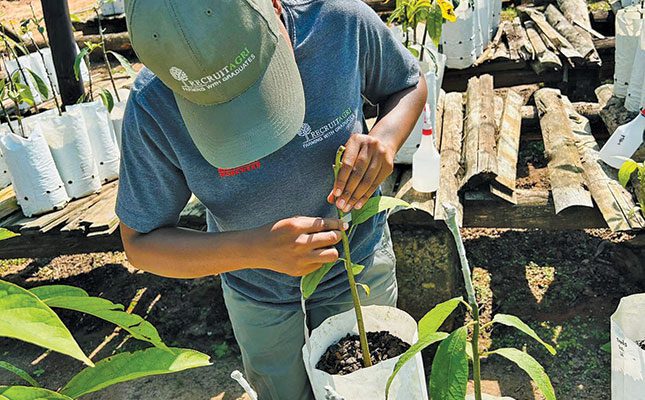 A woman in her mid-20s sat before Jenny More, director of RecruitAgri, interviewing for a position in the non-profit's graduate programme, where she would obtain valuable experience as a farm intern. She was struggling to answer the most basic questions More put to her, and getting a conversation going was difficult.
"She had exceptional marks for Matric and graduated with an agriculture BSc cum laude. On paper she was the perfect candidate, yet had still not found a job two years after graduating," recalls More.
"We require students to score at least 80% in the entry interview before they are accepted, and the woman didn't make the cut. She stayed in my thoughts long after the interview. It highlighted how the education system arms students with all the knowledge to do the job, but none to get the job."
This was one of several reasons why RecruitAgri was founded in 2018. More and her husband Guy, CEO of GA Chalkley Estates, in White River, Mpumalanga, wanted to find ways to uplift the greater White River community where they farm.
A few years ago, when Guy advertised for a mid-management job on the farm, he received more than a hundred CVs, but couldn't distinguish the one from the other, making the interview process extremely difficult and tiresome.
Common trend
Speaking to other farmers soon revealed this was a common trend. RecruitAgri was started to address these issues.
"Traditionally, farm managers have been white and elderly," says More. "When these managers retire, there are often few options for a replacement on the farm, as few workers have the qualifications needed for a promotion."
RecruitAgri takes in graduates who already have a diploma or degree in agriculture or a year of practical experience.
The company has access to a group of 'grower-partner' farmers who allow their farms to be used as a training ground. The grower-partner receives a different intern every two months, allowing the graduate to experience different farms, and a wide range of experience in different set-ups. In turn, the farmers are able to see whom they might like to employ in the next year.
RecruitAgri is managed by a team of experienced educators and mentors, who assist with lectures on avocado, macadamia and kiwifruit farming.
Volunteer lecturers with experience in various fields lecture on economics, business finance, human resource management, bee pollination and legal aspects of farming. Graduates need to obtain 70% or more for the year in order to be put forward for the job interview process at the end of the course.
While courses are for now focused mostly on crops grown in the Lowveld, online training has allowed RecruitAgri to roll out the programme nationally. It's currently expanding its courses to include a wider range of crops.
Once graduates pass the interview test, they do a 10-day induction course to assess their skill level. They then head off to grower-partner farms, where they are mentored as they go along, and take part in online training. RecruitAgri carries out regular farm visits to monitor their progress.
A concern initially raised by farmers and graduates was how the latter would fit into the farm culture, without being seen as a threat to current staff.
"The interns always wear a RecruitAgri uniform that identifies them as graduates. Farmworkers have got used to this over time and they accept them," says More.
"If the graduates are employed at the end of the year, it's in a senior position and it fills a vacancy, so there is no threat to current jobs."
An important part of the process is the networking RecruitAgri does on behalf of graduates to find suitable employment.
"All farmers go through the challenge faced by Guy all those years ago," says More. "They have vacancies, but finding the right candidate is challenging.
"Making sure farmers know about the services we provide is crucial to ensure we can get all of our graduates employed. By networking, we can also better understand the needs of the farmers."
RecruitAgri sets up graduates' CVs, writes profiles and cover letters for each, and does mock interviews to teach them how to conduct themselves and prepare for questions.
"Training on negotiating salaries is also important, because often there is a very unreal expectation of a high salary since the graduate has a degree. But higher salaries come over time," explains More.
Profiles are given to farmers with vacancies, and interviews are conducted at the end of the year.
"By the time everyone arrives on interview day, farmers generally know who they want, and graduates have an idea of where they want to work, so no one wastes each other's time."
When RecruitAgri started in 2018, it had four graduates. Last year, it had 26 and conducted 75 job interviews over two days. It achieved a 90% employment rate, averaging 86% since it started.
Driver's licence
More notes that, while the graduates have obtained most of the knowledge they need to farm from their studies, there are still gaps in theory, in addition to practical knowledge.
"We've found that management and practical farm skills are lacking," she says.
For example, most farmers will agree that a motorbike or quad bike makes moving around the farm much easier. But few graduates come with these driving skills. Likewise, having a licence and ability to drive a bakkie is paramount for a management position.
"We insist that graduates have a driver's licence. But this does not mean they are fully competent in driving, and we had graduates crash bakkies in the beginning. Now they have to do a competency test as part of the induction process, and we communicate to the grower-partner their level of skill."
Motorbike training is done during the induction, but More stresses that if students cannot ride a bicycle, the chances of balancing on a motorbike are slim. Students who will start the programme in January are therefore requested in December of the previous year to spend their holidays practising to ride a bicycle.
Few university courses include management and leadership skills, and this is where RecruitAgri plays an especially important role.
"Farmers expect a graduate to have some kind of leadership skills when they come on board, but this is not necessarily the case. We offer a syllabus on the differences between management and leadership, which includes discipline in the workplace, management styles, relationships, and contracts."
Operational planning is another gap which the company seeks to address.
"Managers need to be able to budget and plan ahead. But there are some who have spent most of their lives living hand to mouth. Budgeting is not something that comes naturally, and must be taught."
More notes that it is important to adjust the programme, as there are always new developments that require training. For example, RecruitAgri has started including training by the Perishable Products Export Council Board (PPECB) inspectors so that graduates are aware of the importance of the inspections and how to handle them.
Since RecruitAgri is a non-profit organisation and does not charge fees for job placement, funding is reliant on industry partners and grower-partners. The former assist in covering the costs to run the business, while the latter contribute to the graduates' stipend while they are on the farm.
Macadamias South Africa and the South African Avocado Growers' Association provide funding as part of their transformation strategies, and their help is crucial to keep the lights on at RecruitAgri.
More notes that the organisation is still seeking an anchor sponsor to assist with things such as subsidising grower-partners to bring their costs down, and increase the learning opportunities for the graduates.
"Farmers are under tremendous pressure at the moment to keep their heads above water. All the commodities have faced price decreases, market access problems and steep increases in input costs. As a result, we've had a few farmers bow out as grower-partners," notes More.
The interest from graduates, however, continues to grow. In the organisation's second year of operation, it was already receiving more than 1 000 applications. More has since streamlined the application process, making it necessary for prospective graduates to put more effort into applying. This has brought applicants down to 400, and increased the quality of those who apply.
Another development over the past five years has been the increase in female applicants. This year, 57% of the graduates are women. More says there was initially concern over whether the women would be able to handle the physical nature of the job.
"But they can cope and do very well. They can grind and weld with the men. Their admin capabilities are far better, and we find that the women are snatched up quickly by farming companies."
Stand out
Those interested in pursuing a career in agriculture are advised to be sure agriculture is really where their passion lies, and then to prepare adequately for interviews.
"I've seen a trend that schoolgoers often opt for agriculture as a subject, because it's easier than maths or science, for example. Then they pursue a career in this field without really having zeal for the industry.
"They give standard answers during interviews, as if they have been coached on what the 'right' answer is. Sometimes they don't even know what they're interviewing for when they arrive.
"They have simply applied for every job vacancy and hoped for the best."
Another problem, says More, is the unintended consequences of 'free education'.
"Students who get bursaries and have their living expenses covered encounter two problems. Firstly, they're tempted to keep studying to a point where they are overqualified, but have no experience, because they are being taken care of while they are studying. They then also have a very high salary expectation, because of their qualifications and age, yet they are difficult to employ without experience.
"Secondly, with everything being provided for them while they were studying, they
struggle to transition to a point where they get a salary and have to budget for things like accommodation, food, pension, and spending money. So my advice is, don't fall into this trap. Get your degree and get into the workplace as soon as possible."
More adds that the agricultural job market is lively. But to find the right job, graduates need to have the full package: a qualification and practical experience, as well as leadership skills and the ability to take charge on a farm.
Email RecruitAgri at [email protected].