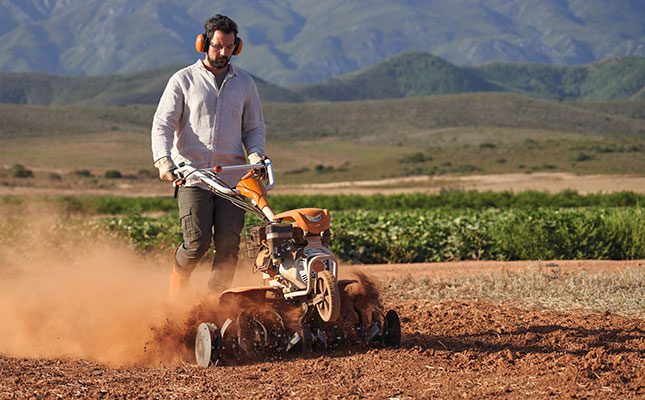 STIHL has specially developed the Farmers' Range of 230 model products to cope with the challenges and demands of farming in Africa. They provide affordable mechanisation for both small-scale and commercial farmers, making essential farming tasks easier to manage.
This range is uncomplicated and economical, with fuel-efficient 40,2cc and 1,55KW engines. Each machine is easy to operate, extremely powerful and up to the task for which they have been designed.
All of the 230 machines are simple to maintain, with spares such as filters compatible across most of the range for total convenience and flexibility. This means that even in remote and rural locations, these machines can be serviced without fuss or hassle, and by one person. No more time-consuming, inconvenient trips to town to get a machine you need every day serviced!
The Farmers' Range includes:
the STIHL WP 230 mobile pump for irrigating fields and crops, and getting water to livestock;
the STIHL SG 230 portable petrol-powered sprayer to accurately distribute foliar fertiliser, pesticides and herbicides for pest and weed control (reducing wastage of these costly chemicals);
the STIHL BC 230 cultivator for loosening and preparing soil, furrowing, and working in mulches;
the STIHL BT 230 auger for fencing, erecting poles for solar systems and structures, and creating pits for planting;
the lightweight STIHL FS 230 brushcutter with Autocut C26-2 nylon mowing head that offers impressive savings on nylon line while delivering a powerful mowing action; and
the compact, highly manoeuvrable MH 610 and MH 710 petrol-powered tillers for preparing previously tilled soil in smaller fields that cannot be accessed by a tractor.
STIHL doesn't only look after the outdoor mechanisation needs of farmers. In addition to the must-have 230 models of the Farmers' Range, STIHL also has a wide selection of products for the cleaning and maintenance of the home.
These machines are equally hard-working, robust and reliable, and include several choices of wet and dry vacuum cleaners and high pressure cleaners to super-clean your home, both inside and out.
Partner the latter with various accessories such as the rotary brushing head, foam nozzle, and vehicle cleaning set (also useful for cleaning mowers, machinery, tractors etc), plus the range of specialist cleaning products that includes a rim cleaner, surface cleaner, and stone and facade cleaner.
For keen gardeners and DIY enthusiasts, the GTA 26 cordless pruner is a versatile, nifty machine that acts like a mini-chainsaw and delivers accurate, effortless cutting. It is great for easier pruning and is perfect for timber-based projects.
STIHL also produces numerous high-quality tools for taking care of the garden, including various models of standard and long-reach hedge trimmers and pole pruners, blowers for leaf and dirt control (also useful as part of a fire management programme), mowers for groomed lawns, and shredders to get rid of organic waste and turn it into compost and mulch.
Let's not forget STIHL chainsaws, the machine that made the company's name legendary (STIHL is the world's largest chainsaw-selling brand). There's a machine to fit your needs, from super-powerful chainsaws for professional forestry applications to more lightweight models that are ideal for trimming back branches and cutting them up for firewood.
STIHL power tools – there's such a wide choice and there's nothing comparable on the market.
Talk to your nearest STIHL dealer or visit stihl.co.za for details.