"Farming has evolved into a very complex business and to manage it successfully you have to know something about everything." With these few words Petrus Bosman articulates the challenge facing most young farmers these days – having to be much more than just a farmer. Farming also requires business skills, managing employee welfare, looking after the environment and navigating the murky waters of South African politics.
Although Petrus has only been involved in his family's farming business for about eight years, he seems to have already acquired sufficient wisdom and insight to succesfully fulfil his role as managing director of Bosman Farming. The Bosmans from Lelienfontein in Wellington farm with 300ha of wine grapes, some of which is used to produce the Bosman Family Vineyards boutique wine range.
They also own one of South Africa's most successful vine nurseries, Lelienfontein Vine Growers. Petrus uses the foundation that has been laid out for him by eight generations of wine farmers, as his inspiration to ensure future success of the business.

Petrus Bosman
Lelienfontein Vine Growers
Born in 1981, Petrus attended Paul Roos Gymnasium in Stellenbosch and obtained a B.Acc (BComm Hons.) degree from Stellenbosch University before he joined the Lelienfontein team at the end of 2003. Since then he has played an important role in the strategic development of Lelienfontein Vine Growers. "We believe successful grape growing depends on planting the best quality vines available. Each year, we hand-graft more than 8 million vines which we sell directly to producers," says Petrus.
They produce grafted vines for wine-, table- and raisin grapes, developing more cultivars and clones every year. "Currently more than 350 different combinations are grafted every season and clients select rootstock based on their soil types and growth requirements. "As far as the wine grape cultivars are concerned, the trend in the wine industry is white, high yielding cultivars. "However, we have also seen an increase in the demand for certain red wine cultivars such as Pinotage, Ruby Cabernet and Shiraz."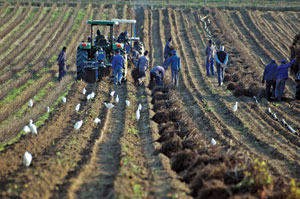 Digging of vines on Lelienfontein farm in Wellington. Lelienfontein Vine Growers plant more than 8 million hand-grafted vines per year.
Petrus adds that Lelienfontein Vine Growers is pro-actively working with grape growers and plant improvement organisations to create sustainable solutions to vineyard problems. Their focus is on the establishment of mother plantations (rootstocks) in isolated areas such as Leeu Gamka, Ceres, the Karoo, Klein Karoo and the Upper Hemel-en-Aarde Valley.
Through this they hope to reduce the risk of leaf roll virus contamination and the establishment of foundation units to ensure the availability of rare and niche plant material to the industry. "Our industry is very dynamic and needs change on a regular basis. Our aim is to be on top of our game at all times."
Bosman Family Vineyards
The vineyards are situated in three different terroir regions, in the Bovlei (Wellington), near Hermon and in the Upper Hemel-en-Aarde Valley near Hermanus. The Bosmans farm with about 300ha of wine grapes, producing roughly 3 000t of grapes.
Only the finest 5% of their total production is selected for their own label, Bosman Family Vineyards and made on the estate, and the rest of the wines are made at Wellington Wines where Petrus serves as a member of the board.
The Bosman Family Vineyards brand is fairly new – in 1956 they stopped making wine on Lelienfontein to focus more on the vine nursery for business reasons. But, after an absence of 51 years, the first Bosman Family Vineyards wines were released from their newly renovated 250-year-old cellar in 2007. "One of our greatest tasks is to promote and strengthen our trademark both in the local and international market,'' says Petrus.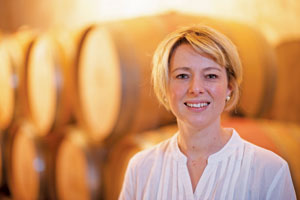 Corlea Fourie, winemaker at Bosman Family Vineyards, is credited for bringing a soft, feminine touch to the wines produced on the farm.
"We produce a few ultra-premium quality wines such as our Chenin Blanc which we produce from a single, 60-year-old vineyard called Optenhorst. "Since more than 50% of the wine that we produce on the farm is exported, we focus on promoting our wines overseas, especially in our most important markets, the United Kingdom and the Netherlands.
"The Bosman Family Vineyards received Fairtrade certification during the first quarter of 2009 and we have used this accreditation as an important marketing tool, letting customers know that this ensures that the conditions of production and trade of our wine grapes are socially and economically fair and environmentally responsible," says Petrus.
A future in the wine industry
It is an uncertain and difficult time in the wine industry and farmers are buckling under the pressure of a growing cost-price squeeze. But Petrus has managed to remain upbeat about the future of the wine industry in South Africa. "We had a great harvest this year with good quality grapes and average yield, so yes, I'm feeling positive," he says. On a more serious note, he explains that he bases his optimism on more than just a good harvest.
"Internationally there is a growing demand for wine, but a decline in production. While South Africa is a relatively small player on the world market, I believe we offer some of the best quality wines at very competitive prices. "My medium-term view is that there is a bright future for South African wines both locally and on the international market." Bulk wine exports from South Africa continue to increase and some industry players have criticised the fact that wine producers are not adding value to the product.
But Petrus thinks that at a time when bottling and packaging of wine in South Africa is becoming more and more expensive, exporting bulk wine can give local producers a competitive edge. "Our challenge is to effectively market our wine to unlock the high intrinsic quality, despite the lack of support from government."
Investing in people
"It is important to adapt pro-actively to the political climate by seeing challenges as opportunities instead of threats. "My family and I are not only running a farming business, we are managing an entire community. "About 95% of the permanent workers on the farm also live on the farm. I live on the farm with my wife and children and we cannot live a happy and peaceful life if all the people who live here are not happy with their living conditions.''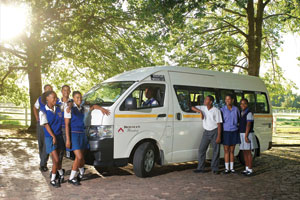 The Fairtrade school bus was purchased with money raised through the enterprise's Fairtrade membership. From left: Hayley Arnoldus, Joween Azer, Carlo van Weese, Austin Goosen, Maurecia Hartnick, Ryan Cedras , Jessica Lackay and Chantall Fransman.
Besides accommodation, Bosman Farming also provides its employees with electricity, running water, a working sewerage system, transport to and from work, medical facilities and a school for their children. It also runs numerous initiatives as part of its social commitment to its workers. This includes a library, a sports club, a karate club, crèches and a music school.
"Farm work requires a certain level of competency and skill and we spend a lot of time training the workers.
"We believe it is to our benefit to make sure that workers are happy and to keep staff turnover as low as possible," Petrus explains. They employ about 280 workers on a permanent basis and have a staff turnover of less than 3% per year, with 20% of the staff with a loyal service record of 20 years or more.
Good business sense
"We believe that whatever we invest in people will always be to the advantage of the business in the future and we operate on the premise that an employer should care about the workers who care about the work they do." Going the extra mile to empower its workers, Bosman Farming and partner Adama Workers Trust (see box on Adama Trust) embarked on a joint venture in 2008, the biggest black economic empowerment deal in the wine industry to date.
Petrus has no doubts about the long-term advantages of treating employees well and investing in the local community. "My great-grandfather invested in the community and ever since then it has been one of our strongest business philosophies.
"Social responsibility can become a heavy burden if you have the wrong attitude, but we see it as part of our long-term strategy, an investment from which we continue to draw an economic advantage."
Adama Apollo Trust
In 2008, Bosman Farming completed the largest land reform empowerment transaction to date in the wine industry and in the Western Cape. The deal entailed the establishment of the Adama Apollo Trust which has 260 beneficiaries. All of
them are permanent workers on Lelienfontein who have a track record of delivering at least three years of good service on the farm.
The deal included a 50% share in De Rust (Pty) Ltd and De Bos Landgoed (Pty) Ltd (farms belonging to the Bosmans), a 5% stake in Bosman Farming (Pty) Ltd and 30% in Bosman Family Vineyards (Pty) Ltd. This represented an interest in 430ha of prime farming land, 150ha of which is vineyards. Petrus says they were able to pay a dividend to beneficiaries since the first year and they have seen a 30% improvement in Monday absenteeism – proof that workers are assuming ownership of, and responsibility for the business and taking pride in their work.
"Our challenge now is to continue growing to accommodate the next generation of loyal employees by making them part of the trust and how to fairly compensate the older generation who are looking at retiring," he added.
Contact Petrus Bosman on 021 864 1705 or email [email protected]