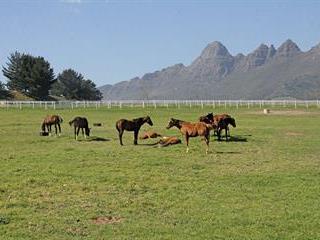 Although vineyards cover 50ha of the 110ha Avontuur Wine Estate, wine production contributes only 30% of its income. The rest comes from its horse stud – a superb, 37-strong broodmare band from around the world. It also boasts two world-class sires, Var and Oratorio, which made waves when they were first imported to South Africa. Michael Taberer and his brother Phillip inherited the estate from their late father, Tony Taberer. Over the years, Avontuur's wine production was reduced by discontinuing their entry-level wines.
"Although we produce a smaller volume of wine, we've re-categorised ourselves in a higher-price bracket by producing only high-quality estate and premier-range wines that fetch a better price," Michael says.
As a result, they retained vineyards only on the parts of the farm that offer the best terroir, while replanting or renewing as necessary. On the other hand, kikuyu pasture for the stud horses was expanded to 40ha. The rest is fallow land and fynbos.
According to Pippa Mickleburgh, Avontuur's general manager, one horse per hectare is an old practice. At the time of writing, Avontuur also had 24 weanlings but as this number fluctuates, it will probably have 30 new foals in November.
Breeding
The breeding season lasts every year from 1 September until 31 December. A mare foals down after 11 months and, one month later, is again covered by a stallion. Her foal lives with her for seven months, even if she is pregnant. Asked about the economics of racehorse breeding, Pippa explains that service fees charged for making use of a stallion range between R10 000 and R200 000 depending on the stallion's track record. Var's service fee is R150 000, of which R30 000 forms a nomination fee. The balance is due when pregnancy occurs.
Oratorio's service fee is R100 000, of which R20 000 forms the nomination fee. Each covers a maximum of 120 mares per year. The stallions' services were fully sold before the current breeding season commenced. Var, the European Champion Sprinter in 2004, won seven races (1 000m to 2 000m) in the US, the UK and France while still racing.
"When Tony Taberer bought Var eight years ago, he was the fastest, best-looking horse in the world. It was a big gamble because at that stage he had not yet produced any foals," Pippa says. A total of 44 shareholders invested in Var at R120 000/ share and the return on investment has been remarkable. In his first breeding season in SA, he covered arly 100 mares, in his second season 120, and in his third 140.
According to Pippa, Var is the most expensive racehorse that ever came to South Africa. It takes about 20 years to build a reputation for a horse stud and to prove its breeding ability. "When the Taberers progressed from breeding horses as a hobby to establishing a quality stud, we initially started with good stallions such as Divine King and Dominion Royale before Var took us to the next level."
Irish-born Oratorio, bought by Avontuur in 2013, already has seven Grade 1 race winners and 48 stake winners worldwide. He has sired over 70 individual northern hemisphere black-type performers. His first SA book included such illustrious mares as Grade 1 winners River Jetez, Sarabande, Bambina Stripes and Outcome, with Equus Sprinter of the Year, Val de Ra included in the 2014 list.
Costs
The normal cost to get one of their own mares pregnant and maintain the pregnancy amounts to R4 500, excluding any surgery or hospital cost which might occur. Moreover, boarding costs for a mare on a farm amount to R120/ day, excluding any possible expenses for injuries or sickness. It includes concentrates and additives, which amount to R70 a day as well as water, lights and labour.
Vet costs to deworm and vaccinate a foal amount to R1 000, excluding any treatment that might be required in case of sickness. Avontuur insures all its horses. The insurance also covers colic, the most common ailment among horses, as surgery might cost R75 000 per horse.
"Otherwise, we can insure a horses for injuries, death from natural causes, public liability, and for infertility among stallions. We insure most of our horses until a certain age, and stop insuring them once a certain number of offspring has been sold, enabling us to make back the money initially spent on the mare," Pippa says.

Sales
The yearling sale season runs from January to April every year. Avontuur sells yearlings that turn two in that specific year at the annual Premier Sale in Cape Town and the National Yearling Sale in Johannesburg. These are not broken in; they are simply shown how to walk well. All yearlings are sold not broken in.
In general, the success of the sale depends on results obtained on the race track by the older offspring of the sire. The racing season commences every year on 1 August and ends on 31 July the following year. Apart from transport costs, sales costs comprise an entry fee of R8 000 to R10 000, R5 000 for a full set of X-rays and sales commission of 7% to 10% per horse.
At the 2015 National Yearling Sale, 26 of Var's yearlings sold at an average price of R398 000. With Oratorio's first SA yearlings ready for the 2016 Cape Premiere Yearling Sale in January, Pippa says they look forward to seeing those results.
Asked about a decline in the popularity of horse racing in South Africa, Pippa says that there has also been a decline in the number of breeders and foals the National Horse Racing Authority (see Table) registered over the last five years.
She stresses, however, that the quality of racehorses is outstanding and South Africa's stallions are now world-class. "I can only say that horse racing remains the sport of kings on the international stage. Another way of looking at it would be to say that when gold shares go down, clever business people buy more of it."
She adds that South Africa will only really benefit from its world- class racehorses when the export protocol, introduced in reaction to the occurrence of African horse sickness, is lifted. Countries are keen to support South Africa but it takes long to get the horses across due to the long quarantine periods. Apart from vaccinations, exporting horses requires arduous paperwork.
Looking ahead
Michael is positive about the future of the sport of kings in South Africa as more and more local horses and trainers are competing internationally and making a good showing.
Email Pippa Mickleburgh at [email protected].