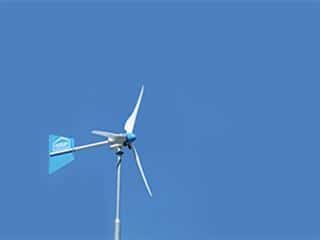 There must be few commercial farmers in South Africa who have not considered either wind or solar power as alternatives to the Eskom grid. The cost of power from the utility has consumed an ever-higher percentage of input costs in recent years – and crippling increases seem to stretch ahead indefinitely. Yet the limitations of wind and solar are obvious, and with reliable supply being a given requirement for most farmers, many have shied away from installing one of these systems. High capital cost is another disincentive.
Kestrel Renewable Energy (KRE), a subsidiary of Eveready SA, believes it can offer farmers a practical solution: hybrid wind-solar generation at an affordable price. The system has proved popular with increasing numbers of farmers, one of whom is Luke Bell, a livestock farmer from Molteno in the Eastern Cape.
Unlike most farmers, Bell has never been an Eskom customer. His isolated farm, Boshoffskraal, is too far from the nearest Eskom line, and a connection would cost him far too much – in the region of R800 000. Skyrocketing Eskom tariffs over the last few years, and into the future, have made the idea even more unrealistic. "It just isn't an option," he says.

Luke Bell with the KRE battery bank and electronic inverter which powers the farmhouse as well as his workshops.
"I don't think Eskom's power can get any cheaper. They're battling to keep up with demand and they need to put their prices up." Instead, Bell has relied on a mixture of old-fashioned systems: a diesel generator for lights, gas for freezing, a wood-fired 'donkey' for hot water, and anthracite stoves for warmth during the bitterly cold winters of the region. The sheer cost and effort of running these, however, has made the idea of renewable energy increasingly attractive to him.
It was a talk last year by KRE's Eastern Cape sales representative, Otto Relling, that finally convinced Bell that a wind-solar generation system was a realistic alternative. The Molteno area is both hot and windy, offering the ideal combination for a hybrid system.
The system as fitted on Boshoffskraal is a Kestrel e300i 1kW wind turbine installed against a nearby ridge, and a 230W solar panel system installed behind the farm shed. The system, which includes an electronic inverter (48V 3 000W) and batteries, provides his home and workshops with relatively consistent and adequate energy.
"So far, it's excellent," says Bell. "If there are a number of overcast days, the wind might still blow. So wind and solar tend to compensate each other." He explains that the KRE system will cost him about R140 000 over five years. Alhough he still heats water in the donkey, he is seriously considering installing solar geysers.
Eskom costs drive sales
KRE sales and marketing director Leon Gouws believes that the increase in popularity of KRE's generation system on the platteland is linked to the rising cost of Eskom power. "There has been an increase in requests for renewable energy solutions from farmers over the past few years and an even steeper increase during the past 12 months," he says. "Farmers are under enormous pressure from their input costs and they're increasingly looking for ways to curb costs. Electricity is a good place to start.''
Gouws explains that the 1kW turbine on Luke's farm is one of four made by the company. The options are 600W, 800W, 1kW and 3,5kW. All are manufactured to various international quality standards in KRE's ISO-certified factory facility in Port Elizabeth and distributed in nearly 20 countries.
They can be installed individually, or in conjunction with solar energy panels in modular systems, which makes it possible to add extra wind turbines or solar panels if required. KRE systems can be connected to the Eskom grid and serve as a power back-up, or they can be installed 'off-grid', in which case the energy is stored in batteries. These need replacing every five to seven years.
Customer assistance
The process begins with a comprehensive energy audit of the farm by KRE-sourced energy consultants. Once this is established, KRE engineers conduct a survey of the wind and solar potential of the farm and help the farmer choose the optimal system. "Parameters include site elevation, tower height, monthly wind speed distribution, solar irradiation and the number of cloudy days," explains Gouws.
"In most inland areas, it's more feasible to use only solar, while along the coast, wind-only systems are usually enough."
According to Gouws, KRE technical support teams are on standby to provide after-sales service, a crucial factor in isolated regions. KRE also offers several financing options to make repayment easier.

The solar panels on the farm complement the power produced by a Kestrel 1kW wind turbine to provide a reliable power supply.
"We offer a 60-month rental option whereby prospective buyers can rent the system and pay only a minimal fee at the end of the term," explains Gouws. "The warranty can be extended to span the 60-month period. Ownership of the system is then carried over to the buyer."
UK certification for Kestrel e400nb 3,5kW wind turbine
Kestrel Renewable Energy, based in Port Elizabeth, manufactures four sizes of wind turbine. The largest of these – the e400nb – was MCS- certified (Microgeneration Certification Scheme) in late 2012. MCS certification is an independent scheme supported by the UK's Department of Energy and Climate Change. An owner of the turbine qualifies for a feed-in tariff that remunerates the owner for electricity production. As a result of the certification, the turbine has also been conditionally registered with the North American Small Wind Certification Council (SWCC). The e400nb generates 3,5kW, has a rotor diameter of 4m and weighs 250kg.
KRE water pumping solutions
Contact Luke Bell on 045 941 1001. Contact Kestrel Renewable Energy on 041 401 2500 or visit www.kestrelwind.co.za