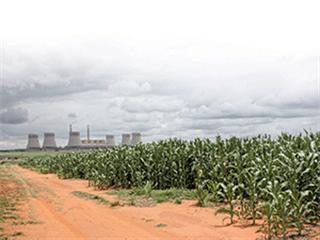 "I've had to put my dreams in a box on the shelf for the last seven years. I had expansion plans for this farm which included putting up a silo, but my hands are tied," says Ivan Enslin. Behind Ivan's maize lands is the Kendal power station and several coal mines. He shrugs his shoulders, indicating a level of disheartenment common to many farmers in his situation. Pointing to the electric fencing around the farm and the security cameras he says, "That's where my money goes now. Theft comes with the influx of people looking for jobs at the mines. They will steal to buy a loaf of bread."
Ivan Enslin is a third generation farmer whose current family farm, Klipfontein in Ogies, was bought by Ivan's father. Now he and his son Francois have a year and a half of farming ahead of them before their land is turned into an open cast mine. In 2007 Ivan was approached by mining companies Anglo American, BHP Billiton and Xstrata. Company representatives told him that the farm would be valued based on the infrastructure already there and on his crop yield.
"If I wanted to put up a silo I would have to do so at my own cost and could not claim the value back when the farm was sold," he explains. Then the recession brought the deal to a halt and Ivan was left not knowing when the farm would be bought or how many seasons he had left for crop production. "I stopped investing in my soil and did only the bare minimum. "By the third year there was a 20% drop in yield and I realised that I had to find a way to correct the soil, without over-capitalising."

(From left)Francois Enslin, Gert Coetzer (consultant) and Ivan Enslin.
Soil recipe
The Enslins rotate 700ha of dryland maize and 700ha soya beans annually and there is an average annual rainfall of between 680mm and 730mm. Ivan brought in Gert Coetzer, an independent consultant in biological and no-till farming to work out a soil programme for Klipfontein that would save him money and maintain his crop yields. Gert's programme is built on three fundamentals: crop rotation, maintaining a layer of mulch on the soil surface and no-till crop production that does not disturb the soil and its natural processes.
"Mulch is crucial as it keeps the soil cool and reduces water evaporation. The mulch decomposes and releases nutrients back into the soil for the plant. It also ensures a soil structure with a high organic material content which provides food for the soil micro-organisms. These in turn aid in the plant's nutrient uptake and improve the cation-exchange capacity (CEC) of the soil."
Gert explains that the efficiency of nitrogen is increased by 15% to 35% if fertiliser is correctly organically buffered and the micro biological levels in the soil are correct. "Micro-organisms must convert nutrients into a form that plants can utilise. Plants cannot fully utilise chemical fertiliser in its original state."
Before planting soya beans and maize Gert ensures the proper decomposition process and soil health by putting basic micro-organisms in the soil using Microbial Solution's Landbac at 1l/ ha and Genesis Humates at 4l/ ha. These are sprayed onto the post-harvest crop residue with a self-propelled crop sprayer. Glyphosate is applied for weed control at a standard rate of 3l/ha. There are two spray applications, one after harvesting and another before planting.
Ivan says that herbicide spraying is often not necessary as the lack of disturbance in the no-till approach creates conditions unsuitable for weed growth. Advanced Nutrients' CalciN is sprayed onto the soil before the next crop is planted as an eco-catalyst to make the calcium in the soil available for plant growth. The application rate is between 50l/ha and 100l/ha depending on the soil analysis.
At planting, Advanced Nutrient's Evolve Complete at 100ml/ha, Advanced Natural N at 250ml/ha and Advanced Rootshield at 20ml/ha is applied through squeeze-pumps mounted on the planters. During this time, Ivan also applies a fertiliser mix organically buffered with specialised products from Advanced Nutrients. Fertiliser is applied through a planter tube, which delivers it 50mm off the planting line just behind the front coulter, to eliminate nitrogen burn.
The ANO (21) fertiliser is applied at a rate of 130kg/ha. The coulter cuts through the mulch and penetrates the soil 8cm to 10cm below the surface. Six to seven weeks after emergence, a nitrogen top-dressing of organically buffered UAN fertiliser, with Advanced LAPP (an eco-catalyst) is applied at a rate of 20l/ha.
The proof of the pudding
Farming according the Gert's system has reduced Ivan's input costs by R3 000/ ha while his yields have exceeded the area average. "My input cost is just above R6 000/ha, where the average in our area with conventional farming is about R8 000/ ha. While last season's average for maize was 6,8t/ha, I harvested 7,8t/ha. I harvested an average of 2,5t/ha soya beans, with the area yields varying between 1,7t/ha and 2,7t/ha.
Ivan's diesel use has dropped from 90l/ ha to 40l/ha and nitrogen application has decreased from 120kg/ ha to 90kg/ ha. "With conventional farming I would go through the lands up to five times just to prepare the seed bed. Now I only go in twice," explains Francois. Ivan has reduced his labour force from 30 to 15 workers because conservation farming needs less labour. Machinery has been reduced to a no-till planter and a crop sprayer.

In a no-till system, ants and other organisms flourish, benefiting the soil by increasing porosity and water absorption. Photo by Gert Coetzer

Ivan stresses that conservation agriculture practices are very different from those of conventional farming and correct management is vital. "Biological farming takes nature's ways into account. Harmony and precision are the secrets of success. We have to stick to the recipe."
Gert explains that when soil is in good health it has more biological life. "Ants and other small organisms thrive and as an added benefit they dig tiny tunnels in the soil, making it more permeable and improving water infiltration. Healthy plants are less susceptible to pests and disease and the farmer saves on fungicide and insecticide."
Rehabilitation
Ivan notes he has not had a single failed crop due to drought since he moved there in 1959. "It is a high potential agricultural area. The country will face a food security problem if everything is mined. Although there are laws in place that stipulate that soil must be rehabilitated, these laws are not applied." Ivan says there are other effects such as rural job losses.
"But the people most affected by mining are those who can't afford a loaf of bread because food has become so expensive with so much agricultural land going out of production." "The owners of the mines in the area, such as BHP Billiton, are not South African. I think South Africa is getting ripped off because the mines are taking what they want and not rehabilitating the land effectively afterwards. What concern do they have about food security in this country?
"In the end, all these farming techniques will only be useful if they are implemented without the threat of mining. At this stage most of the highly fertile land in this country has been earmarked for mining." Ivan is on the lookout for another farm so that he and his family can continue to farm but land prices are high. "At R200 000/ ha for irrigation land, farming is unaffordable. And if mining continues, demand will outstrip supply to escalate the land price even further."
Contact Gert Coetzer at [email protected] or Ivan Enslin at [email protected]