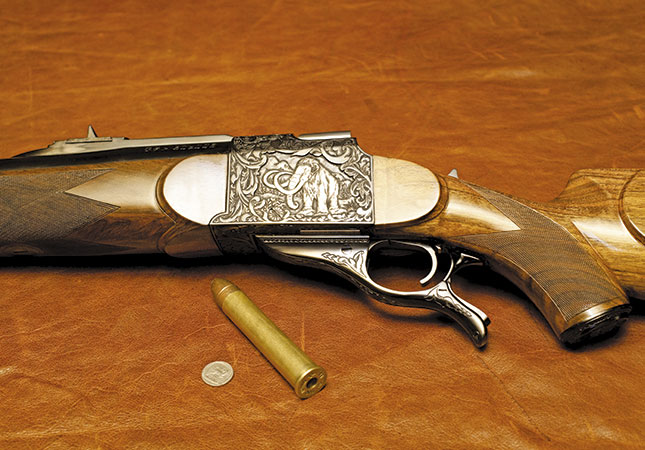 Clients of Ralph Badenhorst Bespoke Rifles from Ermelo have a hand in every aspect of how their rifles are built, and they walk away knowing that their tailor-made rifles can compete with the best that Europe has to offer. Ralph Badenhorst Snr, who trained as a fitter and turner, has been a gunsmith since 1988. As word of the quality of
his work spread, clients began asking that he build them customised rifles. In 1994, he produced his first, and has never looked back.
READ:Ford Everest range expanded
The team is made up of Ralph Snr, Ralph Badenhorst Jnr, Henk Barnes and Almon Kumalo. Ralph Snr describes their rifles as 'art' and believes that they compare with the best tailor-made rifles in the world. "We use the same traditional methods, if not better, and we have more of a variety of machinery than some of the British manufacturers," he says.
"Our raw materials are the same. Hunters and gun enthusiasts in South Africa measure our rifles against the best and we have to be up to standard or better."
The finest steel
The Badenhorsts' rifles are built specifically for African hunting conditions.Only certified steel from Switzerland is used, as it is the purest steel available. It comes in three different types: stainless steel, the high-alloy steel 4140 (also known as EN19T), and the high-alloy steel 8170 for internal parts.
The 4140 pieces are in an appropriate metallurgical form – they are stress-relieved and easily machine-workable. The process begins with the delivery of a block of steel at the workshop. This is cut into manageable parts and sent to a metallurgist, who tests it to confirm that the atomic structure is solid and the steel will not crack under pressure.
The tested steel is then cut into raw parts by a computer numerical control (CNC) machinery and again sent to the metallurgist for testing.The doubled-tested steel is thereafter heat-treated by engineering firm Böhler Uddeholm Africa, which hardens the steel. Finally, the metal parts of the rifle are crafted and assembled, and sent to the SABS for testing.
Here, the bullets of four rounds are removed and the gunpowder of one is added equally to the other gunpowder of the other three. Thus, each remaining round has 133% of its normal gunpowder allocation. These three rounds with the extra gunpowder are then fired. If the rifle holds up to this test it receives two stamps to show it survived the pressure test.
The same test is repeated in-house, testing the rifle this time at 140% gunpowder.
From left to right: Ralph Badenhorst Jnr, Ralph Badenhorst Snr and Henk Barnes with their .700 Nitro Express.
Elegant walnut
As much attention to detail is taken with the wood used in the rifle stocks. Ralph Jnr travels to Turkey every three months to hand-pick the finest English and Turkish walnut. This has been cured for up to a decade to obtain the correct moisture levels.
"Walnut grows in cold regions and therefore grows slower than other wood," he says. "The fine grain of walnut can be polished until it reflects like a mirror and a high-gloss, oil-finished look can be achieved by applying several layers of oil to each stock. All stocks are shaped and finished by hand."
For engraving, the firm uses Heleen van Wyk, who at one stage engraved for SA Mint. Another engraver who used to work for German rifle manufacturer Merkel is now moving to South Africa and will shortly join the Ralph Badenhorst Bespoke Rifles team.
In contrast to most other local rifle manufacturers who source cocking mechanisms from specialist foreign firms and fit them locally to their rifles, Ralph Snr has designed his own single-shot falling block, bolt-action and double-rifle cocking mechanisms. "No one can teach you to make these mechanisms. You have to sketch your concept, manufacture a prototype, and refine where necessary," he says.
Characteristics of the SA buyer
Ralph Jnr says that many South African buyers purchase simply on the visual appeal of a rifle and consequently are often drawn by the quality of wood. Older clients are often able to afford hunting expensive game such as buffalo. They also want the experience of hunting buffalo with a double rifle and prefer a local one hand-built for them.
"One can see the character of a person in their bespoke rifle," he says. "Some hunters want a no-frills working rifle with no engraving. In contrast, some collectors never even shoot their rifles and use it only for display purposes. They may pass it on as an heirloom and are prepared to spend a lot on detailing, tailoring and personalising it."
Ten years ago, Ralph Snr saw a gap in the South African market when he realised that there were no locally made double-rifles. Imported double rifles were priced at anything between an entry-level R180 000 and up to R2 million. No manufacturer in South Africa offered very large double calibres such as .375, .416, .470, .500, and .577 used for big game hunting. The firm has since filled the gap.
Double rifles start at R75 000 for the entry- level Professional Hunter workhorse model, built from scratch, while the single-barrel bolt action rifles starts at R55 000. The rand's depreciation, has had a negligible effect on prices, says Ralph Snr. "We can build the same quality [as imports] and manufacture it cheaper," he says. The team builds every rifle part, except the barrels, which they currently source from local producer Truvelo. This will change too when they start shortly to forge their own barrels.
A rifle takes six months to a year to complete, or 1 100 working hours. The firm has a lengthy list of clients waiting to have rifles made, with everything from wood selection, engraving, actions and type of steel being decided by the customer.
Almon Kumalo finishing barrels.

It's all in the family
In 2004 the new Firearms Controls Act of 2000 was implemented, and Ralph Snr had to register as a gunsmith after completing a trade test. He qualified with distinction, and the rifle he made was afterwards used as the demo model for other builders. The test is not offered anymore because of a lack of qualified people to conduct it. The rifle bug runs in the family with Ralph Jnr and his sister Marina both having been awarded Mpumalanga provincial colours and Proteas national colours for shooting.
Building from scratch
Ralph Snr says they learned the rifle building processes from books. Thereafter, improvements were brought about by trial and error. "If we have to build something we haven't seen before, then we reverse- engineer it. If you can determine the length of the barrel from a photo, then you can work out the sizes of the rifle parts. We use modern technology combined with old techniques and traditional hand methods to assemble and finish the rifles."
The giant .700 Nitro Express
Ralph Snr recently built a .700 nitro express rifle, the only one in the southern hemisphere, on a whim. The .700 Nitro Express is no toy, weighing 9kg unloaded. The workshop learned from the mistakes of other .700 builders and lessened the recoil with their version.
Computer-aided design (CAD) drawings are developed for every part that they make. This allows them to analyse the parts before production, enabling simulations of the pressures that will be exerted on specific parts when the rifle fires.
Henk Barnes, who was initially employed by Ralph Snr in 1993 as a stockmaker, and now takes part in all aspects of the manufacturing process, says their rifles are made with heart and soul and that each is unique.
Phone Ralph Badenhorst Snr at 017 819 3112, email him at [email protected], or visit ralphbadenhorst gunsmithing.webs.com.
This article was originally published in the 8 May 2015 issue of Farmer's Weekly.