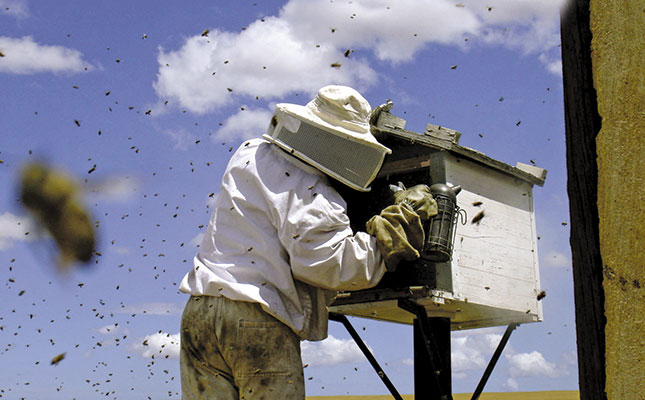 Although Simply Bee was established in 2011, its roots lie in the gift of a single beehive as a wedding gift in the 1950s.
"My grandfather gave my father a beehive to put honey on the table because he thought he was too poor to buy jam," says Simply Bee founder Helena van der Westhuizen.
READ:Beekeepers success with only 100 hives
That hive grew to 50 hives and a beekeeping hobby, and then in 1994, turned into a full-time beekeeping business. The lifetime of beekeeping knowledge was then handed down to Helena's husband, Pierre, in 2008, and Simply Bee took flight.
Small beginnings
"I have an unusually sensitive skin," says Helena. "So I started researching propolis, beeswax and honey, and making concoctions in the kitchen. Pierre laughed but I told him I was going to make a product line. I gave it away to friends and it just snowballed from there."
Helena made her first sale on 22 March 2011. "Pierre couldn't believe I was selling my creams. Then orders came in, and he thought this could work. Five months later, when we worked through the night sticking on labels for an order, he believed our business had a future."
At the end of 2011 Helena was making eight pots of cream per batch. She now makes 92 to 160 pots in a batch.
"I still keep my batches small and start all of them myself," she says. "All the ingredients in the products are completely natural."
Until 2013, Simply Bee's products were produced in Pierre and Helena's braai room at home "because it's important to ride out one phase before going to the next". The couple now have premises in Church Street where all Simply Bee products, except for the shampoo which is mixed in Cape Town to Helena's recipe, are made. They also have a shop and observation centre to educate the public on bees and honey.
Helena vividly remembers her first product delivery to Weskus Spens, a farm stall on the R27 near Vredenburg. "When I arrived, a marketing expert was in the shop and said, 'This is going to go out of control, so get ready.' I was grateful for that inspiring feedback from the beginning."
Bee farm set-up
Pierre started with 240 hives and now has over 600 hives, all on private land amidst fynbos. "Most beekeepers have their hives on farmers' land. You don't need to own land," she says, adding that farmers are mostly happy to do this because bees are good for their vegetation. "Our hives are not moved, except a few metres to give them shade because the angle of the sun changes during the year, or if an area becomes depleted of food for the bees."
However, the precise set-up differs between beekeepers and depends on the vegetation. "We only do fynbos. We don't do pollination because I believe it stresses the bees too much," Helena says. "A bees' honey production depends on the area and what's available there – there's no exact turnaround time. If you don't stress your bees, they'll be more resilient and productive."
She suggests that beginners start with what they have and use the available space. Helena, who is on the Western Cape Bee Industry Association, says it's also essential that new beekeepers register with the Department of Agriculture, Forestry and Fisheries.
"It's important, even if you have only one hive because in the event of an outbreak of disease, everyone can be informed immediately. Even deserted hives have to be treated so that robber bees don't spread the disease. We need to protect our bees," she says.
Hive life
Helena and Pierre use the Cape honey bee (Apis mellifera capensis), which forms swarms of between 30 000 and 80 000 bees. These consist of the queen, a hundred or so male drones that mate with the queen and fight off invaders, and sterile female worker bees. In spring, the queen lays thousands of eggs, one per honeycomb cell. These hatch into larvae, which are fed 'royal jelly', honey and pollen by worker bees. The bees close the cells after six days and the larvae grow into pupae, which in turn transform into adult bees. The entire life cycle takes three weeks.
The worker bee then carries out various tasks in the hive over the next 21 days. During the first two days of her life, she helps to clean and warm the brood nests. From day three to day five, she takes part in feeding the older larvae with honey and pollen, and from day six to day 11, she feeds young larvae with royal jelly. From days 12 to 17, she produces wax to construct the comb, and from days 18 to 21 helps to guard the hive entrance and ventilate the hive. After this, she joins the other bees to forage for nectar, pollen and propolis.
In summer, bees live for 28 days as they work hard, but they can live for up to 48 days in winter when they are only feeding the queen. Helena and Pierre keep the hive at about 38°C and in winter seal it with propolis to maintain this temperature. Propolis is a resin collected from trees and bushes; it has anti-fungal and anti-bacterial properties, and is used for embalming. It is also believed by some to fight cancer and gum disease by encouraging healthy cell growth.
Honey harvesting
Pierre harvests honey from October to March and leaves the remainder for the bees for food in winter. Harvested honey is stored in drums and used to produce the Simply Bee product range. No honey is sold in bulk. Honey, propolis and wax have no expiry date as they never go off. They can thus be stored until needed.
Product development
Fynbos honey was Simply Bee's first product. Today, the company has over 50 products. First to be added to the product line was the lip balm pot, soap, antiseptic balm, handcream and wash. All the recipes are formulated by Helena, though trial and error.
Marketing has been mainly through craft markets and shows, but Simply Bee products are suitable for farm stalls, boutiques, health and gift stores. Helena insists that packaging, labelling and presentation are crucial. "I believe that branding and labelling can make or break a business," she says.
The biggest selling points for Simply Bee, she believes, is that the products are natural with no parabens or preservatives, handmade and personal. The range is also affordable, which is a driver for Helena as she wants her products to be accessible to everyone who prefers natural products.
She says a range sells better than just a few products because they work together. New products are added as ideas arise and through demand. This year, body butter and a deodorant were developed due to demand. Helena is working on a toothpaste with propolis, which is excellent for gum disease, plaque removal and mouth ulcers.
Her most popular products are propolis serum, anti-ageing cream, antiseptic balm, propolis balm and heel balm. The heel balm, propolis serum and anti-ageing cream were finalists in the UK's Natural & Organic Awards last year.
Main markets
The company exports to the UK, the US, Mauritius, Germany, Botswana, Zimbabwe and Namibia, a process that Helena handles personally. The main market, however, remains local. "It's big and there's still a lot of work to be done in South Africa," she says.
A total of 163 outlets already stock the products and Helena has to date refused all requests to supply chain stores.
Staff complement
Simply Bee employs 11 full-time staff, three of whom work in the field. The rest of the employees – all women – pot the products, stick labels on the containers, and work in the shop and observation centre.
Helena van der Westhuizen and one of her workers, Lizana de Jongh, break for tea on the veranda of the Simply Bee Observation Centre.
Helena says her employees are required to rotate and work in all areas of the business. "They need to know how important the product that they are working with is. They also need to have knowledge of bees."
Challenges
Preserving her product without using chemicals was the greatest challenges for Helena. "I wanted to preserve my products with propolis, a natural preservative, but it took a while to get it right. Another big problem for me is water quality. The hard elements in water cause natural raw products such as shea butter, avocado oil and jojoba oil in our mixtures to go rancid.
They also break down the goodness in the products. So we use reverse osmosis water – about 250l per week." Helena says that daily work and professionalism are key to her success. "You have to be professional if you want to be successful. All clients are equal too, whether they buy a lip balm or spend R10 000.
I've couriered a lip balm to a client at my own expense," she says. "I also think that people support a family business because it's small and personal, and I take complaints seriously. I always turn complaints into something positive and use them as a marketing tool."
Future plans
New products are in the pipeline. "I'd like to extend the men's range, and become more involved in the community and bee conservation," she says. "We're starting courses and talks to encourage beekeepers to share their knowledge to help the bees.
"I personally use all my products at home and I'll never sell the business because I don't want the products to be changed or have anything unnatural be added. And I want to keep it personal.
"The business has surprised Pierre and me completely because we never imagined it would grow so fast. I had visions for it, but it has exceeded all hopes. It feels as if I am telling somebody else's story."
Contact Helena van der Westhuizen on 022 723 0569, [email protected] or www.simplybee.co.za.
This article was originally published in the 25 September 2015 issue of Farmer's Weekly.