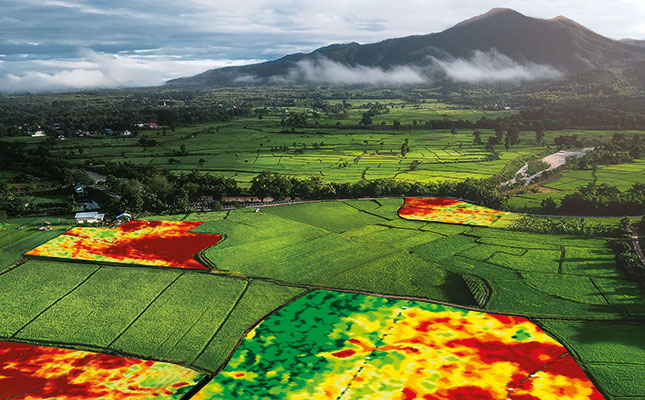 As the uptake of agritech solutions continues to increase, Standard Bank has committed to preparing its farming clients for a digital future.
The bank is investing in innovative solutions that will deliver enhanced data through remote sensing and digital agronomy.
READ How super-detailed drone mapping is changing farming forever
This will allow farmers to increase soil and crop productivity, to make better decisions in everyday farming life.
Standard Bank's satellite-based remote sensing innovation is delivered in partnership with UK-based RHIZA and backed by Origin Enterprises and the European Space Agency.
The bank joined forces with RHIZA to take advantage of the extensive research and development the farming solutions company has conducted over the years.
RHIZA provides agricultural satellite imaging and analysis, among other solutions, and offers the highest-resolution image frequency available.
Contour remote sensing
Available on mobile and desktop, Contour is a digital platform with precision farming tools that help farmers to better understand the health of their crops.
The remote sensing information platform is equipped with a complete suite of field monitoring tools that help to mitigate risks and improve yield through optimising operations.
READ Groundwater conservation: a long-term investment
Through algorithms that analyse and interpret images, Contour shares data on local weather conditions, field accessibility and leaf wetness, while providing optical satellite monitoring of the area planted and its growth progress.
This enables farmers to conduct growth stage assessments, predict yield and ultimately enhance crop production over time.
Furthermore, soil sampling gives farmers insight into field conditions and indicates whether inputs are needed to address specific needs of the soil.
GRID digital monitoring
Standard Bank also offers GRID, which can monitor crop performance on an aggregated basis across regions. This makes it possible to track a portfolio in terms of total hectares and total tons expected – information that is useful for the likes of buyer groups.
READ Managing volatility in the agricultural market
GRID is a more affordable solution for crop monitoring in real-time on farms of all sizes. Comparisons of budgeted and actual yield predictions help identify underperforming fields.
This technology builds trust and transparency between the bank and its client. It enables the bank to correctly assess risk and accurately allocate capital and cover.
For more information on Standard Bank's digital offerings for farmers, speak to your Standard Bank manager who will put you in touch with the relevant individuals or visit rhizaafrica.com/sign-up.