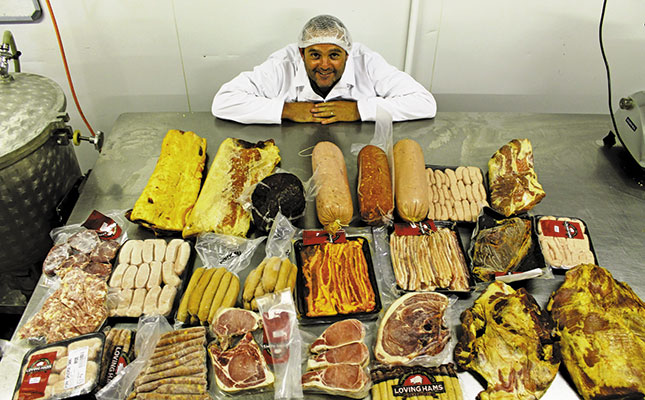 Farmer's Weekly first visited pig farmer Lance Luffingham in 2003 to learn about his struggle to get approval for a high-throughput pig and sheep abattoir on his farm, Ambleside, near Winterton in KwaZulu-Natal. Two years later, we found his abattoir, Ambleside Meats, in full swing on his premises. The facility provided a much-needed slaughtering service to local pig farmers.
READ:Beekeepers success with only 100 hives
Now, eight years later, Ambleside Meats has grown to incorporate an on-farm pork processing and value-adding enterprise and is developing its own chain of retail meat outlets. Lance's grandfather, Geoff, bought the 54ha Ambleside Farm in 1936 and started farming pigs. Lance's father, Nigel, took over the piggery in the late 1960s, growing it from 200 to 700 sows. He initially supplied slaughter pigs to pork producer Eskort, but to increase profitability, began marketing and distributing carcasses to private enterprises and individuals as far as the Western Cape.
"I took over the farm in 1998, although I'd studied business management," says Lance. "But I did have pig farming experience, having grown up on the farm and working on farms during my travels around the world. I'd also gained experience in the financial and business sectors. This was a good foundation from which to start as a fulltime pig farmer."
To streamline the pig farming enterprise and get it out of debt, Lance reduced the breeding herd to 150 sows. Then, as his finances allowed, he systematically rebuilt it to 500 animals by 2002. During this period, he had his pigs slaughtered off-farm and marketed the fresh carcasses, as his father had done, to the Western Cape and elsewhere.
New beginnings
A turning point for Ambleside came when one of its largest carcass buyers went out of business while owing Lance a large amount of money. This nearly cost Lance his farm, but through deft financial manoeuvring and a determination to take greater control of his product, he managed to bring Ambleside Farm back from the brink of ruin.
"By sending my pigs away for slaughter elsewhere, I had no control over important aspects such as the quality of the slaughter process, carcass weight or carcass transport. All this added to my costs. That's when I decided to build my own abattoir on the farm for better control over the quality and value of my pigs. But getting government approval was an absolute nightmare," he recalls.
The approval finally came through almost on the same day on which Eskort's abattoir in Estcourt shut its doors, forcing Winterton farmers to transport their pigs 350km to the company's abattoir in Heidelberg, Gauteng. Transporting pigs long distances is expensive in terms of fuel, toll fees and vehicle maintenance. The pigs are also susceptible to stress en route, and the chances of weight loss and mortality are increased.
"I ran out of money when building my abattoir," admits Lance. "So I approached local pig farmers Mark Robinson and Arnold Boetigger to become shareholders. They weren't keen to send their pigs to Heidelberg, and their investment enabled me to finish the abattoir.
"We started slaughtering our own pigs, and eventually also those of other pig farmers in our area. Then a number of local pig farms closed down for various reasons. I became so busy with my abattoir and pork processing that I also decided to stop pig farming about three years ago. The remaining farmers have taken up the slack."
Initially, the abattoir slaughtered 75 pigs daily, with the fresh carcasses being marketed mainly to wholesale butcheries in Pietermaritzburg and Durban. Demand grew so much that Ambleside Meats was eventually slaughtering 130 pigs a day.
By law, sheep and pigs have to be slaughtered separately. Lance therefore decided to focus entirely on the pigs; he closed down the abattoir's sheep slaughtering section and expanded that of the pigs, with approval from the KwaZulu-Natal department of agriculture and environmental affairs.
Value-adding
About six years ago, Lance and his partners decided that although fresh pork carcass sales were strong, there was scope to add value to some of the carcasses through further processing. This led to the launch of Loving Hams. Lance's original intention was to incorporate the value-adding facility into the abattoir, but this was not to be.
"The legalities were so complex and confusing that we eventually built a separate plant a few hundred metres away from the abattoir and moved the pork carcasses the short distance in a refrigerated truck," he explains.
The idea was to continue selling fresh carcasses to wholesale butcheries and to process others into consumer products. "We didn't realise how expensive and stressful our pork value-adding learning curve would be," Lance says wryly. "We tried to produce too many different products too soon. In the abattoir a single product goes in and another comes out. But with value-adding, one product goes in and then has to be processed into many other, smaller, specialised products. These then go to many clients, each with his own demands, adding further stress to processing, marketing and supply."
At Loving Hams, Lance and his team had to learn how to process more common pork cuts, as well as pigs' heads, trotters and fifth quarter. Buyers also had to be found for these products to prevent them from going to waste. To learn how to make quality pork products, Lance and his team conducted extensive research and consulted experts. He says that his bulk spice suppliers were particularly helpful in training the Loving Hams team and providing recipes and suggestions. Loving Hams also contracted a consultant fleischmeister to visit every three months and share his knowledge with the team. Lance found his advice valuable in improving Loving Hams' processing efficiency and in saving costs.
"It takes time and money to build a brand," Lance stresses. "We eventually found the right people to work in our processing plant, which has seen a great improvement, as we now know what we're doing. Loving Hams is growing by 30% annually." He estimates that the initial outlay for constructing the processing facility was about R2,5 million and that another R2,5 million has been spent since then on expanding and refining it. In addition, a sausage-filling machine costing about R1,5 million, and a smoking machine and smoke house worth R2 million, have been installed.
A great deal of money has also been spent on ensuring that the cold chain is maintained and stringent health and safety standards adhered to. "It's in our interest to produce a safe, good quality product. If we don't do things properly in the perishable products industry, it will come back to bite us," he says. "So we have full product traceability. We use the Meat Matrix software programme to trace even a piece of bacon back to its source and farm."
Ambleside Meats produces up to 1 200 pig carcasses a week, of which about 150 go to the processing and value-adding facility. Loving Hams' client base ranges from housewives, restaurants, bed-and-breakfast establishments and caterers to independent retailers and butchery chains, mostly along the N3 highway between Durban and Johannesburg. Orders range from 6kg to 6t, while products include oak-smoked bacon, ham, gammon, cheese grillers and Russian sausages, and primary cuts such as loin, pork belly and legs. In total, Loving Hams produces about 23 products, excluding derivatives, and caters for consumers of all income levels.
More value-adding
Ambleside Meats also owns two butcheries under the Kwa Phakamisa Meats name – one in Winterton and the other in Dalton. These target the lower income market and carry cheaper lines. Across the road from Ambleside Farm is The Pig & Plough coffee shop and deli, also owned by Lance, that uses and markets higher value pork products from Loving Hams.
"We want to eventually incorporate the whole value chain, from farm to fork," explains Lance. "This will give us better control over our products' quality and pricing. Ambleside Meats has a face-to-face relationship with its clients and this is the way we like it. The idea of a business relationship via computer and telephone doesn't appeal to us."
Lance and his partners envisage converting the existing pork processing premises into a deboning plant and housing this in a separate building on Ambleside Farm. Planned to be completed in three years, this will increase the capacity from the current 70t/ month to 300t/month.
Phone Ambleside Meats on 036 488 1200 or visit www.amblesidefarm.co.za.
This article was originally published in the 7 March 2014 issue of Farmer's Weekly.