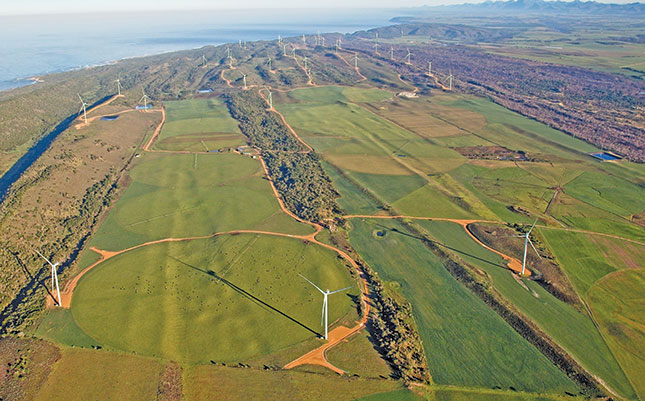 When Dawid Zietsman's eyes lock on the rotating blades of the wind turbines on his farm, it warms his heart to know they are being used to generate clean energy that is fed into the national grid, thereby helping to reduce South Africa's greenhouse gas emissions and lessen the impact of crippling power outages. He is also grateful for the annual income earned from each wind turbine.
"This has enabled me to farm on a full-time basis, and the additional benefits have been better road infrastructure and security," Zietsman says.
His wind-power journey began when he was approached by Red Cap Energy, a leader in the South African renewable energy industry since 2009.
Red Cap Energy focuses on building strong bonds with farmland owners, as a typical project includes a development phase that runs from three to six years, followed by about two years of construction, and then 20 years of operation.
"We pride ourselves on the time, effort and resources we put into working with the farmland owners, who become part of the team and are kept up to date throughout the process," says Mark Tanton, CEO of Red Cap Energy.
Numerous advantages
Benefits to farmers include the generation of an annual income for 20-plus years, improved roads and other infrastructure, increased security, and opportunities to access additional capital to further develop their farming operations.
An example of how Red Cap Energy works with farming communities to secure these benefits is how the company negotiated a groundbreaking agreement with the Department of Roads and Transport for private funding to be used as part of existing public road-maintenance contracts.
Major projects
Two standout Red Cap Energy projects are the Kouga and Gibson Bay wind farms. Kouga can generate about 300GWh of clean electrical energy per year, equivalent to the annual consumption needs of about 50 000 average households, while avoiding the annual emission of over 290 000t of carbon dioxide (CO₂).
Gibson Bay can generate around 420GWh per year, equivalent to the annual consumption needs of around 131 000 South African households, while avoiding the emission of more than 383 000t of CO₂ each year.
A farmer is typically only required to rent out about 2% of his or her land for use as a wind farm, and can continue to farm between the turbines. In return, Red Cap Energy pays an above-industry-standard fixed percentage of the revenue from every turbine on the farm for the full duration of the project.
"This significantly increases the revenue/ha of their farm, as they are now in effect farming the air above the land as well as the land itself!" says Tanton.
"In addition, we pay farmers a fixed amount per turbine during the two-year construction period."
The guaranteed annual annuity from the wind farm project on his land enabled Zietsman to access additional funding in the form of a commercial agricultural loan from the bank to invest in his farm.
"My farm was too small to be viable without a boost of capital. Once the wind farm became operational, I was able to leave my job and farm full time," he says.
Tanton concludes: "We look forward to partnering with farmers as we go about realising our vision of uplifting South Africa by generating renewable energy and supporting the farming industry, which is the backbone of the economy."
Visit red-cap.co.za. Email Jadon Schmidt of Red Cap at [email protected], or phone him on 082 468 2392.