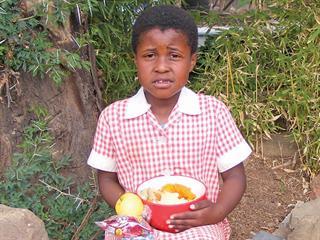 The Feed a Child feeding scheme in Wepener on the Free State-Lesotho border, supported by OVK, feeds 540 children. Most are orphaned, come from single-parent families or are taken care of by their grandparents. They are subject to abject poverty, according to project manager William Wessels.
Many of the children were born to Lesotho citizens and were therefore not registered in SA at birth. This means they're not eligible for state support. They do not receive social grants and state medical treatment or attend school. Wepener's high HIV/ Aids rate of 39% resulted in many of them being left without parents or in single-parent households. "The high unemployment rate also added to the desperate situation in our town," William says.
"It is our responsibility as South Africans to look after our children. That is why Feed a Child is involved. We take care not only of the children's physical needs, but also of their spiritual and emotional needs."

How it started
The project was started by mother and son team Bettie and Johan Meiring in 1988. Bettie says that it was heartbreaking to see the hunger and deprivation at the time, so she did what she could to help the children. "We did what we had to do. How can one not help in such circumstances? I'm so thankful for the support we now receive from Feed a Child. This means that the children can count on at least one decent meal every day," she says.
Johan agrees. "Famine and poverty are a sad reality in the world and that includes SA. While drought is an act of nature, famine is man-made. That's why we see it as our duty to look after the children."
OVK PRO Sulene Oosthuizen with Julia Mapepeso, one of the volunteers responsible for preparing more
than 500 meals for children in Wepener.
Life skills
The old adage of not only giving a person a fish but teaching him to fish forms the cornerstone of the project. William and his team have so far established nine vegetable tunnels where the children are taught the value of gardening. This teaches them discipline and valuable life skills, according to Johan. The tunnels provide a wide variety of vegetables such as spinach, lettuce, tomatoes and cabbage. He says the support from OVK in the construction of the tunnels and infrastructure at the three separate feeding points has been invaluable. 
"This has given us the opportunity to produce sustainably to ensure healthy, nutritious meals for the children," he says.
"Their ages range from three to 16 and we've witnessed many miracles since the project started. The children come to us in a weakened and malnourished condition. Within a few weeks, the result of proper food becomes evident. They start laughing and playing with other children. It's a blessing indeed to witness such transformations on a regular basis."
Good samaritans
None of the scheme's staff members receive salaries, and the food is cooked over open fires by a team of regular volunteers, mainly grandmothers from the local township. OVK's general manager: corporative services, Deon van der Ross, says it is a privilege for the business to get involved in a project such as Wepener's Feed a Child scheme. He says the children are SA's future and by taking care of them, the future is taken care of, to some extent.
OVK's involvement is part of its social development commitment. "One of the most inspiring aspects of the project is seeing the grannies cooking over an open fire under all weather conditions. This is very humbling and it is extremely hard work. We honour them for that," he says.
Chairperson of the board Manie Botha says the company, as an agri-business dealing with the food and fibre producers of SA, is committed to the alleviation of poverty and hunger. "We find tremendous joy in aiding Feed a Child to supply a decent meal to a hungry child. The smiles on the children's faces are ample reward for us. I also laud the volunteers who work so tirelessly to take care of the young ones. Feed a Child does sterling work and we see an ongoing relationship with the project."
Phone Feed a Child on 051 583 1889.