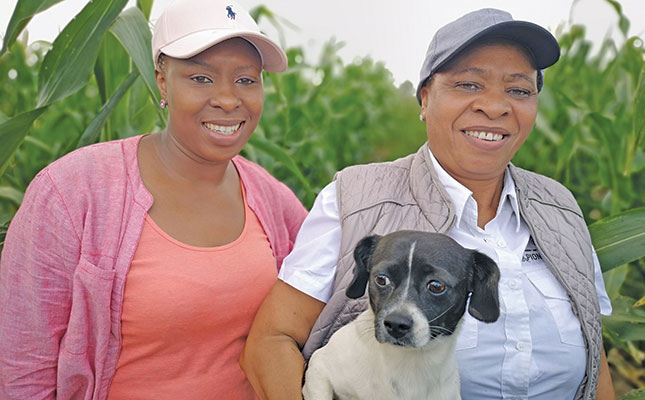 The magic happens when Mampe Mmeregi (60) and her eldest daughter Ntshieuwa Mevane (41) apply some serious strategic thinking to the plans for their operation, Temaretha Piggery.
The mixed farming operation, with the piggery at its core, is located just outside Nigel, Gauteng.
While Mmeregi is the sole proprietor of the business, she shares managerial duties with her daughter.
The mother-and-daughter team employs 13 full-time staff members.
"Make no mistake, this is not an easy way to make money and we are not farming for free. We have graduated over many years on this farm to different levels of success.
"Once government sees that you are investing your own money into the farm and ploughing back profits into building and improving the land, you can qualify for further assistance," says Mmeregi.
Mmeregi and Mevane continuously invest in their own skills and knowledge by attending courses, farmers' days and conferences, and by making use of corporate- and government-supported extension services.
"Farming is not for everyone, and definitely not for those who just expect handouts," she adds.
"However, we are very thankful for the opportunity and help government has provided us.
"In the past, we received a R3 million grant, but invested a lot of our own money into improving the herd, crops, and farm buildings. The assets we invested in cost us R15 million."
Mmeregi was an administrator at the Kwadukathole High School in Katlehong for 20 years before embarking on her farming operation.
A conversation with one of the parents at the school got her interested in joining a farming co-operative, owned by a group of women who started a piggery.
"I left my job to join the group, but soon the disagreements forced us to disband. I decided with my husband to start our own farm and applied to the Department of Land Reform."
The farm near Nigel was allocated to Mmeregi and her husband, Gerson, in 2009.
But in 2010, tragedy struck when Gerson passed away.
"At that stage, we did not even have a plough, and only had five pigs, five goats, two chickens and a cow."
During this time, Mevane joined her mother on the farm. Mevane was in the process of divorce, and needed a change in her life.
"We consoled each other and the farm really healed us both. Now I can't think of a better person to work with than my mother! This is the most fulfilling job I've ever had. You can grow something out of nothing, and that kind of success brings a lot of joy that no other therapy can bring," says Mevane.
Moving forward
Ten years on, the farm is still growing despite the hurdles they have had to overcome.
"When we were allocated a long-term lease contract by government, it did not include water rights. We also had to pay R110 000 ourselves to complete the environmental impact assessment for the expansion of the piggery," says Mevane.
However, she says, using the best-quality seed mitigates some of the risk involved in dryland production by improving yield potential.
"We make use of Pioneer seed for our cash crops. Not only do we appreciate the product quality, but also the extension services and support offered by the Corteva Agriscience team. We work with Charles Makong, who gives great advice on crop production, and farming in general," says Mevane.
Mmeregi and Mevane plant 130ha to maize and soya bean, as well as vegetables. With the help of Sylvester Montso, their crop production manager, they also grow Eragrostis on 45ha for feed and to sell to other farmers.
"We produce genetically modified maize and soya bean. We are especially pleased with our average maize yield of between 6t/ ha and 7t/ha," says Mevane.
In 2014, Temaretha was able to export 400t of white maize to Lesotho through the World Food Programme. The mother-daughter duo also farm 42 South African Mutton Merino sheep, 45 Boer goats and a few Beefmaster cattle.
While the piggery requires the most work, it provides them with a good turnover and profit.
"The current housing is being upgraded to improve biosecurity. Our seven structures can house 250 sows, but we currently only have 200 sows in production," says Mevane.
Giving back
The operation has been accredited by AgriSETA since 2018, and each year, Temaretha accommodates one final-year student to gain practical experience for his/her qualification in animal production.
"Emerging farmers from KwaZulu-Natal, KwaNdebele, Mpumalanga and Venda have come here to learn about farming," says Mmeregi.
Mevane says respect lies at the centre of the pair's relationship.
"We appreciate each other for our inputs. Sometimes your mom is simply your mom and her word is law, but she always listens to my ideas," she says.
"She is transferring her skills and wisdom to me. I am allowed to be my own boss to an extent, and we are in a position to help others by sharing our experience. It gives me a great sense of pride and satisfaction."
Mmeregi's advice to other farmers is to always look for opportunities and to be willing to change if need be. Being a hands-on manager is also important.
"Supervision is part of good farm management and a crucial part of our farming success." She warns farmers against wastefulness.
"Don't eat all you returns! "Seventy percent must go back into the farm. Don't waste your money on fancy cars or clothes; rather give to others."
For Mmeregi, the most enjoyable part of farming with her daughter is the teamwork involved.
"We constantly share our thoughts. To be the boss does not mean that you don't need help or advice; even if you have to make the final decision. I am blessed to have the respect of my children and I also respect them."
On International Women's Day on 8 March, Corteva celebrates the achievements of women such as Mmeregi and Mevane.
At Corteva Agriscience, we appreciate the role of every woman in agriculture ensuring continued progress and sustainable food security.
Contact Corteva Agriscience on 012 683 5700 or via Twitter @CortevaAME