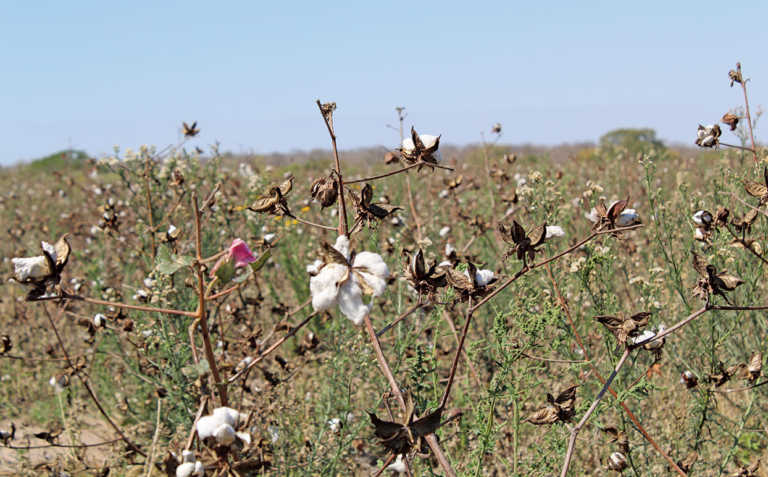 A hot climate and summer rainfall limit the farming activities that can take place in the area surrounding the Mpumalanga town of Khombaso.
In addition, the nearest large city is far away, creating challenges for anyone wanting to set up a commercial venture. These factors leave the residents with little opportunity to earn an income.
"Cotton is our only option," says Petros Sithole, chairperson of the Nkomazi Cotton Co-operative, which consists of 45 small co-ops in the area.
READ Cotton can be more profitable than maize!
"We don't have water rights and the high temperatures mean that no other crops can survive here on the 650mm of summer rainfall a year we receive."
The co-op consists of 782 families cultivating 3 000ha and has, up until now, been functioning with limited success as it has faced many problems, including difficulty in accessing finance, inputs, training and land.
Background
Historically, these families had always lived on this land. With the formation of the Nkomazi cotton co-op, the government introduced a formal subsidised system.
The land was divided into 1ha plots, each allocated to a family, and a service centre was established to provide inputs and tractors. Each family paid for the services it required at a subsidised rate.
In 1994, the service centre (with its subsidised goods) ceased operating. Residents were allowed to keep and live on their 1ha plots, but were given no title deeds. The farmers simply had to continue as best they could.
The co-op later managed to obtain some funding from government, but without any training the farmers struggled with low yield and profit.
In 2013, Sithole approached Cotton South Africa to assist the farmers with mentoring and training. "We needed someone with the know-how who could show us the best way to manage and improve our cotton."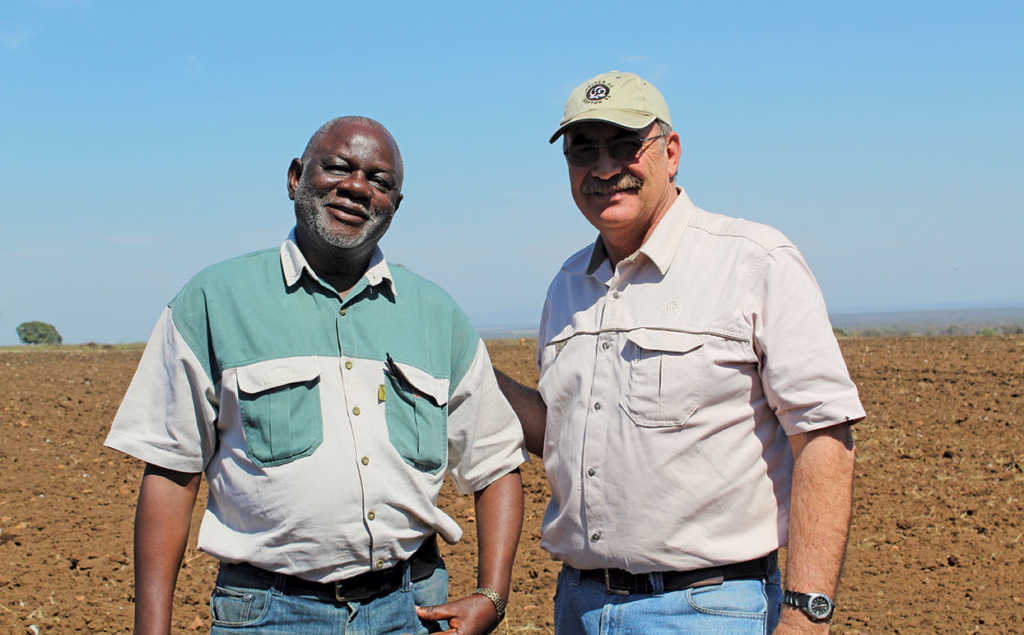 Tertius Schoeman, Cotton SA's agricultural development and transformation manager, became the farmers' mentor.
"The legacy of cotton in the past has ensured that everyone in this township lives in brick houses, not tin shacks," he says. "But today there's 40% unemployment in this area. If we can properly revitalise the cotton sector again we can provide a decent income for Khombaso's residents."
However, he stresses that the lack of title deeds stands in the way of the farmers' progress.
"The problem is that the farmers can't borrow money from the bank because they have no title deeds. Moreover, we're now sitting with all these 1ha patches of land. A farmer will be working a plot alongside another overgrown plot because the original occupier has long gone.
No one has a record of what really belongs to whom, so you can't even hire the land from the family, who may still be alive but living elsewhere. Each farmer is boxed into his or her 1ha and struggles to expand unless a neighbour is farming as well."
To compound matters, cotton is a low-income crop.
"In this part of the world, you need at least 20ha each to make it worthwhile. Otherwise, people end up farming part-time and there's no drive to grow. We're trying to find a way of increasing their land so they can make a living off it."
He says that out of the 10 000ha in Khombaso that can be farmed, only 3 000ha are being utilised.
"We want government to give farmers title deeds for the land so they can put their land together and farm it as a whole. Smallholder cotton farming has been proven to work: 70% of all the cotton worn in the world originates from smallholder farmers who produce on less than 2ha. But the way to do this is to pool resources."
Working together
Cotton SA's role has been to provide mentoring and project management services. They started by combining, as far as possible, all the farmers' lands into big blocks so the tractor could pass straight over the lands instead of trying to manoeuvre around each little land.
This is far more efficient and cost-effective.
The Department of Rural Development and Land Reform is once again providing inputs and implements to farm the area.
These are kept in a central storeroom and a timetable is drawn up at the start of the season to manage their use. Various teams of workers slash the old stalks, plant the new crop and spray chemicals.
The farmers are responsible for looking after the fencing, scouting after the crop has emerged, removing rocks from the land to prevent problems with the tractors and ploughs, and doing the manual harvesting.
READ Working together yields profits for Keimoes farmers
"Everything that can be done by hand that doesn't require money for inputs or machinery is being done by the farmers," says Schoeman.
Unfortunately, as the implements are limited, the project does not have the capacity to plant all 3 000ha at once.
"We only have a 60-day window in which to plant everything. This is problematic: if there's a breakdown or the weather doesn't play along; we end up planting at suboptimal times and yield is affected."
Technology has greatly aided the farmers, Schoeman says.
"We plant Bt cotton, which is a huge advantage for a smallholder grower. In the past, they had to go into the lands at least nine times a month to spray for bollworm, using harsh chemicals. Now they go in perhaps four times a season, using softer chemicals."
However, the project lacks precision technology such as GIS maps that can aid in identifying problem areas in the lands, allowing the farmers to act swiftly.
"Cotton is not a very high-profit crop as it is, so it's imperative that they farm optimally to get the best possible yield," says Schoeman. "At this stage, we average 735kg/ha. Some farmers even reach 1t/ ha, which is ideally where they should be."
More efficient
Sithole notes that since Cotton SA has come on board, the farmers are more organised and are working closely together.
"The farmers are better off; they've received training, it has been easier to get funding and there has been proper project management. This includes service records, diesel consumption, tractor rosters and attendance registers, which previously weren't recorded properly. Cotton SA has provided a good foundation for the farmers to eventually continue on their own."
Cotton SA funds the training with the help of AgriSETA. All the co-ops have an opportunity to nominate people who need to be trained, with an emphasis on youth and those who are actively farming.
Modules include basic business principles, budgeting, land preparation, planting, pest control and harvesting. Each is scheduled to coincide with the production cycle so the candidates learn what to do just before it needs to be done on the land.
"This way they can see practically what is happening. It doesn't help to do all the training now and a whole season passes before they can implement it," says Schoeman.
A local gin
He says that as the farmers still receive a fair amount of government funding, the goal is to reduce this sum and gradually increase the amount each farmer needs to contribute. But for this to happen, the profitability of each farmer must increase.
One of the highest costs cutting into profit is the distance to the closest gin; Loskop cotton gin is more than 400km away, considerably further than the international standard of 100km for transporting cotton. Schoeman says their priority is getting a local gin up and running.
READ Fynbos and buchu: making SA craft gins unique
"We've approached the National Empowerment Fund […] and if we get the green light, the gin should be up and running by 2020, provided we can get enough investors on board."
He says they are looking at creating a model where the farmers have a share in the gin.
"The farmers don't get much for the cotton, but if they have shares in the gin they can get an income from selling the seed and all the by-products that come from the gin. This will be a nice bonus for them. They need to get out of the poverty cycle, and cotton can do this."
Having their own gin will result in greater production in the area.
"It's easier to get a production loan because the commitment by the gin to take your cotton plays a big part in a loan application."
Nkomazi's cotton is accredited by the BCI (Better Cotton Initiative) and while this does not earn the farmers a premium, it makes it easier to export the cotton. To qualify, farmers need to comply to a set of standards, including sustainable farming methods, fair labour practices and limited pesticide use.
After having worked with the Nkomazi co-operative for the past four years, Schoeman is impressed by the farmers' attitude.
"At 4am you'll see them on the lands. If these farmers are willing to work for a small bit of money, how much more will they do if they can get a decent benefit from the land and the gin?"
Email Tertius Schoeman at [email protected].