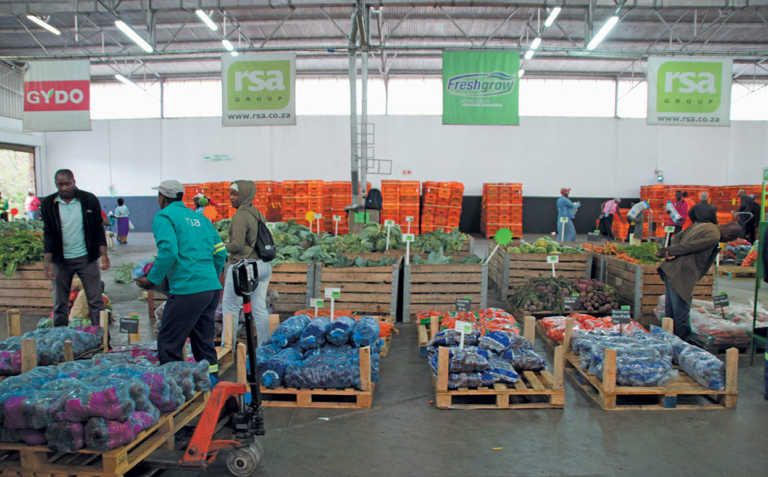 Commercial farmers will attest to the fact that success relies heavily on their ability to manage an intricate, interdependent system. This includes management, production, packaging (where applicable) and marketing.
Furthermore, South Africa's thriving agricultural sector has been built up over generations, with billions of rands invested in it.
Thus, transforming the sector will not happen overnight. However, for the stability of the country and the continued prosperity of agriculture, black entrants to the market need to be identified and nurtured until they are as successful as their white counterparts.
Many commercial farmers are already involved in assisting developing farmers to enter farming industries, according to Derek Donkin, CEO of Subtrop. One such commercial operation is ZZ2.
Tommie van Zyl, CEO of ZZ2, says farmers have always looked out for their neighbours. In the past, these neighbours were perhaps the Van der Merwes and Bothas; today, they are likely to be the Makgobas and the Morobengs.
"You need to help your neighbours stay in business. If they don't have viable systems on their farms, your system could be jeopardised," warns Tommie.
The most important reason for a farmer to assist with the transformation of the sector, according to Tommie, is that farmers cannot ignore their responsibility to help build a better future for all South Africans.
One of the challenges of transformation in South Africa is that there is no consensus on the definition of transformation. Some people see transformation of the agricultural sector as simply taking land from the previously advantaged and giving it to the previously disadvantaged.
"[But] if we see transformation as growing the number of black farmers, marketers, and so forth, who can successfully operate on their own within the industry, then we have to do more than just give people land," he says.
Internship programme
ZZ2's involvement in transformation is carefully thought out, systematic and long-term orientated. Starting from the bottom up, the company introduced student internships and initiated agri-career fairs at universities in cooperation with the Produce Marketing Association.
"There's a worldwide shortage of people who consider working in the agricultural sector," says Tommie. "They don't realise that agriculture, just like the motoring or medical sector, is a domain on its own, offering a wide range of employment opportunities."
Each year, ZZ2 offers 10 internships consisting of short projects that students complete under the guidance of professional mentors.
"The projects fall within the framework of our farming operations, namely production, packing and marketing," explains Tommie.
ZZ2's 2017/2018 graduate interns, namely Jabulani Jele, Rhulani Maluleke, Hlagedi Mphahlele and Lerato Mashabela, are based at the Research and Development Division of ZZ2's Nature Farming Centre in Mooketsi.
They all come from farming communities, where their interest in agriculture began.
Lerato, a University of Limpopo (UniLim) graduate, is keen to focus on avocado production.
"What I like most about ZZ2 is the multicultural setup," she says.
Hlagedi, also from UniLim, hopes to connect with role players who can contribute to his education. Rhulani, who studied at the University of the Free State, has a special interest in farming practices. Jabulani, from the University of Mpumalanga, wants to make a difference in his community through agriculture.
Makgoba Trust
In 2014, fruit export company, Freshworld, approached ZZ2 for assistance in helping the Makgoba community, which had received 5 000ha in the Magoebaskloof area of Limpopo through the state's land restitution programme.
One of the challenges of dealing with a community is that power struggles and differing expectations are common, says Tommie. There are about 600 Makgoba land claim beneficiaries.
Eleven years ago, the Makgoba Community Property Association had the foresight to form a trust to manage the land on behalf of the beneficiaries.
"This hasn't stopped the infighting, but it's ensured that the land is developed and utilised," says ZZ2 director, BJ van Zyl, who manages ZZ2's Makgoba transformation programme. It took two years of thorough investigation and planning before ZZ2 was willing to commit to assisting the Makgoba Trust, and another three years before all parties agreed to ZZ2's business plan.
Central to the discussion was to have consensus on the desired outcomes of the partnership. The parties concurred that the land should add value to the community.
The trust's asset portfolio was rationalised, long-term leases were sorted out, and development programmes were worked out. Land under plantations was rented out and the trust's agricultural production focus shifted to avocados and mangoes.
ZZ2's strategy involved developing a sustainable business plan for the company, instead of seeking government funding. Tommie stresses that if managerial, agricultural, technical and financial skills are in place and the business plan is viable, a bank or philanthropist can be approached for venture capital funding.
A company, Makgoba Asset Management (MAM), was created with the Makgoba Trust, ZZ2 and Freshworld as shareholders. MAM signed a 40-year lease agreement for the Makgoba land.
Two projects
MAM has two development projects in the pipeline:
Phase 1, which is still in the incubator stage, is the development of a successful avocado or mango farming enterprise in partnership with commercial farmers on land leased from MAM. This project is open to any farmer interested in forming a developing farmer-commercial farmer partnership and willing to adhere to ZZ2's standards and methods of farming. ZZ2's role is that of mentor or guide. "We'll provide them with our templates for the physical work, management, relationships and structure," says Tommie. "We'll also have a demonstration project on the farm, Dieplaagte, in Magoebaskloof, showing how such a partnership between developing and commercial farmers should work."
Phase 2 entails farmers going solo. The Makgoba community is set to receive more land through the restitution process, and ZZ2 plans to work with the Department of Agriculture, Forestry and Fisheries to develop smallholdings of between 5ha and 20ha on this land. These will be leased at low cost to farmers with commercial farming experience, either from ZZ2's internship programme or the Phase 1 commercial partnership programme. "Farmers must be able to farm successfully on their own," stresses Tommy. "We'll support them with aggregation services such as packaging and marketing, and with horticultural services." These farmers will be expected to produce export-quality fruit. ZZ2 has already started establishing an export produce brand, Makgoba Afrika, for the day that these farmers are ready to sell their mangoes and avocados.
Nkuri Project 
In 2016, Penny Penny, the councillor of Ward 5 of Giyani and a former ZZ2 employee, approached Tommie for help with community upliftment.
After taking advice from an agricultural engineer, Tommie believes there is potential for these people to produce food in their backyards using grey water, as well as water seeping from the Great Letaba Dam, below which the community lives.
"We want to provide these households with technical assistance and the right avocado cultivars, then collect the crop and market it collectively," says Tommie.
Another idea under discussion is for the community to work their unused land in partnership with a commercial partner. In this case, the community's shareholding would be determined by the value of their land.
Individual shares could be allocated according to the number of backyard fruit trees in production.
Unfortunately, conflict between the political and traditional leadership of Ward 5 has hampered the project.
"The traditional leader obtained an interdict preventing us from testing the water network in the area," explains Tommie. "We're in the process of appealing this. In a way, this is a test project. If we can 2017get this right on traditional land, it can be an example for similar projects on traditional land."
Mooketsi market
Transporting their produce to fresh produce markets is often a challenge for small-scale farmers. A market initiated by ZZ2 offers an alternative for these farmers.
At one stage ZZ2 had a roadside outlet on the R36 between Mooketsi and Polokwane, from where it sold tomatoes to the informal market. Over time, the facility proved so popular that it could not cope with the number of buyers, so ZZ2 replaced it with a bigger, better 2 200m2 facility.
Opening its doors in March 2014, the Mooketsi Market has operated as a local fresh produce market from where ZZ2 and small-scale farmers in the surrounding area can sell their produce to the informal market.
The facility includes two cold rooms and 24-hour service for receiving produce. Today, about 200 farmers supply this market, selling an average of R2 million worth of produce each week, of which between 1% and 5% is subtropical fruit, depending on the season. All this is in addition to ZZ2's supply to the market.
Bucking the trend
Worldwide, the trend is for farming enterprises to grow larger, while smaller farmers are squeezed out to become farm managers for farming companies.
In South Africa, with its unique history and sociopolitical landscape, the agricultural sector has to buck this trend and find a unique model that will enable small-scale farmers, communal farmers and new entrants to the sector to make a living off the land.
There is no single approach to becoming a successful farmer, but if anyone can assist new farmers in this endeavour, it is the country's successful commercial farming businesses, such as ZZ2.
For more information, visit zz2.biz.