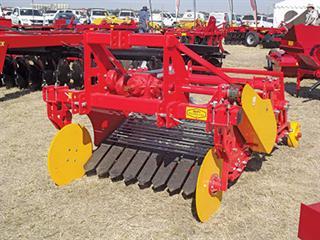 It's good to see that Nampo is catering to smaller farmers, with equipment that suits more modest operations displayed alongside huge machines for large-scale farming. Some examples:
Land-wheel drive spreader: Southtrade's fertiliser spreader, imported from Italy, can operate behind a vehicle without a PTO drive. The land-wheel drive mechanism matches the spread rate with the forward speed.
Potato lifter: South African company BPI offers a two-row potato lifter that is three-point mounted and PTO-driven. Dual vibrating sieves clean the potatoes, and the segmented blade can dig up to 250mm. The two-row version requires a 60kW tractor and operates at 4km/h. A single row version is also available.
Walk-behind tractor: BPI imports the Shaktill 13 DI walk-behind tractor from China, which is fitted with a 20-tine power tiller. Powered by a single cylinder water-cooled 9,75kW diesel engine, it has six forward speeds and two rotor speeds. Its working width is 600mm and it can till to a depth of 150mm and plough to 220mm.
Tipping trailer: This competitively-priced yet well-built 3,5t tipping trailer imported from Turkey by VB Agri has road springs, road-legal lighting and extension sides for bulk crops.
From Van Zyl's Staalwerke

The 660mm concave discs and unique cage roller on Van Zyl's ridger/bedformer makes raised beds with widths ranging from 1,3m to 1,7m. The Van Zyl Soutbak is a simple salt lick container with counterweighted lids. The lids stay closed normally, but can easily be nosed opened by the animals, who soon learn the trick of doing so. Protecting the salt lick results in a considerable saving as it is not exposed to rain.

Old favourite, new name
Fans of the old Ford 3000 will recognise the new 29kW Farmtrac 35, supplied by Dicla Machinery. This competitively-priced tractor can handle all the jobs in a small operation.
The latest invention from Michris
Michris Janse van Rensburg has been a regular winner in the Nampo Boerepatente competition and most of his ideas have proved commercially viable. His latest invention is the Springhaasrot Toediener, a simple hand-held device that dispenses a measured amount of poison bait directly into a gerbil burrow. These creatures have become a problem in certain areas and Michris's applicator appears to offer a simple, practical solution.