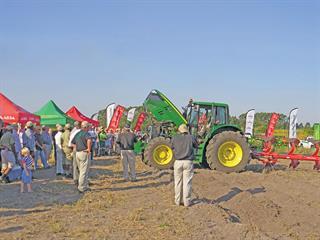 The Jupidex Company opened its doors in 1999, distributing Kverneland, Vicon and other products in Southern Africa. It is now part of Pannar. The recent Salt Rock demo was staged by John Deere dealers Mascor, part of the same group.
Here was some of the machinery displayed:

1. Fede mounted boom sprayers
The three models in Jupidex's range of Fede tractor-mounted, manually folding boom sprayers have capacities of 400l, 600l and 800l respectively. The diaphragm pump has a rate of 72l/min at 20atm. The reinforced tank has a hydraulic agitator, a cleaning lid with filter, and filters on the pump inlet and each boom section. The pressure control valve has a three-channel distributor. Boom widths are 10m and 12m.
2. Vicon spreaders
Vicon, which has been around for 100 years, is now part of the Kverneland Group. The RO-C is the most compact spreader in the disc spreader range and features all the elements of the RotaFlow spreader line. Basic hopper capacity is 700l, but this can be increased to 900l or 1 400l with hopper extensions. Standard working width is 9m to 18m.
3. Alpler offset disc harrows
These are available in sizes from 16 discs with a working width of 1,84m and needing a 50kW tractor, to the 3,68m-wide CDHV32 with 32 x 660mm discs, capable of working up to 200mm deep, and requiring a 100kW tractor.
4. Agrispread belt spreaders
These can spread a wide variety of granular materials, including fertiliser, lime and chicken litter. The cleated belt ensures an even spread and the three-speed gearbox provides varying application rates. Spread width is up to 24m, depending on the material. Shown here is the 3,5t model; a 5,5t version is also available. A GPS and variable rate spreading kit is an option.
5. John Deere skid-steer loader
The manoeuvrable John Deere 315 skid steer loader has a 2,4-litre turbocharged diesel engine rated at 33,5kW and a hydrostatic-manual, 4WD powertrain. Operating weight is 2 361kg and bucket breakout force 1 498kg.
6. Kverneland chisel plough
The new Kverneland CLC ll chisel plough has a bolted frame and hollow tines for greater flexibility. Long leaf springs give the tines greater ground pressure, allowing them to work deeper. The bolted frame also allows a greater variety of tine spacing, as the wheels can easily be re-positioned on the frame. Wing shares can be fitted for cultivating. The John Deere 6140M pulling the plough is rated at 105kW.
7. Kverneland FXN mulchers
These are the largest and toughest in the Kverneland range of flail mowers. They are suitable for grass, straw and crop residue chopping, and heavy-duty work. Four models are available, with working widths of 1,95m to 3,2m. They can absorb up to 105kW.