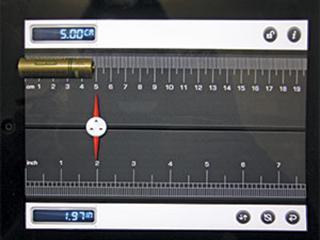 There are thousands of great smartphone applications (apps) that are free or very affordable. Recently, for example, a building contractor showed me an iPhone app that many farmers are likely to find useful. As its name suggests, the Metal Detector Professional uses the magnetometer on the back of the iPhone to turn your phone into a device for detecting ferrous metals. The app is useful for checking for water pipes before drilling into a wall and sells for only $1.99 (R20).
Ever need a ruler to measure a bolt or object out in the field? Try the Ruler 2nd app for the iPhone and iPad. By simply placing an object on the screen, you can measure it accurately with this app. To measure objects longer than the screen, simply mark a spot on the object and move the phone/iPad as you would a ruler.
The app displays two measurements for the object simultaneously – such as inches and centimetres – thereby also acting as a unit converter. Ruler 2nd is part of the Multi Measures 'toolkit' that includes a plumb bob and a spirit level. To see a video on this toolkit, click through to Skypaw.
Convenient Conversions
Another invaluable app is the unit converter. There are many of these apps and most work in the same way, allowing you to convert almost any unit, including those for acceleration, area, computer data (bytes and so on). Many also convert currencies, keeping up to date with exchange rates via the internet. I have often found this app useful for calibrating an old planter on the farm that uses pound per acre measurements. I quickly convert the figures to kg/ha.
Here's a link to the one I use: Unit Converter.