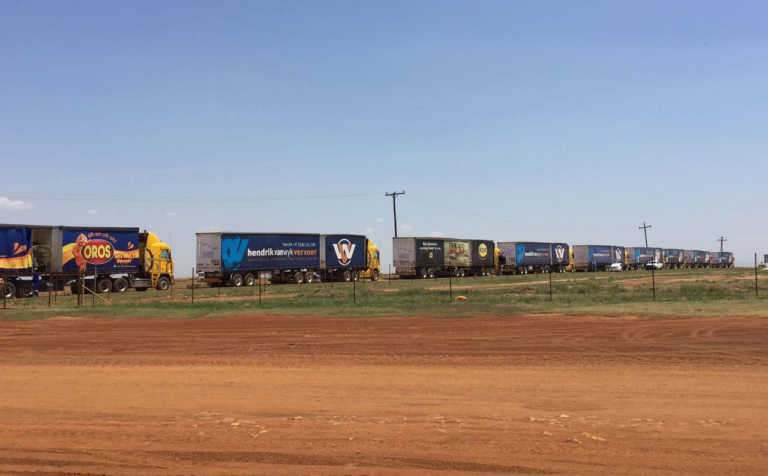 Agri SA Deputy Executive Director Christo van der Rheede told Farmer's Weekly this morning (7 November 2017) that the convoy was on its way to farmers in Beaufort West and Sutherland.
He said it was intended for any farmer in need. Distribution was to be managed by organised agriculture structures on the ground.
READ A continent of tremendous opportunities
He said the convoy was intended to send out a strong message: "People must realise farmers are experiencing serious difficulties," and that the crippling drought was not over, despite some rain.
He explained that if farmers suffered, this would ultimately impact food supply and security.
He said the convoy was not about helping farmers alone, but for the ultimate benefit of all South Africans.
"I always say: When you save a farmer, you save farm workers, you save farm working communities and ultimately you save the country from famine, hunger and poverty."
The donation comprised some 1 500 bales of feed donated by Neuhoff Boerdery, with Henk van Wyk Vervoer providing the 30 trucks for transportation.
READ Ceres farmer achieves best-ever harvest, despite drought
"We also have Total SA on board and they have made available R1,5 million worth of diesel," he said.
He also thanked other role players for help in baling and logistics. "It's a collective effort by all and sundry," said Van der Rheede.
He added that it was also necessary to rekindle interest in the plight of farmers affected by the drought. "People start losing interest because they think rain has fallen and problems are solved."
He said farmers in parts of Northern and Western Cape had been trapped in drought for years, some as long as five years.
"They sit with massive, massive debt, so it's important that we keep them going," he said.
Van der Rheede said today's convoy was part of ongoing efforts by Agri SA and other role players to help farmers survive.
And so 30 trucks with 1500 bales of feed just left Mpumalanga for #droughtdisasterarea #CentralKaroo. Feed + transport donated, SO thankful. pic.twitter.com/YfbwWJNnW1

— Agri Wes-Kaap (@AgriWesKaap) November 7, 2017