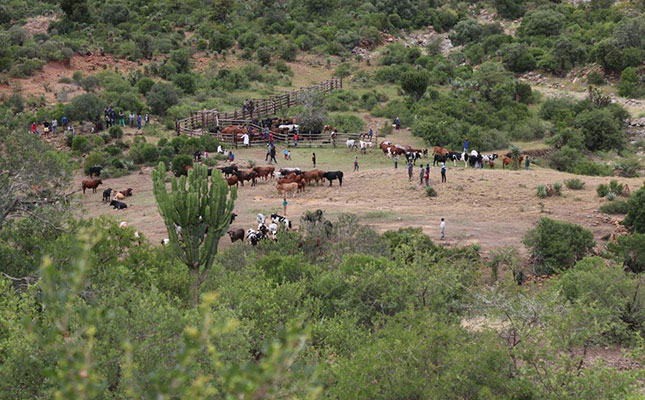 If it spreads further afield, the African armyworm [Spodoptera exempta (Walker)] outbreak in KwaZulu-Natal's (KZN) Nkandla and Msinga areas could be the final nail in the coffin for many livestock farmers in the province.
The outbreak came hot on the heels of one of the worst droughts in living memory, the foot-and-mouth disease (FMD) outbreak, and the coronavirus disease (COVID-19) global pandemic.
Thube Zondi, provincial secretary of the KZN chapter of the African Farmers' Association of South Africa (AFASA), told Farmer's Weekly that the province's livestock farmers, especially those farming on a smaller-scale and on communal lands, desperately needed material and financial assistance from government and other role players.
READ Researchers advance in fight to control fall armyworm
"During the drought there was no grazing. During the FMD [outbreak], many of the farmers could not sell their animals. With the COVID-19 [pandemic] the churches and schools that many emerging livestock farmers sold animals to have cancelled their orders. Now the African armyworm outbreak is eating grazing and livestock are at risk of falling ill due to armyworm related cattle poisoning.
"We are really feeling the pain. Our livestock farmers will not survive this without support," he stressed.
A statement by the KZN Department of Agriculture and Rural Development (KZN DARD), said that while the African armyworm outbreak was currently limited to the Nkandla and Msinga areas, it could spread, due to the moist soil conditions resulting from recent widespread rain in the province.
During her visit to the Nkandla area on Thursday, KZN DARD's MEC, Bongiwe Sithole-Moloi, urged livestock farmers to be on the lookout for signs of African armyworm and to immediately report these to local agricultural advisers.
READ How to sustainably manage livestock after a drought
Information on the Agricultural Research Council's (ARC) website, said pesticides were more effective on recently hatched African armyworm larvae than on larvae that had opportunity to grow before being sprayed.
"Where the caterpillars are moving from one land to another, they can be halted by ploughing a furrow with pits dug at intervals. The larvae will crawl along the furrows and eventually fall into the pits where they can be covered up or treated with [a] chemical."
Sithole-Moloi said that while grazing on African armyworm-infested veld and pastures, cattle could inadvertently consume the larvae and be poisoned as a result.
"Signs to note [of this poisoning] are the appearance of large strings of watery saliva drooping from [the animals'] mouths; difficulty swallowing; severe thirst; bloating; grinding of teeth; and nerve twitching," she explained.
The ARC's website said that as soon as these symptoms were observed, all animals needed to be removed from the affected pastures and a vet called in to treat the sick animals.
It added that "a good" prevention of further poisoning was to leave the veld or pasture ungrazed for at least 40 days.