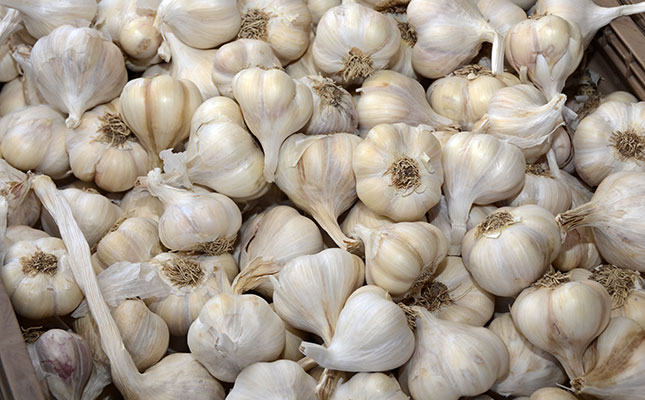 For the foreseeable future, South African garlic lovers will have to accept dramatically increased prices for their favourite food flavouring until delays in international logistics are smoothed out.
This was according to various sources in the country's fresh produce value chain, who pointed out that garlic prices on local markets had doubled since much of the world went into lockdown due to the coronavirus disease (COVID-19) pandemic.
READ Growing garlic: a golden opportunity for SA farmers
Roelf Nagel, director of Always Fresh SA, which sources and supplies fresh produce to major local retailers, explained that a combination of factors was driving the current shortage and high prices of both fresh and processed garlic in South Africa.
He said these factors included South Africa's own garlic harvest finishing a month earlier than expected; Chinese garlic exports to South Africa being hampered by factories there having to close down due to COVID-19; the US, which is the largest importer of Chinese garlic, resorting to cornering garlic supplies from other producer countries; the weakening of the rand against the US dollar and the euro, resulting in any garlic available for importation being significantly more expensive; and slower than usual handling of containers of garlic imports at South African ports due to the lockdown.
READ Food shortages unlikely during coronavirus outbreak
Warren Minnaar, head fresh fruit and vegetable buyer at Food Lover's Market, said before the impact of COVID-19 fully kicked in, garlic typically traded between R50/kg and R70/kg on South Africa's fresh produce markets.
It was now selling for R120/kg.
"There are a lot of containers of imported garlic on their way to South Africa, or are waiting to be handled at our ports. Local demand is high, so supply-and-demand dynamics are a big reason for the price increases," he said.
READ Spazas, food hawkers with permits, get greenlight to trade
Corrie Bezuidenhout, chairperson of the South African Garlic Growers' Association, said national demand for garlic was in the region of 5 000t annually. Of this, about 57% was met by imports.
"About 85% of our garlic imports usually [come] from Spain because we have anti-dumping legislation for garlic from China. But Spain is also in lockdown because of COVID-19, so its garlic exports are also being affected. South Africa's garlic farmers are currently planting, or have only recently finished planting, and harvesting should start in September," he explained.
Nagel added that while he expected garlic availability in South Africa to improve in the near future, he also expected prices to remain high.