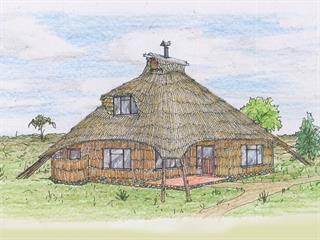 Dear Jonno
I'm always fascinated by your unique country design homes. In one of your recent articles, you suggested the use of throw-away wood quarterings. I am all for going green and creating a rustic cottage for my wife and myself. We are looking for a one- or two- bedroom retirement cottage on our farm in northern KZN. Heaps of log offcuts are available here, thanks to nearby timber mills.
The cottage needs only one bathroom with access for our visitors and us. An outside shower would be a bonus.
We are looking forward to seeing your design.
Best wishes, Peter and Joanne
Dear Peter and Joanne
Thank you for your email. Receiving varied requests from our readers equally fascinates me. This cottage would probably be the only one of its kind in South Africa. Using offcuts for wall and roof cladding – known as long-shingle cladding – is common in some US states.The log quarterings must be trimmed on the sides to fit snugly against each other. Even with a tight fit, though, rainwater will seep through, especially on the roof.
A waterproofing underlay should therefore be installed; this will help with seepage as well as slow down ultra-violet deterioration. The specifics will be detailed in your final plans. Please remember that the shingles will eventually turn grey, as thatch does. A second bedroom and bathroom with shower can be incorporated upstairs – see the dots-and-dashes line on the floor plan. The central fireplace will assist with roof support poling.
If offcut quarterings are not available, the roof covering can be normal thatching. The photograph alongside shows offcuts being made into walling for a cabin.
All the best
Jonno