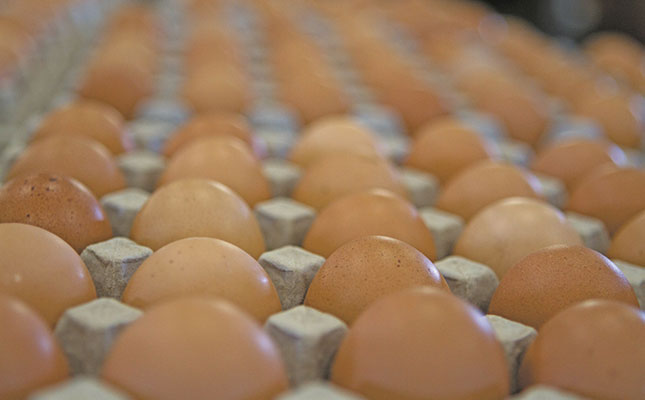 The countrywide lockdown enforced to contain the coronavirus disease (COVID-19) global pandemic has offered a temporary respite for egg producers, as home-cooked meals and baking activities spike.
During the previous 12 months, the egg industry suffered continuously low prices as egg production increased, while demand remained stable.
READ Lockdowns must not disrupt food supply chains – FAO, AU
"But since consumers have been confined to their homes during the lockdown, egg sales have shot through the roof," said Leander Robbertze, CEO of Heidel Eggs in Mpumalanga.
"There has been a huge increase in demand and sales have increased by between 50% and 60%. People are baking, making proper breakfasts, and entertaining themselves in the kitchen. In the Mpumalanga area that we supply, we have also seen a greater demand from the lower income groups that have returned home from the mines and factories in Gauteng."
READ A healthy profit from pasture-raised eggs
Mogala Mamabolo, general manager of the South African Poultry Association's egg division, confirmed that there had been an increase in egg sales since the start of the lockdown period.
"Even though restaurant uptake has decreased, this consumption has shifted to home-use. We have also seen an uptick in producer prices, so there should be some relief for the farmers."
Robbertze, however, noted that while demand had increased, prices had not increased by much.
"Before lockdown, producers were running promotions at price levels below production cost. Eggs were effectively being dumped on the market just to recover some kind of input cost. Since the lockdown, the current promotions and those scheduled for May have been cancelled, so prices are trading at normal levels. Since we can't increase prices as per legislation set out for COVID-19, we can't push up prices based on the higher demand and lower supply, even though around 90% of producers have reported that they can't meet demand."
READ Make money with free-range chickens
He said that while the pandemic has been a bit of a lifeline, it would take a few more weeks to see proper figures and establish the effect the high demand has had on producers.
"We've been making losses for the past 12 months, and most farmers will never recover from that. Now the feed price is also increasing due to the weak exchange rate.
"Eggs are a very risky business at the moment. We don't know what to expect. The sad part is many farmers will expand to meet current demand, but in a few months' time we will sit with too much stock again."