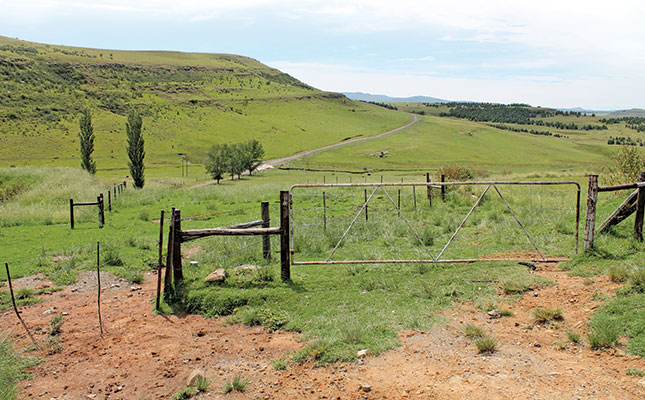 The Department of Rural Development and Land Reform (DRDLR) has confirmed that the list containing the names of 195 farms allegedly earmarked for expropriation without compensation is fake.
According to media reports, NGO Afriforum had published the list at the weekend and said that it had been circulated among DRDLR officials.
Afriforum had apparently published the list in an attempt to "keep the public informed".
The @drdlr says the #Farmlist is false says Annelize Crosby, @AgriSAOfficial legal and policy advisor. @FarmersWeeklySA pic.twitter.com/TJdvzeTHcw

— Gerhard Uys (@Gerharduysbeer) August 13, 2018
Speaking to Farmer's Weekly, Linda Page, chief director for Strategic Communications at DRDLR, said the list was fake and that the department did not know where it originated from.
READ We all want land reform. Let's make it work!
Speaking at a press briefing in Pretoria, Annelize Crosby, legal and policy adviser at Agri SA, said: "The department confirmed to us that they will only ever act in terms of the Constitution and the Expropriation Act, No 63 of 1975. There is no new expropriation Act [in place] and no one can expropriate [property] unless they have power derived from specific legislation and for a specific purpose. The Constitution has not been changed."
She said there were only four specific Acts which the Minister of Rural Development and Land Reform, Maite Nkoana-Mashabane could use to expropriate land.
This was the Land Reform (Labour Tenants) Act, No 3 of 1996; the Extension of Security of Tenure Act, No 62 of 1997; the Restitution of Land Rights Act, No 22 of 1994; and the Provision of Land for Settlement Act, No 126 of 1993.
Government could expropriate land in terms of these Acts only in cases where there were ongoing negotiations with a landowner and no agreement had been reached on price between government and the owner.
In such a case government would apply to the courts for expropriation without compensation, Crosby said.
"We [would] actually welcome such a case as the courts could then provide guidance on what just and equitable compensation is, and how specific parts of Section 25 of the Constitution should be interpreted."
Dan Kriek, president of Agri SA, said it was irresponsible to publish a list of unverified origin, as it resulted in even more unease in agricultural circles.
He said two of the farmers whose farms were on the list, whom he spoke to, said they believed their farms were now "exposed", and they were concerned that this may have negative consequences for them in terms of land invasions.
Agri SA would, however, protect farmers' interests through court action if needed, Kriek said.
Theo de Jager, president of the World Farmer's Organisation, said to Farmer's Weekly that he could not say whether the list was false or not, but that he did not doubt the existence of a list.
"Let's take a step back. After the recent ANC lekgotla, they said there was a list and even specified the number of farms on the list. I have no doubt that these farms are in government's sights. I do however feel that it is good that the list is in the public domain as it forces the  Department of Rural Development and Land Reform, which has previously bullied farmers en threatened them with expropriation without compensation, to show what they are busy with," De Jager said.
He said he did not know in what type of democracy such a list should remain secret.
He also said Agri SA denying it was the "correct" list did not speak to the hearts of farmers as many were feeling unsure and scared of their future.