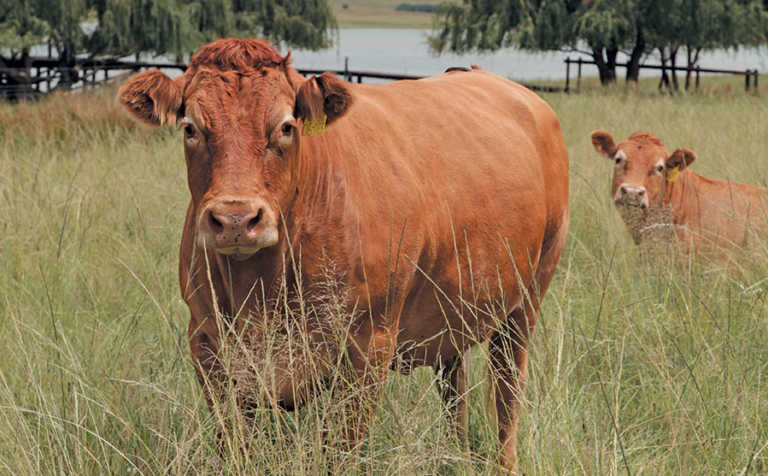 In 1988, chartered accountant John Devonport and his wife Tracey bought a farm on the shores of the Vaal Dam.
Although this may sound idyllic, John says that at the time the farm was a "khaki-bush factory".
This led him to buy some grey Brahman cattle from the US, for the simple reason that they eat khaki bush and would help rid the farm of weeds.
READ Make more money with your livestock
The decision to buy the Brahman was the catalyst that led John to establish his highly successful Devlan Limousin stud, which he runs using practical, straightforward business principles.
The farm
The 1 330ha farm, Water's Edge, is situated 125km south of Johannesburg and boasts 20km of waterfront on the upper reaches of the Vaal Dam.
It was not purchased as one unit, but grew piecemeal through the addition of smaller parcels of land through the years, with the last section bought in 2015.
The farm is located in a sourveld region, with local indigenous Eragrostis-type grasses dominating. Red grass (Themeda triandra) and Smutsfinger (Digitaria eriantha) pasture, which is self-seeded, are also found here.
For extra feed, John recently established two centre-pivot lands of 40ha each, planting them to winter oats.
This provides enough green pasture for 500 head of cattle, which are managed via moveable, solar-powered electric fences. The lands are planted to maize silage in summer, and a tenant farmer rents them for potato rotation.
With the rental income from the potatoes and the tax breaks associated with farming, the pivots were repaid within two-and-a-half years.
Early days of cattle
John and Tracey were attracted to the beef qualities of Limousin cattle, and began crossbreeding their commercial Brahman females with Limousin bulls.
After these crosses had won numerous carcass competitions in Vereeniging, Tracey and John felt increasingly reluctant about sending the beautiful animals for slaughter. As a result they gradually converted the commercial operation into a Limousin stud.
In 1992, John purchased his first purebred Limousins: three in-calf heifers and an older stud bull. Convinced he was making good progress as a stud breeder, he was forced to reassess his knowledge when his animals were thrown out of the ring at a Bloemfontein show.
In 1999 he met the man who would change all this for him: beef stockman Chris Marais. Chris' first order of business was to cull one-third of the herd, as these animals did not meet the breed's standards.
"It was a bitter financial pill to swallow but a step in the right direction," John recalls.
By following Chris' advice and applying balanced breeding goals, John began to make true progress with his herd.
John admits that as a "Joburg city boytjie", he had to educate himself on cattle breeding by reading everything on the subject that he could lay his hands on.
Assistance also came from Dr Michael Bradfield, Agri-Business South Africa's manager of BREEDPLAN, who helped John with this aspect.
Devlan now boasts one of only a few BREEDPLAN five-star Completeness of Information Performance Herds in South Africa.
Simple breeding policy
"As a stud breeder, I try to breed efficient cattle," he says.
"I also try to keep my breeding policy as simple as possible, as one can often overcomplicate it.
"My background as a CA has helped me to design a recording and cow calendar system, which helps our staff with their decision-making processes and records all the profitable traits."
In selecting animals for breeding, John keeps the role of heritability and the environment in mind.
"View things in context and apply the 'keep it simple' principle throughout. The heritability of most profitable traits is between 30% and 40%. This means that 30% to 40% of an animal's profitable traits are due to its genetic make-up and 60% to 70% to the environment. We work with the environment, and choose our breeding seasons and other management principles accordingly."
Because of droughts and erratic rainfall, Devlan has a summer breeding season from 1 December until the end of February, and a winter breeding season from 1 June until the end of August.
Most of the summer-season females conceive at the end of December and beginning of January.
These seasons have been tried and tested at Water's Edge, and have delivered the best results. Two breeding seasons also work well from a marketing point of view, as Devlan normally has sales twice a year.
Cow management
Fertility should be the breeder's primary goal, and 50% to 60% of one's effort should go into this, stresses John.
READ How to select a top-performing beef cow
"Give your cows the tools they need to remain fertile, such as a good lick, Multimin and Vitamin A injections, and keep them parasite-free. This kind of cow management will give good results. For instance, in our last winter breeding season, 129 out of 130 cows conceived [on the green oats]. Our herd's intercalving period is currently 373 days."
John divides cows into production groups according to the dates they calve. About 25 cows and their calves are placed with a bull. As their calving dates are close to each other, this makes calf management relatively easy.
The large genetic variation in the herd also means that he does not have to worry about aspects such as inbreeding.
Practicality is the main driver of this system. John prefers to breed more mature heifers at 18 to 24 months. Although younger heifers conceive easily (he has bred them at 15 months), he has found that they tend to experience calving problems and struggle to conceive in the subsequent breeding season.
"We breed about 250 females per annum, which allows us to have large contemporary groups for more accurate performance recording," he explains.
Bulls
Bulls are selected for functional efficiency, conformation, and good breeding values.
READ Want a profitable bull? Do your homework first!
"If these aspects are promising, we use them in the herd with confidence. It seems to work, and our genetic trends are going in the right direction."
After fertility, he sees growth, efficiency and quality as the most important aspects.
Breeding goals
For fertility (50%), John considers days to calving, scrotal size, inter-calving period, days since last calf, and age at first calving.
For growth (30%), he measures birthweight, 200-, 400-, and 600-day weights and milk.
For efficiency (15%), calving ease, mature cow weight and net feed intake are measured.
For quality (15%), he measures scan data, meat quality and docility.
Every year, John sends about 10 bulls for testing at the Agricultural Research Council's (ARC) Irene Test Centre. The test focuses on the net average daily gain and the net feed conversion ratio as a measure of a bull's feed efficiency.
A feed-efficient animal is one that requires less feed to produce 1kg of body weight.
"Imagine if we could bring the average feed usage of all feedlots in South Africa down from 6kg of feed needed to produce 1kg of meat to 5kg of feed. The industry could save massively and be more sustainable," says John.
At the ARC, the cattle are scanned to determine meat quality (marbling), subcutaneous fat and meat yield. Docility and temperament are also tested using a flight test.
To do this, the cattle are moved into a kraal and given a score between one and five, one being very passive and five aggressive or easily frightened. Docility is highly heritable, therefore results can be seen quickly with selection on this trait.
Employees
John believes strongly in the value of dedicated, skilled employees. "You are only as good as the staff you employ!" he stresses.
He adds that much of Devlan's success has been due to its team of loyal, staff members.
Employing people with the right attitude and placing them in a job they enjoy will ensure they excel, he insists.
READ When to postpone a disciplinary hearing
"We have management values that include motivating people, collective responsibility, rewarding innovation and a comfort zone to voice an opinion," he explains.
Sabine Botha, a graduate in Animal Science, maintains Devlan's digital records and submits all the data for performance testing to BREEDPLAN.
Managers Alfred Mahlasela and Oupa Nhlapo have been with John for nearly 30 years. Alfred manages the overall running of the farm, and Oupa manages the cattle herd, with the help of Aqeeb Amla.
"Because of a theft problem in his hometown, I allow Aqeeb to graze 80 head of his cattle on our farm for free," he explains.
Transformation
John believes that transformation is crucial to white farmers' survival. "We have to transform and try and make a difference," he says.
He adds that treating farmworkers with care and compassion is key.
"As part of the workers' package, we give a 13th and 14th cheque. We also give free medical visits for the staff members and their families, free TV, a free taxi service on Mondays and Fridays to and from Villiers, and a free taxi to Vereeniging once a month. Staff also have free group life, disability and education cover."
Since 2006, Devlan has been running training courses for communal and emerging farmers, some in partnership with Pick n Pay and the ARC. The business also employs four young trainees.
His staff are empowered to run "a valuable biological asset without me being around all the time", John says.
Email John Devonport at [email protected].